Bathroom Decor Trends 2020 To Watch Out For ⇒  The interior design world is always coming up with new trends and it's no different for bathrooms. With 2020 almost here, design lovers are already looking forward to upgrading their homes to welcome the new year in style, and bathrooms are the best place to start.
Flooring
Geometric Patterns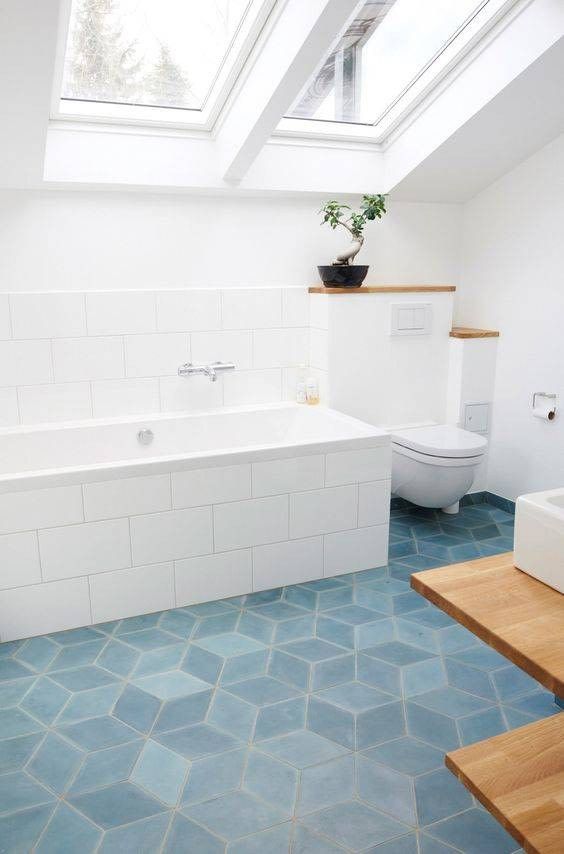 Geometric tiles are a versatile trend that can fit almost any bathroom color and decor schemes, as you can choose specific colors and patterns to get the best look. In 2020, this trend will be taking a bolder turn color-wise, but softer shades of tiles will still be perfect to incorporate in a more neutral scheme or in bathrooms with wooden accents.
Marble
Create a clean and sophisticated ambiance in the bathroom by applying marble flooring. Carrera, Statuary and Calacatta Gold are great options for white marble with grey veins that will provide a natural and elegant texture to the marble tiles. Using black marble is a bolder idea that would suit an all-black bathroom like a glove.
Read More: Bathroom Decor Trends – 5 Celebrity Bathrooms You Need To See
Bohemian Style Tiles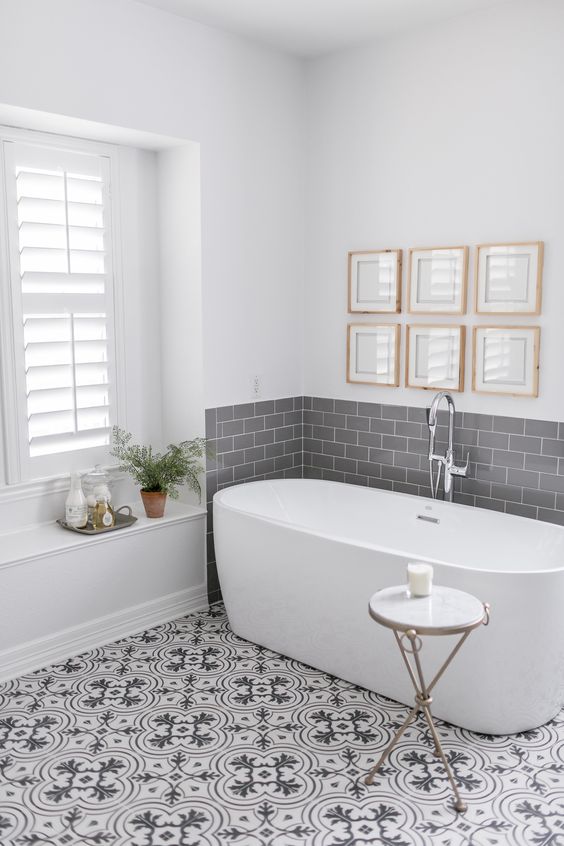 This trend emphasizes the use of vintage elements and accents in a modern bathroom as a form of decoration and elevated design. Bohemian tiles can be colorful and all kinds of vintage patterns are available, which makes it easier to incorporate in a design scheme and a great way to add some color to the room.
Walls
Statement Walls
Statement walls create a visually interesting aspect in the bathroom that will immediately draw guests' eyes. The Bathroom Decor Trends 2020 mostly include accent walls installed as shower walls since a big trend on bathrooms at the moment is transparent shower doors. Choosing decor items with the same color or pattern as the accent wall will help bring the design scheme together.
Concrete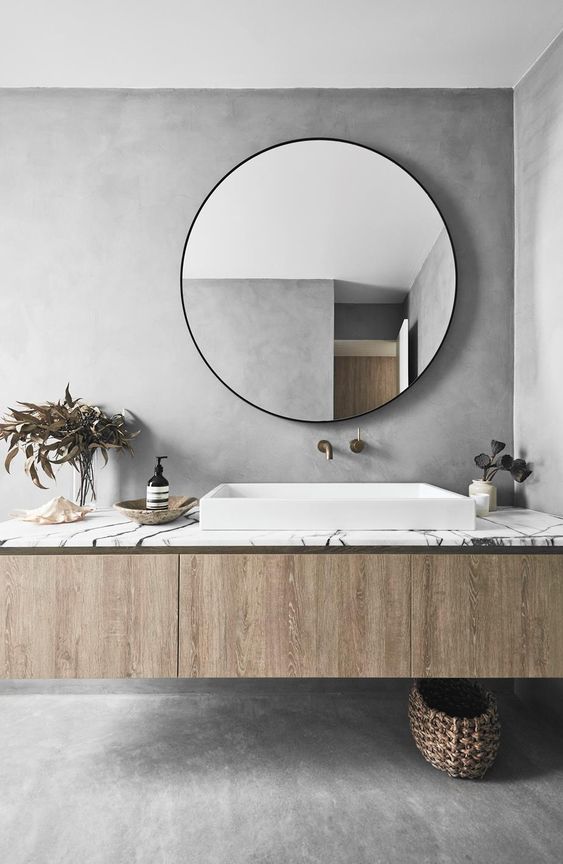 The raw and minimalistic look of concrete is what made it such a big trend for 2019 and 2020. Design lovers rely on it to make their homes more minimal and crisp, especially as kitchen countertops and living room floors, and for 2020 bathrooms will also be taking on this look.
Marble
Much like marble flooring, marble walls are a big trend for 2020, so much that combining both trends into one room and creating a full marble bathroom is becoming a popular trend of its own. For a more subdued look, complement the marble walls with black or neutral tiles.
bathroom decor trends, bathroom decor trends, bathroom decor trends
Architectural Decor Trends
Open Concepts
Master bedrooms with an ensuite are now becoming open concepts with design lovers linking the two rooms into one. While this trend may be rather bold, it's possible to make sure there's privacy in both the bedroom and the bathroom by installing dividers or an accent wall to visually separate the areas. Decorating both the bathroom and the bedroom in similar design styles is essential for a seamless connection.
bathroom decor trends, bathroom decor trends, bathroom decor trends
Hidden Pipes
Hiding the bathroom pipes and plumbing allows the overall design of the room to be cleaner and more sophisticated without the shower and sink pipes interfering with the tiling, patters, and color schemes and has, therefore, become a popular trend amongst design lovers.
bathroom decor trends, bathroom decor trends, bathroom decor trends
Wooden Accents
Sustainability and care for the environment have been big topics in 2019 and have evolved into a trend of using natural materials as accents and furniture in the home, which will continue in 2020. Wooden counters, mirror frames and shelves paired with plants and woven baskets will result in a stunning natural bathroom.
bathroom decor trends, bathroom decor trends, bathroom decor trends
Neutral Color Schemes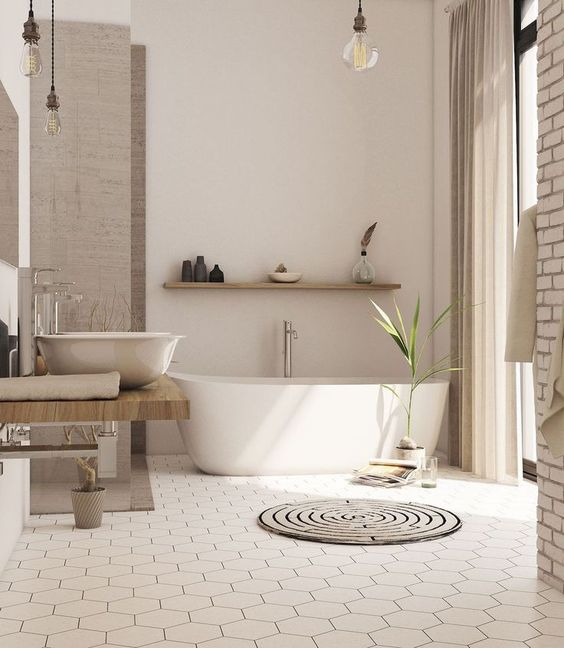 Neutral colors help to create a relaxing atmosphere perfect for destressing and settling down after a busy day. Choose neutral shades of browns or pastels for the walls and flooring and light shades for the furniture and accessories. Another suggestion is to use the accessories as contrasting elements in the bathroom, such as darker towels or plant vases.
bathroom decor trends, bathroom decor trends, bathroom decor trends
Hardware Trends
Golden Shades
Golden and brassy hardware shades will replace the trendy copper tones of 2019 since they're more versatile and can complement black, white and neutral-toned furniture. Try to find interesting pieces in this shade, such as the Macaron Drawer Handle from PullCast.
bathroom decor trends, bathroom decor trends, bathroom decor trends
Contrasting Colors
bathroom decor trends, bathroom decor trends, bathroom decor trends
The contrast between the colors of the furniture and the shades of the accent pieces will create a sophisticated and put together bathroom design. For those who prefer darker furniture and walls, compliment them with golden accessories or hardware, such as the Sonoran Cabinet Handle shown above. The lighter shade matches the mirror, the basin, and the faucet while contrasting with the sink and the wall.
Dark Matte Hardware
bathroom decor trends, bathroom decor trends, bathroom decor trends
The other hardware shade that will replace copper in 2020 is matte black. This tone goes perfectly with silver accents and plumbing as well as with complete matte black fixtures. If matte black hardware sounds a little daunting, our Codium Drawer Handle incorporates black, golden and a small pearl in a single piece and is a softer approach to this trend.
bathroom decor trends, bathroom decor trends, bathroom decor trends
Statement Hardware
2019 was the year of "No Hardware" in both kitchens and bathroom decor trends. While hardware will be back in 2020, design lovers are shying away from boring pieces that are practical but not creative nor innovative and searching for interesting hardware that can serve as both a tool and a decorative element in the room, such as the Infinity Drawer Handle, whose unusual shape is sure to bring attention and compliments from guests.
Discover the exclusive and luxury world of PullCast and dive in our amazing and elegant list of decorative and architectural hardware products. They will help you elevate and transform your home decor or your design project into a unique experience! Follow us on Facebook, Pinterest, Twitter, Instagram, Linkedin, and Youtube!
Bathroom Decor Trends 202