7 Comfy and Stylish Living Room Decor Ideas to Seriously Consider ⇒ The Living room is one of the home division to truly showcase one's design aesthetic. It is also perfect to experiment with color palettes, layers of texture and patters, and a comprehensive range of furniture layouts, as long as all of them are highly comfortable, welcoming, and of course, stylish. In today's article, PullCast Blog explores a series of living room decor ideas, from curvy designs and exciting color schemes to sublime design details, that will allow you to draw plenty of inspirations for your next home remodel
For a minimalist and zen-like living room decor, the best color palette to used is undoubtedly white with a bit of texture. You can complement this color scheme by adding shapely furnishings as you can see in this outstanding interior set decorated by Stockholm-based studio Whyte Lilja. Pieces like the coffee table by Jaime Hayón or a curved sofa by Zanotta, certainly add an extra layer of luxury and comfort.
The concept of luxurious living has certainly evolved over the years. Modern luxury is about blending beautiful designs and plush materials, thus creating a layered and refined interior space. Moodier atmospheres have actually become rather trendy as of late, take, for example, this open concept living room designed by LUXXU where a combination of black, gray, and gold reign supreme, which alongside modern furnishings and lighting, such as the Anguis sofa, the Darian sideboard, and the Empire chandelier, grant a timeless allure to this space.
⇒ Read Also: Living Room Design – Outstanding Luxury Sideboards with Brass Hardware ⇐
Designer Daria Zinovatnaya completely brought retro design back for this lively living room set. The mural found across the walls, ceiling, and floor highlights colors that are heavily inspired by the 1970s. The upholstered Paustian sofa in apricot tones easily becomes a mid-century modern masterpiece. living room decor, living room decor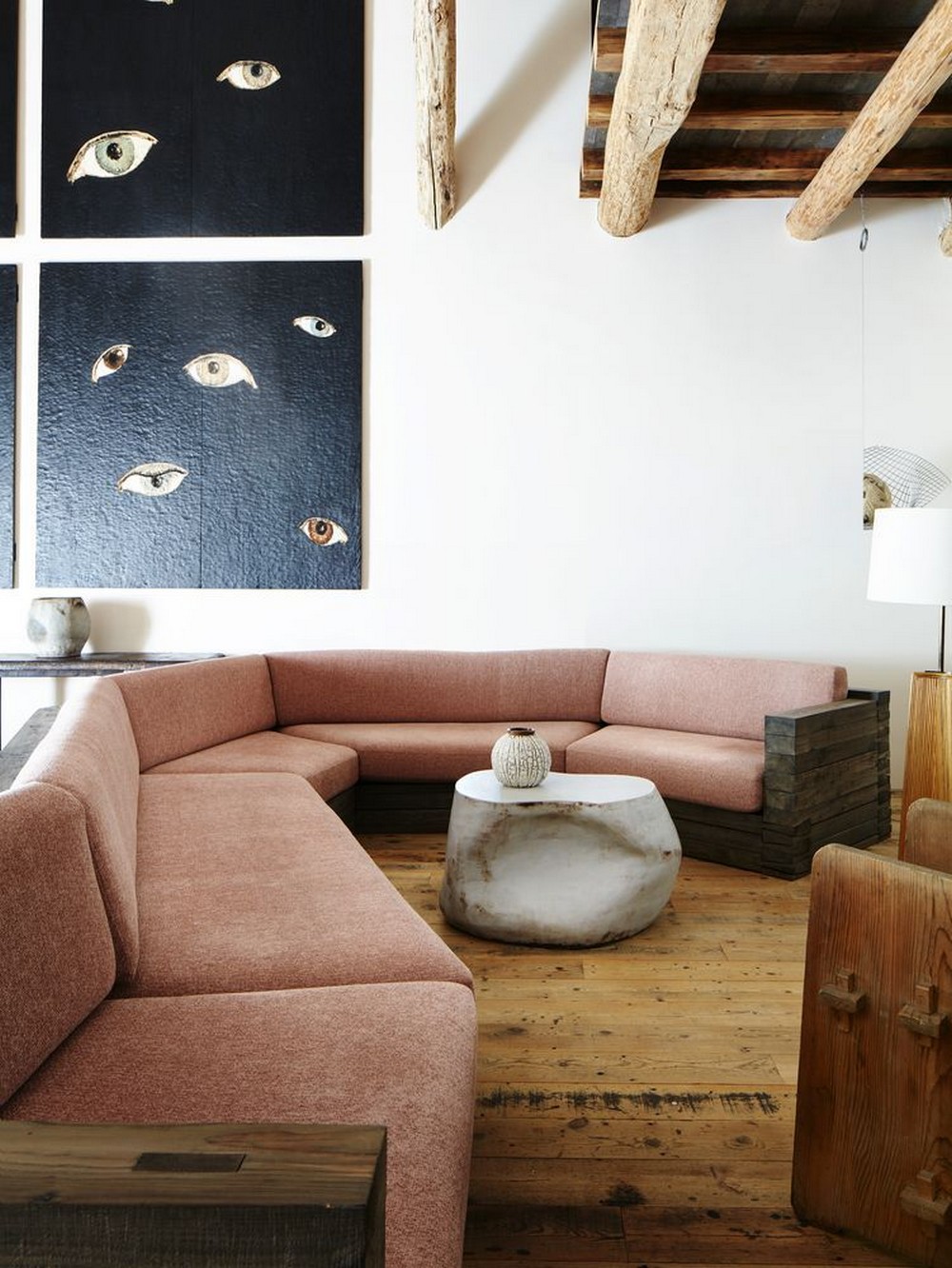 There's nothing like choosing a curvaceous sofa to shape up a living room design. For instance, for this living room of a Provence farmhouse, Pierre Yovanovitch chose this stunning bespoke pink upholstery that adds interest and timelessness to this space.
Interior design Alex Vervoordt and architect, Tatsuro Miki were responsible for this living room design, based on the concept of the Japanese aesthetic wabi-sabi that is all about the acceptance of imperfection and transience. This living area of a Tribeca penthouse in the Greenwich Hotel certainly lives up to this motto as it highlights limewashed walls unadorned, wood untreated, and simple flooring, embracing the raw state of natural materials. living room decor
Sometimes the difference lies in the details and in this living room decor, a piece of modular furniture is adorned with a series of Skyline drawer handles, that offer a more cosmopolitan touch. It also doesn't hurt that this interior features an earthy color palette.
Using various tones of greens, grays, and blues is an astounding form of evoking tranquility to your living room decor. These enticing tones interchange between furnishings, accessories, and paint to create an exquisite color contrast.
⇒ Read Also: Accessorize Your Home Interiors In Style with Unique Hardware Designs ⇐
If you want to discover more about the exclusive and luxurious world of PullCast and our elegant collections of decorative and architectural hardware, then feel free to follow us on social media: Facebook, Pinterest, Twitter, Instagram, Linkedin, and Youtube!
Source: Elle Decor UK