Design Hubs Of The World – 25 Top Interior Designers Berlin ⇒ Whether you want to decorate or furnish your new flat or simply get a nice present for someone – this list of top Interior Designers in Berlin is guaranteed to help you find new and amazing furniture or other interior items. So check this amazing list of 25 Top Design Showrooms in Berlin and get inspired!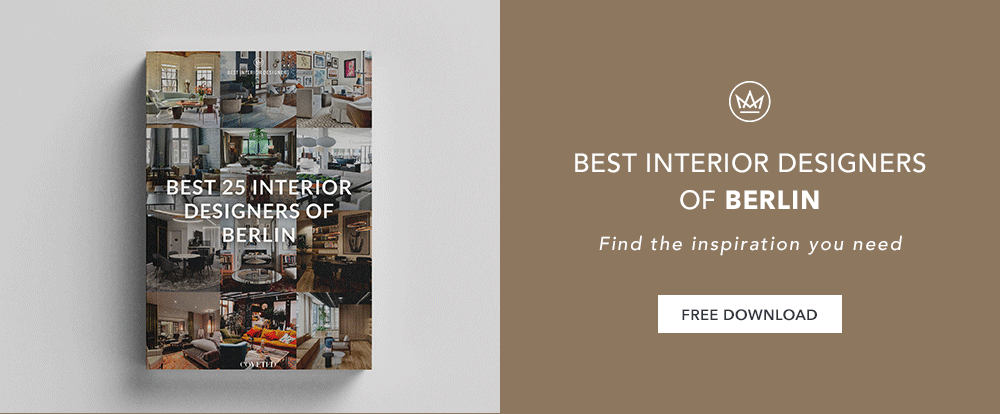 1. Art und Ambiente
Art and Ambiante is the furnishing house for those who define the interior design where the purely every day ends, and the pleasure, the art, the individuality, and the enjoyment begin.
2. Birgit von Heintze
Birgit von Heintze is a good example of a person who definitely had a life story very different from most interior designers. Due to the fact that she was the daughter of a captain in Lübeck half of her childhood was spent traveling worldwide on the ships of her father. Her style is definitely reflected in her personal blog mystery, founded in 2014 and launched in 2015.

3. Carlo Berlin
Carlo Berlin is a company that is used to handling a variety of establishments such as hotel buildings, bars, shop fittings, offices, and private homes realizing an individual solution for several areas such as construction, conversion, and interior design. In general, they have a very eclectic style that matches a variety of tastes for their clients. From design to completion, Carlo Berlin is a good example of a company that counts with the support of several builders, specialist planners, and suppliers, making sure to implement the personal concepts of each individual and obtaining quality furnishings from several origins.
See Also: The Ultimate Guide To Choosing The Perfect Finish For Your Hardware
4. Davide Rizzo
Davide Rizzo is one of Germany's Top Interior Designers. Currently based in Berlin, Rizzo preserves traditions and creates new looks with his inspiring style. He has the capacity of creating value in any type of space and tends to privilege a style based on the top ideas of the 1920s, an era when glitz and luxury were omnipresent. There are many ideas from International Designers and Luxury Brands which are easily combined with Davide Rizzo's unique style which has managed to create some of the most stunning projects and amazing styles are ever seen in the German design industry.
5. Design4room
Design4room is an architectural design agency based in Berlin, with strong practices in Europe and Turkey. They provide a complete service for the design, construction, and maintenance of architectural environments both in and out, having the opportunity to complete designs that will be inexpensive and accessible by all. Working in a location such as Berlin is a good source of inspiration for design4room and also a great advantage thanks to the location's strategic and historical importance. Curiously the firm has a strong opinion that design should be shaped as a reflection of the lifestyle of the client, passion, and guidance of the interior designers, rather than simple rules and traditions granted as unchangeable.
6. Emporium
Emporium is a perfect example of a design company that has a design at its core. With more than 15 years in the interior design world, they provide the utmost quality in terms of lighting and furniture design items. In a world where pieces are made to transfer an emotion to the room, it is settled in, this firm has a one of a kind certainty in the matter by combining a refined taste with care and core values such as high-quality craftsmanship and first-class materials, offering an exclusive way of making every purchase an easy feat along with the finest consulting expertise and of course, dedication.
7. Essenti-El
Essenti-El is the brainchild of Ekaterina Litwinowa. Born in Ukraine and educated in Florence, Ekaterina carefully honed her craft in Berlin as a product and interior designer before founding her company. As an Interior Designer, Ekaterina believes that interior design is a means of channeling a clients' personality into functional, aesthetic spaces. This can be noticed in the holistic solution to Interior Design that the company provides, by working with a wide range of materials and fabrics, creating custom color concepts, and collaborating with a team of carpenters to provide unique furnishing expertly crafted. Essenti-El is known for accompanying the clients all the way, from the first floorplan right down to accessorizing the final finished space.

8. Exprimo Berlin
Credits: Exprimo Berlin
From commercial design projects to individual projects, Exprimo Berlin is engaged in several design fusions and projects. With great experience when it comes to working remotely this is a design studio that takes every inch of what the client has in mind into consideration, the design studio makes sure that every piece of personality is into space. They have the ability to create the atmosphere of any room using a mix of historical designs with contemporary elements while taking close care of the details.
9. Fine Rooms
Fine Rooms specializes in the development of design concepts in architecture, interior design, product design, and art. Markus Hilzinger and Isabella Hamann are the current creative directors of this amazing Berlin-based company. Fine Rooms stands for sensitive and exclusive customer relationships and project management. The core objective of this Top Studio is the individual compilation and implementation of design concepts. The customer feels the uniqueness – every design is special and tailor-made. The creative mind of the Studio is Isabella Natalia Hamann, a top designer who was born in Opole, Poland, and studied at the Technical Universities in Wroclaw and Krakow. Her work experience includes, among others, the architecture firm Professor Carl-August von Halle with a focus on competition, design engineering, and construction planning. By working with Klaus Eberhard Ott, Hamann was able to expand her knowledge and focus on the renovation of historic villas. From 1999 to 2011 she worked as an interior designer and product designer for amj-design.
10. Gisbert Pöppler Architecture and Interior
Gisbert Pöppler Architecture and Interior is a company that combines the deep knowledge of architecture, interior design, and custom furnishings within a boutique studio. Here, the view of the larger image and refined detail are both integrated into Jewel-Box rooms, specially developed for commercial and private customers. By bringing together a comprehensive understanding of space, color, light, and features, the team orchestrates a complete environmental experience – rooms with an overarching concept that unites and unites. Exuberant embellishment is tempered with northern European restraint, harmonious hybrids to create an unexpected elegance in the interior of any project they take on.
11. Studio Hansen
Studio Hansen consists of a group formed by a team of architects, interior designers, and designers all of whom were reunited by acclaimed German designer Holger Hansen and product designer Marco Winkler. Since 2004, this duo has combined their years of experience in various areas of design, architecture, and interior design reflected by their passage by prestigious architectural and design offices. This group works on the basis of a holistic approach, based on the needs, personality, and uniqueness of each individual. Whenever they tackle a new challenge they use an individual, sensual style of design planning as a basis to create a space where functionality and beauty can stay side by side.
12. Ivy's Design
Ivy's Design is the result of the creativity of Ivana Bukvic, known by many as both a savvy entrepreneur, as well as an interior designer. After the redesigning of a historic building in Berlin´s upscale quartier Mitte, she went on to create her own design studio. Her creation consists of a company that follows through 5 essential keywords: Community, quality, art, nature, and color. Despite having a small team this company managed to tackle many types of challenges such as private kitchen areas and also 7 000 sq meter coworking franchises. Their chic and classy style that shows in their interior design projects is a reflection of their mindset: to create a project inspired by the client, and above all, inspiring for the client.
13. Jaime House
Jamie House Design is devoted to everyday luxuries, artful craftsmanship, and quietly eye-catching design. JHD spaces are practical with a nod to history but never ordinary. Each detail is thoughtfully designed and planned to complement the whole.
See Also: Parisian Apartment By Luxxu With Outstanding PullCast Hardware
14. JBW Interiors
JBW Interiors is a company that results from the combined efforts of siblings Juergen and Bernd Wagner, both of whom have been producing furniture and high-quality interiors in Berlin since 1988. Having begun as a company that manufactured individual pieces, it would end up evolving to a company that specialized in private interiors counting with a team of around 30 employees. In 2017 they gave another important step in their fame by merging their furniture and lighting division into their new umbrella brand known as JBW Interiors & Lights. They present sophistication and quality in both their interior and lighting projects, having the firm belief that beauty can be found in the little details.
15. K+K Design
K+K Design is a Berlin-based interior design company that creates beautiful and timeless interiors. They have a unique international experience from the United Kingdom, Holland, Germany, and Poland which is reflected in their projects. A unique feature that this company has is the fact that they work closely with a well-established team of Polish hand workers in joinery and carpentry who specialize in manufacturing high-end handmade products made from the highest quality wood. The firm's method of work and design can be best defined as comprehensive and personalized, passing as a good example of a bespoke design service that involves their clients in the creative arts.
⇒ Read Also: Cosmopolitan Collection: Explore PullCast's Latest Hardware Designs ⇐
16. KLM Architekten
KLM Architekten has been founded in 2009 and since the company has worked with more than 30 employees at two particular locations: Leipzig and Berlin. Their projects are heavily based on the areas of building construction, new construction, hotel, interior design, and even renewable energies. Counting with a team of 25 architects this is a company with the capacity to take over a variety of services within the fields of architecture, interior design, and remodeling. In every challenge they take on they are in continuous alignment with the requirements of function, design, and use, having these three keywords in mind through every step of the planning phase.
17. Kinder and Zimmer
Letizia and Rachele combine their artistic sensitivity and professionalism in the field of interior design and create very individual furnishing solutions that are tailored to the needs of the whole family. Planning, implementation, and redesign of the children's room and much more!
18 . Otto Von Berlin
Otto Von Berlin was first created by Slovene Gregor Drobnic, an interior designer currently based on Berlin. He decided he had a passion for interior design while being a student in architecture and has had a career in the industry for over 20 years, having a portfolio in Germany, Eastern Europe, and Balkan. Since then the company has become a reference when it comes to an example of an entity 100% client-focused. Whenever they take on a new challenge they make their project based on a question such as what the client needs the space for, what does the client want, how will they use the space among others. As a result, they are used to tackling a variety of distinct styles for either a more casual or luxury type client.
⇒ Related Article: Top 25 Interior Designers in Connecticut ⇐
19. Paris 56
Detlev Böhnke is the owner and leader of Paris 56 Fine Interiors, an exhibition space, studio, and workshop all fused into one. This top multifunctioning studio specializes in residential and commercial projects, having a very specific and strong motto that they take to hear with each new challenge that comes their way: "above all one: your contact for all matters of interior design". The leader of this company, Detlev, is an experienced architect that has had his own business for 12 years. Since the creation of Paris 56, he and his team have done a series of private and commercial projects, all around Europe, earning fame as one of the best studios in Berlin.
20. Philipp Mainzer
Philipp Mainzer works internationally on commercial, residential and cultural projects providing full architectural, interior, and exhibition design as well as furniture design services for both the public and private sector. Committed to a consistent and progressive conceptual approach, the work is inspired by the dynamic interaction of diverse cultures and disciplines. With a focus on a high level of quality and authenticity, the diverse team of architects and designers develops original concepts with refined aesthetics and the required functionality. The partnership with modern furniture brand e15 effects synergies, extending the boundaries of traditional architecture.
21. PlanoMio
PlanoMio sees themselves as a creative service provider in the areas of trade fairs, architecture, television, and events. Draft. Planning. Visualization. All together or as individual packages? They can produce any commercial interior design to your liking!
22. Sabine Kober
Sabina Kober is one of the best interior designers and stylists from Germany. She has studied Harp, church music, and conductorship at the University of Music and Performing Arts Munich. Now with a long professional career as Interior Designer, she finds her inspiration to create rooms in the harmony and aesthetics she finds in the music! In 1986, she and her longtime partner interior designer Norbert E. Kern, founded the KERN-DESIGN, the studio for holistic interior design, in Frankfurt am Main but with offices in Berlin as well.

23. Studio Dinnebier
Studio Dinnebier operates under the brand name Licht Licht with a team of architects, lighting, and product and interior designers. The studio was founded in 1998 by Jan Dinnebier, who after working as an architect, decided to come back to the field of his father's practice. In addition to lighting design, the company designs and develops new products for luminary and component manufacturers. From 2007 till May 2016 Jan Blieske has been a partner of the studio, a weigh collaboration that led to the development of successful products, most notably, the FlatBoxLED Series as well as the hidden Intrac adapter.
See Also: Build a Fantasy World with A New Kids Collection by PullCast
24. Susanne Kaiser
Susanne Kaiser has been involved in interior design, architecture, and hotel design for 15 years. She has an intuitive sense of aesthetics which comes off as different from other architects and interior designers, despite the fact that her style has a common goal to every interior designer: the reconciliation of aesthetics and function. Her studio (SUSANNE KAISER | ARCHITECTURE & INTERIOR DESIGN) is located in the trendy metropolis Berlin and Susanne and her team have been involved in the conception of hotels, restaurants, shops, and trade fairs. This team has managed to come up with a variety of styles for each client and type of project: modern, timeless, classic, luxurious, modest, relaxing, colorful, cool, chic, among many more.
25. The Inner House
The Inner House is part of the top 20 interior designers of Berlin and is the result of the ambition of Markus Altaver, who knew he had it in him as a designer since redesigning his room when he was 12 years old. This tendency only intensified when he discovered an Art Déco table lamp at 16, and it solidified with actions such as traveling, redesigning his own home, and also helping his friends with renovations and plannings. Among the services this company provides, we can definitely point to basic, detailed, and execution planning, including elements such as color, material, and lighting concepts, as well as furniture design. As a matter of fact, the name of the company is very related to the style it has an aim to make any environment they take on (be them living or working environments) turn into a more beautiful and functional place that expresses visually what can be found inside.
If you want to discover more about the exclusive and luxurious world of PullCast and our elegant collections of decorative and architectural hardware, then feel free to follow us on social media: Facebook, Pinterest, Twitter, Instagram, Linkedin, and Youtube!