Bathroom Inspirations That Will Take Your Breath Way ⇒ Thinking of remodeling your bathroom but running out of design ideas? We have some top ideas for making your bathroom look great. Stay with us and discover the most stunning inspirations for a luxury bathroom design!
 Have a look at these Bathroom Inspirations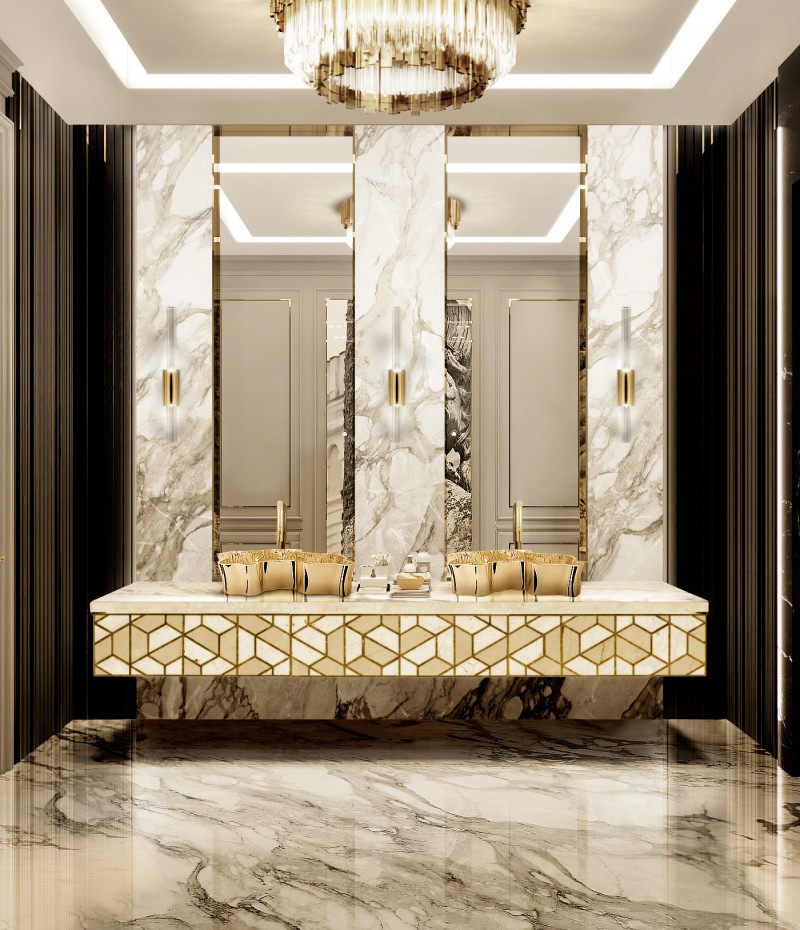 A good bathroom design is really a cornerstone of luxurious living because it is our most private realm. Do you love the look of a luxe master bathroom? Get five-star style with this luxury bathroom inspiration.
One more of bathroom inspirations, this one can rightfully become the most sophisticated, glamorous, and perfectionist room in your apartment. Definitely, a statement bathtub that stands out in any bathroom project. If you want to enjoy every minute of your SPA procedures and add some luxury taste to them, think carefully about small details such as entrance door pulls in your interior design. Explore Flow Door Pulls by PullCast, which will grant you a heavenly entrance look for your bathroom!  
GET THE LOOK: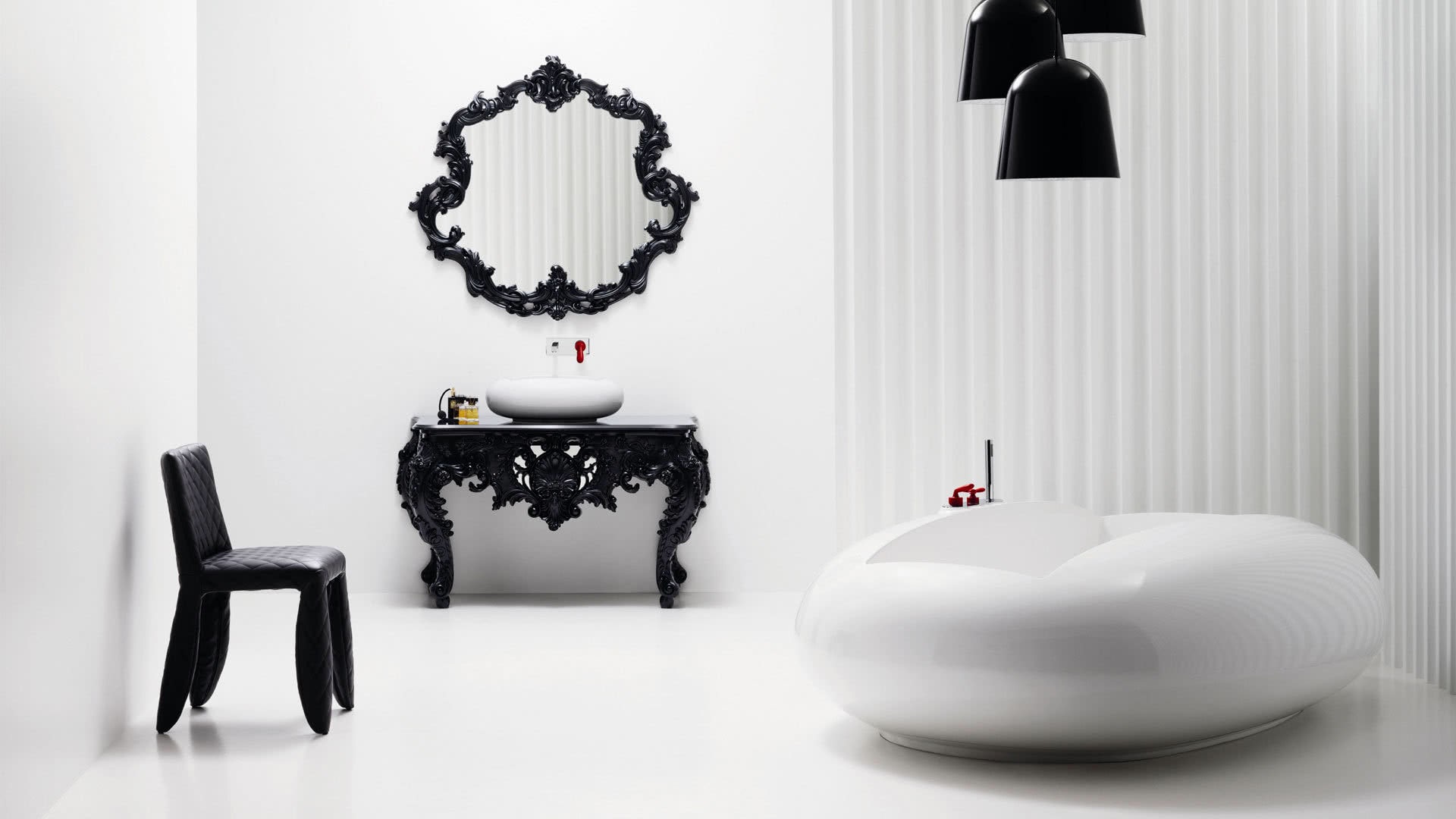 An example of a luxurious elegant and at the same time the innovative design of a bathroom can be. This amazing bathroom is a white blissful source of rest, an incredible room that allows for great moments of harmony and clarity.
More Bathroom Inspirations to inspire you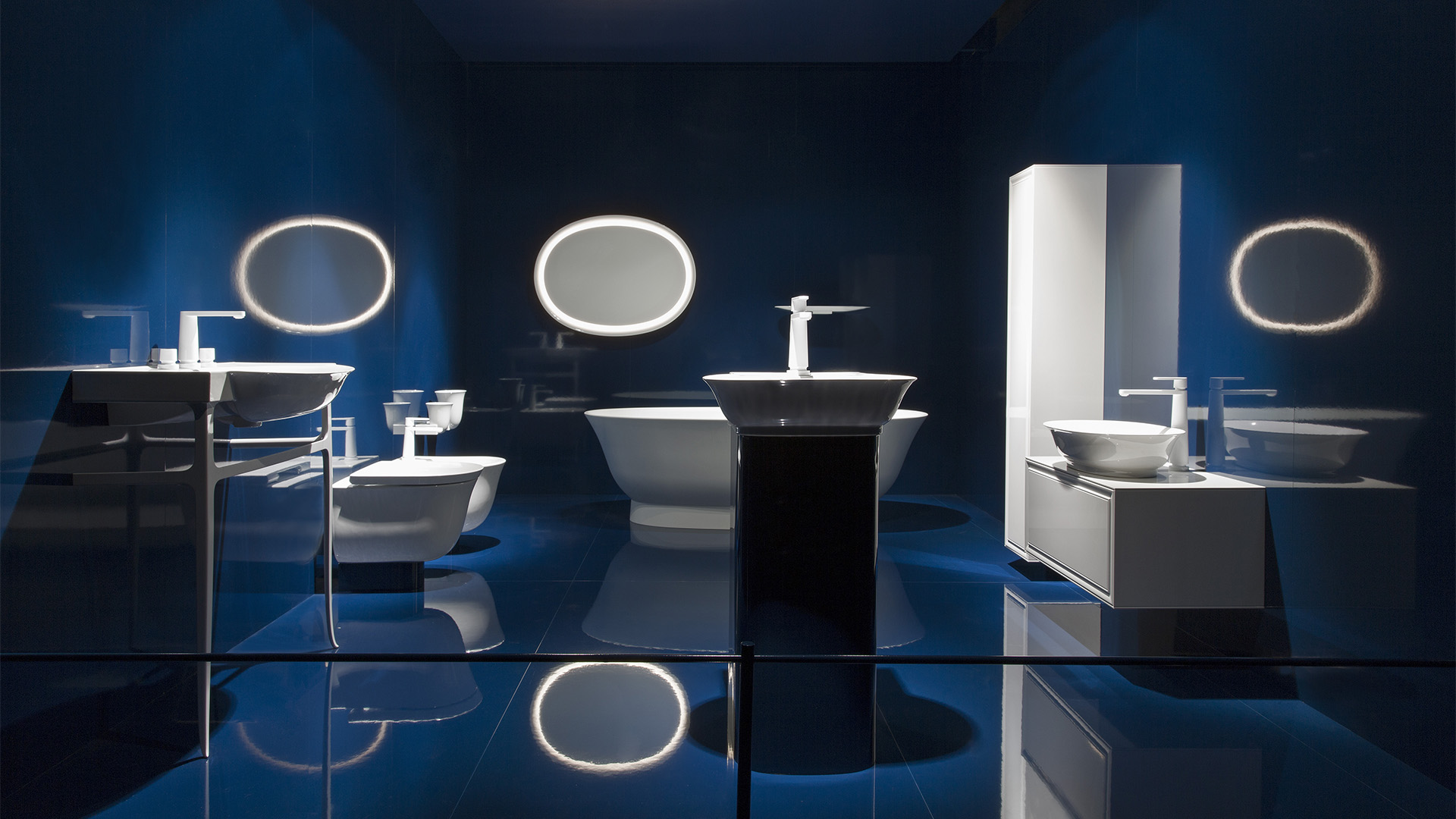 More of bathroom inspirations with this elegant and captivating, the brilliant innovative sapphire ceramic washbasins, countertops, bathtub, and bathroom furniture combine beautifully with different woods, metal faucets, and mirrors. This versatile, variegated concept of classic style, in which bohemian taste blends perfectly with cosmopolitan and metropolitan image, suggests an eclectic lifestyle. A reinterpretation of classic themes in a contemporary guise for an elegant and very timely collection.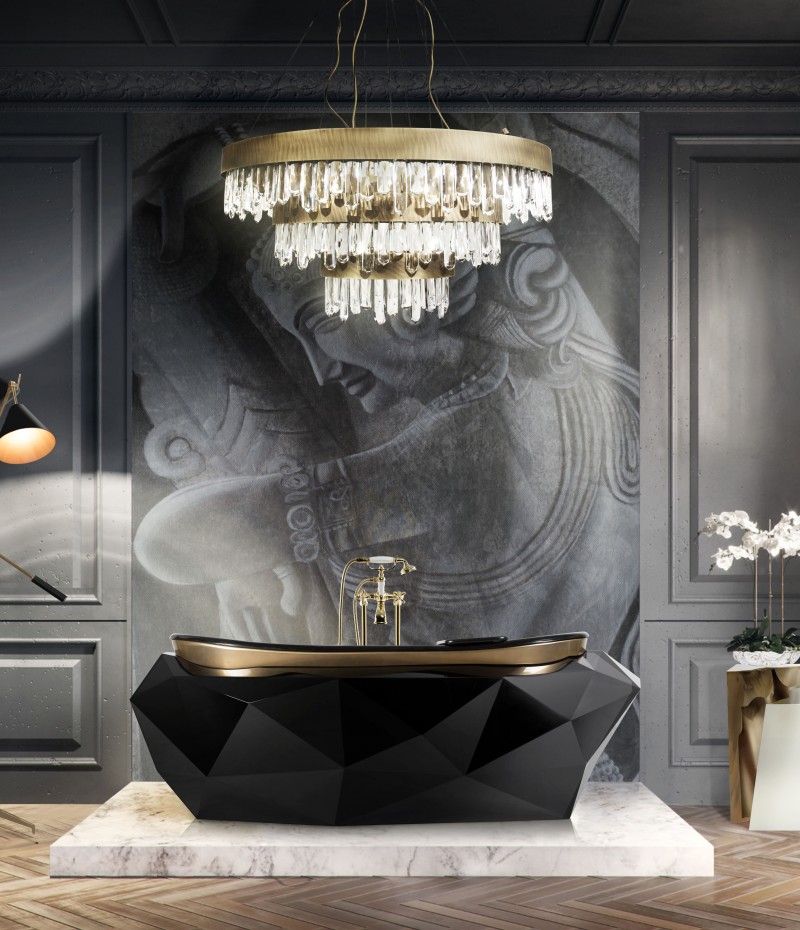 One more gorgeous space decorated with the Diamond bathtub. Create a perfect atmosphere for your bathroom design with luxurious accessories by Maison Valentina. The oval tub gives a bold and sophisticated appearance, which you definitely don't want to miss.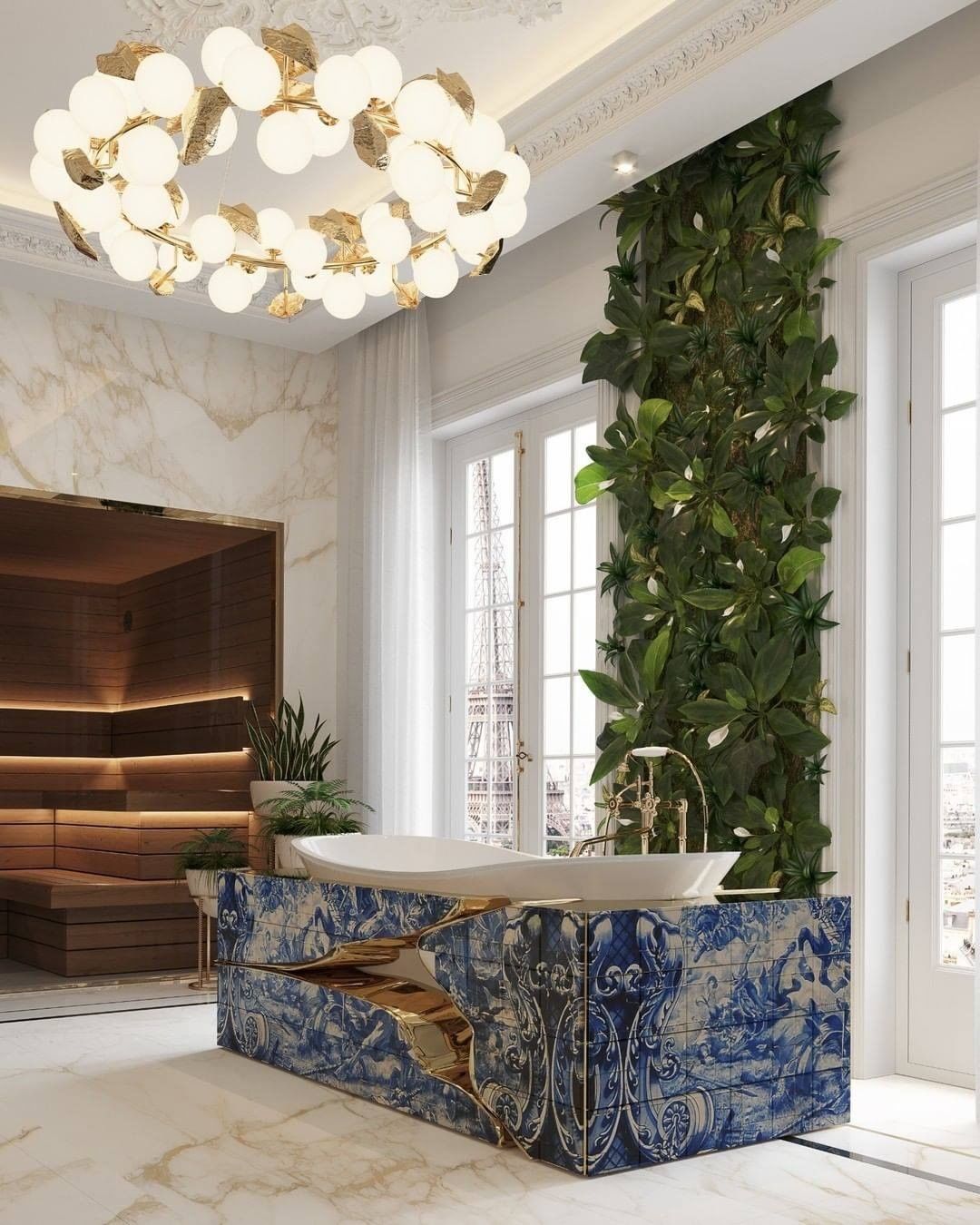 The tiles can add the missing touch to your bathroom design. Inspired by Portuguese Culture, Lapiaz Bathtub is unique due to its hand-painted tiles. An artistic piece created to be astonishing!  Are you ready for more bathroom inspirations?
Sustainability and care for the environment have been big topics in 2020 and have evolved into a trend of using natural materials as accents and furniture in the home, which will continue in 2021. Wooden counters, mirror frames, nature-inspired hardware pieces, and shelves paired with plants and woven baskets will result in a stunning natural bathroom.
GET THE LOOK: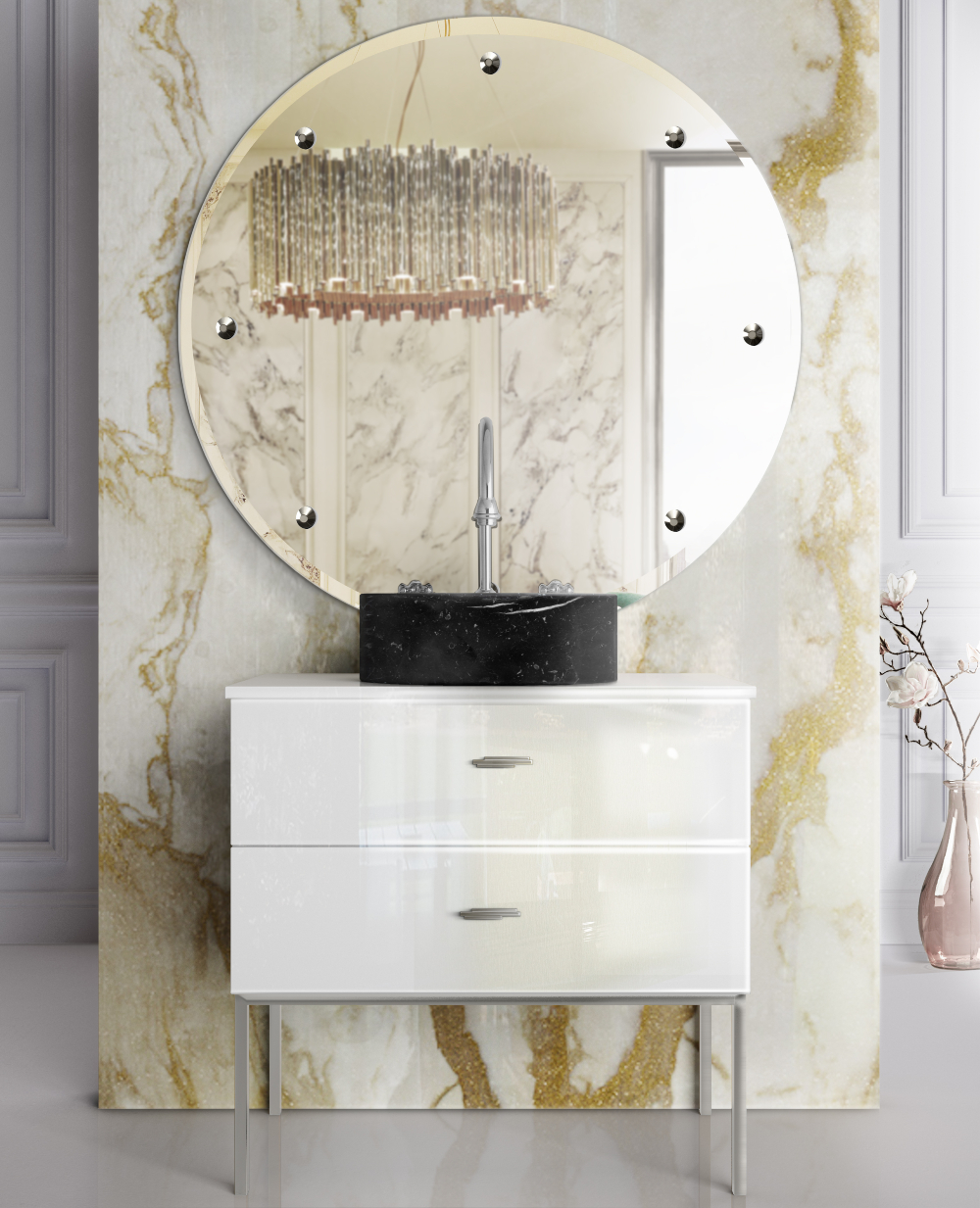 The last one of bathroom inspirations, we call this one a Carrera, Statuary, and Calacatta Gold are great options for white marble with grey veins that will provide a natural and elegant texture to the marble tiles. Using black marble is a bolder idea that would suit an all-black bathroom like a glove.  
GET THE LOOK:
Discover the exclusive and luxury world of PullCast and dive into our amazing and elegant list of decorative and architectural hardware products. Did you like the article Bathroom Inspirations That Will Take Your Breath Way? They will help you elevate and transform your home decor or your interior design project into a unique experience! For more inspiration regarding decorative hardware, follow us on Facebook, Pinterest, Twitter, Instagram, Linkedin, and Youtube!