Best Interior Design Inspirations Selected By PullCast ⇒ Discover the best interior design ideas and inspirations and let yourself be inspired by this PullCast selection. Get inspired for your next interior design project with PullCast Blog!

The kitchen is designed in a beautiful and modern neutral tone.
See Also: Hot Summer Sale: Can You Handle it?
The black PLUM Counter Stools with glossy black lacquered legs and authentic leather upholstery create a modern classic kitchen décor. The golden framework of the SAKI Pendant Light, with its glossy brass structure, adds an added and stylish touch to this lovely setting.
BATHROOM
An opulent and spectacular bathroom design idea.
Anyone who enters this gorgeous bathroom will feel a tremendous sense of relaxation because of the green colors on the show!
This bathroom is what dreams are made of: opulent, vast, and sparkling, with a wonderful warmth unlike any other!
GET THE LOOK:
»»»» Download Our Catalog And Discover Our Products ««««
This bathroom is the ultimate example of how to create an oasis. It's blissful, white, and brilliant.
With its unique look and a beautifully magnificent sense, this bathroom epitomizes luxury. It is warm, dark, and intimate.
See Also: How To Decorate With Jewelry Hardware? Brand New Ideas From PullCast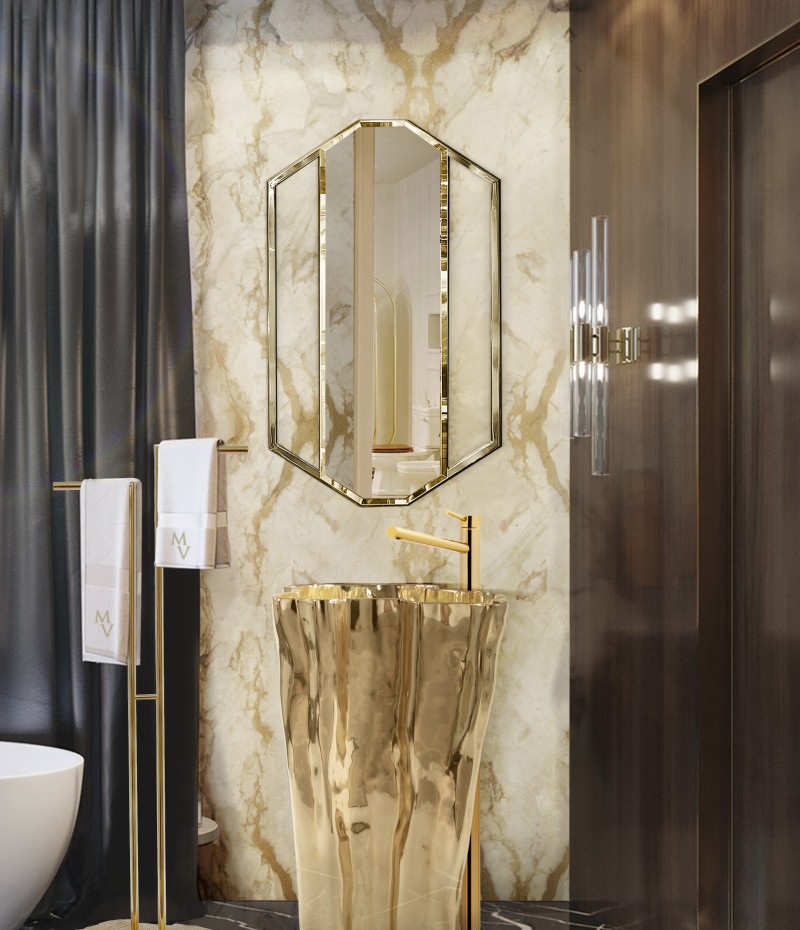 It's not even close to being iconic. This bathroom decor is a must-have, from its stunning golden tones to the amazing freestanding that adds to its flair.
The gold embellishments in this bathroom are ideal, especially when paired with natural elements and a stunning perspective.
DINING ROOM
A circle dining area in a simple and beautiful dining room.

Black marble and dark tones are used in this modern dining room.
GET THE LOOK:
The colors, textures, and details are all fantastic! With this distinctive color combination and furniture pieces, this dining room environment is modern and eye-catching.
See Also: Admire The Exclusive Miami Property With PullCast Hardware 
The Alberto dining table and Federico chair are the ideal complements to an Italian-inspired bright and airy dining area. The Mina suspension lamp provides light and warmth to the atmosphere over this dining table.

There's nothing like the plush velvet comfort of a Sophia sofa, and it comes with the luxury of mid-century elegance. You'll be able to create the ideal dining room or restaurant interior décor when you pair it with the Dolly coffee table and Marie chair.
ENTRYWAY
In the most intriguing meaning of the term, the Oslo Rug completes this minimalist hallway!
READING CORNER
The soft Oslo Rug undoubtedly adds to the coziness of any reading spot.
The warm colors associated with mid-century and antique design may be seen in this living room nook. This area feels like a dream come true, combining comfort and functionality with the Sophia single sofa and Botti side table.
HALL
This hallway is minimalist and modern, with the Terrazzi rug perfectly matching the brown stool.
The intriguing design of the Dêco rug complements the beautiful architectural lines in this unusual hallway.
The Vittorio sideboard combines the best of Italian style with a hint of mid-century chic. This is the ideal choice for creating a lovely hallway in earthy tones.
LIVING ROOM
From the blue couch to the stunning grey carpeting that creates a toned-down element, this living room decor is both classy and whimsical.
This magnificent contemporary living room, which includes the Graffinesque rug, combines very fascinating colorful accents.
This modern living room is breath-taking and majestic, bursting with grey tones all around.
A wide corridor with plenty of room for creative design choices, including a rug with a dynamic pattern.
By changing the color scheme in your living room, you can immerse yourself in a world of luxury. Darker tones combined with magnificent pieces such as the Florence stool in a dark grey velvet are ideal for this aesthetic, especially when paired with metals and strong pieces.
SEE ALSO: Best Hardware To Accessorize Your Furniture Design
Did you like our article From decor to design to furniture? Let us know! If you want to discover more about the exclusive and luxurious world of PullCast and our elegant collections of decorative hardware, then feel free to follow us on social media: Facebook, Pinterest, Twitter, Instagram, Linkedin, and Youtube!