Be Dazzling By PullCast Room by Room Selection ⇒ From decor to design to furniture, if you're looking for room inspiration you've come to the right place. In today's article, PullCast Blog will show you some of the most stunning inspirations for breathtaking house decoration.

Room by Room – Hallway
One of our favorite design trends is all-white interiors. Although monochromatic ambiances appear simple to achieve, there are a few key factors that can make or break any minimalistic design. The golden highlights give the room warmth, and the various textures offer depth.
See Also: Stunning Cabinet and Door Knobs – Hot Summer Sales
You'll feel like you're on a private tour of a museum in your own house, with so many diverse works of art mixed in with high-end bespoke items!
This space embodies a sense of grandiosity, timelessness, and brightness like no other. The Vertigo mirror of towering proportions certainly sets the tone for the entire house as it is classily embraced by a schist wall, a material theme that will be seen throughout the house. The eye-catching brass frame of this decorative mirror matches perfectly with the metallic nature of the Scarp console and the green tones of the Noir stool, leading the way to the convivial area.
⇒ Related Article: Bedroom Design – Luxury Bedroom Décor Ideas You Can't-Miss⇐
Setting the tone for the rest of the house, the hallway is a grandiose space that feels like walking in a museum. Illuminating the setting, the first masterpiece, a new piece from Luxxu, the Harpia suspension, and lastly, the Nubian geometrical ottoman, the idyllic supporting piece for any hallway.
A rustic hallway design that incorporates natural and noble materials to provide depth and contrast to this region of the home.
Room by Room – Entryway

With this warm living room décor, we get some Mediterranean emotions. The beige armchair will tempt us to stay in and spend a pleasant evening with our loved ones.
Interior design is all about the details. Hardware is the perfect choice to upgrade your home decoration to another level.
GET THE LOOK:
Be Da
Poke is reminiscent of the traditional and beautiful Japanese bowls. This Cabinet Handle was inspired by a sumptuous method that originated centuries ago in Japan and was created by our artisans with a more contemporary approach to embellish your home and cabinetry.
GET THE LOOK:
Be Dazzling By PullCast Room by Room Selection
Create an opponent entryway and let your guests be impressed with PullCast hardware.
Room by Room- Living Room
This elegant living room has a focal point. Displaying varied heights of Coltrane suspension lamps will produce a distinctive lighting effect.
The living room with high ceilings and neutral color scheme was likewise decorated with one-of-a-kind elements, including the Saboteur Swivel single sofa and the Thomson sofa, both of which become crucial upholstery parts of the decor while the Vertigo side tables introduce a sublime and sleek touch.
⇒  See Also: Hot Summer Sale: Can You Handle it? ⇐
An incredible simple room, with accentuated pops of gold throughout, especially in the Empire center table set as well as lighting pieces like the babel suspension lighting fixture.
Patterns, noble materials, high-end design objects, and a hint of olive green: the ideal inspiration for a Fall home renovation.
Room by Room- Bathroom
Every bathroom gets richer with this unique bathtub. Illuminated by the Majestic Suspension II, whose golden plated brass and crystal glass cylinders create an outstanding and exclusive design, and reflect the foggy light coming through the large windows. This bathroom project conveys our mission to embody the surroundings inside the home and interpret a new modern design with exquisite quality.
Marble is a noble material that has been employed to boost the design in many high-end venues. Everything is included in this black and white marble bathroom décor!
Room by Room- Bedroom
Use this warm neutral bedroom as a starting point for your next home improvement project. Turner pendant lamp emits a unique glow that continues to sparkle even when turned off.
Room by Room- Office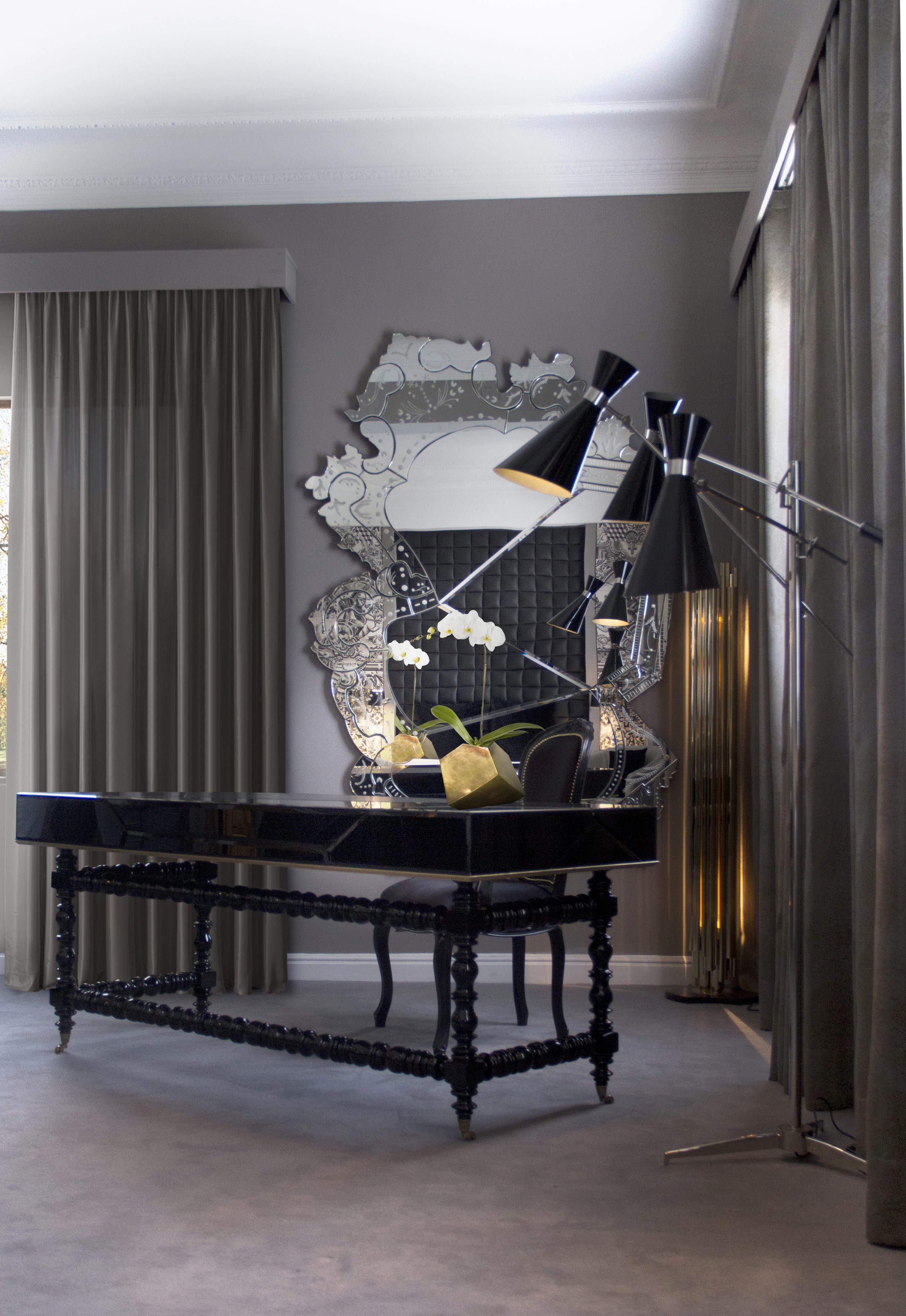 This year, home offices are likely to be the most sought-after rooms in the house, and this all-black opulent home office will keep you sharp!
Room by Room – Kitchen
Create an elegant contrast with gold and classy hardware in black wood and dark tones.
GET THE LOOK:
Decorate your kitchen with the best details! PullCast jewelry hardware offers the best selection for your home decor.

Room by Room- Dining Room
Mid-century contemporary furniture pieces, neutral colors, and natural materials are all present in this luxury dining room décor, which makes it ageless. Discover these amazing dining chairs from Luxxu.
Did you like our article Be Dazzling By PullCast Room by Room Selection? Let us know!
Discover the exclusive and luxury world of PullCast and dive in our amazing and elegant list of decorative and architectural hardware products. Did you like our article Be Dazzling By PullCast Room by Room Selection? They will help you elevate and transform your home decor or your interior design project into a unique experience! For more inspiration regarding decorative hardware, follow us on Facebook, Pinterest, Twitter, Instagram, Linkedin, and Youtube!