Le Grand Jardin, A Cape Town Wonderland
Le Grand Jardin is a private estate in the heart of the historic Stellenbosch (est.1679) Winelands. It is the signature residence of Wonderland Escapes nad it's 50 km away from the city of Cape Town. Le Grand Jardin was a wedding gift for the daughter of the neighbouring estate and was designed by a student of Sir Herbert Baker– the most notable architect working in South Africa in the 1900s.

Rooted in enchanting environments – from the Cape and Argentinean Winelands to the Swiss Alps and Africa's pristine southern coastline – it offers a sense of space and wonder, where bold mountain peaks of the Helderberg in the heart of the colour-changing vineyards, gentle rolling waves, secret gardens, glistening bodies of water and golden sunsets are gifts we delight in sharing.
⇒ PullCast Summer Sales – Remarkable Decorative Hardware ⇐
The inspiration behind this project draws on the restorative qualities of the expansive garden and surrounding vineyards. The garden served as an inspiration for the home's interior aesthetic. The walls of the double-volume entrance hall, covered in De Gournay 'Amazonia' wallpaper, act as an exuberant welcome and invitation to enjoy the garden that offers an intimate private world of escape. Artistry exists in the interplay of timeless heirlooms and sensual textures of copper, leather, and velvet, set against the playful use of colour and craft.
⇒ Ready To Ship! Most Wanted Hardware Pieces 2021⇐
⇒ See Also: Marvel At This Exclusive Miami Property By Luxxu⇐
The manor house offers a more stately option with 3 en-suite bedrooms and extensive entertainment areas, including the formal dining room, sexy blue gin bar, tasting room/cellar, drawing room/library/study, and media room. The pool pavilion with 3 en-suite bedrooms opens onto the solar-heated pool area with a summer room. When we walk through the home, the design immediately evokes memory with the hoots of night owls, nostalgic aromas of home-baked bread in the kitchen, and roses in the garden. You can see the influence of local materials as well as the use of arts and crafts.
Besides, the main en suite bedroom offers a wild celebration of Henri Rousseau's jungle scenes, crafted by African Sketchbook, an enterprise working with self-taught artists from the surrounding townships. The In Full Bloom suite showcases a wall of giant blooms from Cara Saven Wall Design's 'She's No Wallflower'.
⇒ See Also: Admire Luxxu's Newest Deluxe Apartment in the Heart of Moscow⇐
Other designs include the green and blue pomegranates of 'Carnival' by Christopher Farr and the bright 'Portofino' range by Thibaut, while a sense of play is illustrated in Ardmore's Savuti design for Cole & Son, which brings monkeys, chameleons and birds inside the Into the Wild garden suite.
WONDERLAND ESCAPE: TO INFINITY AND BEYOND
Le Járdin – a true wonderland – offers a one of a kind experience to families but especially kids. Kids have curious minds and they like to be entertained during vacations. To make them explore and learn at the same time, Le Grand Jardin creates a special room just for them that screams fun times.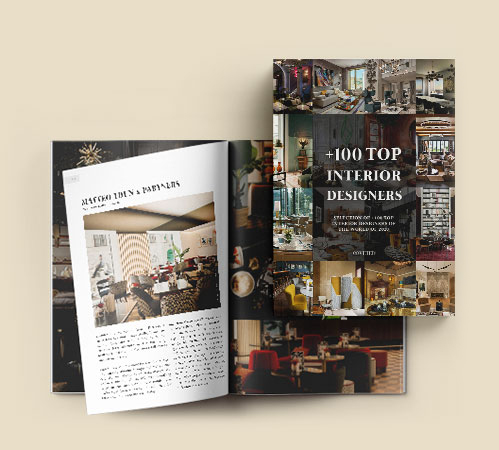 Rocky Rocket makes a grand entrance in this room and promises to let kids explore their imagination and take them to the moon. With an RGB light and speakers, it was built using top-quality materials such as wood, being robust in design, and dreamy on the interiors, due to its red velvet upholstered walls and cushioned flooring.

Parents can enjoy a chilled glass of wine on the outdoor pizza deck while kids explore their newfound freedom as they forget about screens for a while.
Did you like our article Le Grand Jardin, A Cape Town Wonderland? Let us know!
Le Grand Jardin, A Cape Town Wonderland
Discover the exclusive and luxury world of PullCast and dive in our amazing and elegant list of decorative and architectural hardware products. They will help you elevate and transform your home decor or your interior design project into a unique experience! For more inspiration regarding decorative hardware, follow us on Facebook, Pinterest, Twitter, Instagram, Linkedin, and Youtube!
Le Grand Jardin, A Cape Town Wonderland
Le Grand Jardin, A Cape Town Wonderland