Be Inspired By The 2021's Oscars Nominees For Best Production Design  The Academy Award-nominated sets are very realistic and can range from Chicago in the 1920s to the futuristic city. Today PullCast Blog will show you the Oscars Nominees For Best Production Design of this year.

SEE ALSO: Best Pieces To Complete a Stunning Interior Design Project
You may be amazed at the skill of set designers to capture a particular moment in time or evoke a precise mood through evocative interiors or architectural styles.
This year's nominees, succeeded capture it all, from a hot Chicago summer to the present London and a city of the future.
1. THE FATHER
Courtesy of Sony Pictures Classics
Production design: Peter Francis
Set decoration: Cathy Featherstone
In "The Father," Zeller's adaptation of his play about a man (Anthony Hopkins) coping with dementia in his London apartment, production designer Peter Francis had a field day creating the disorienting set as a glimpse into Hopkins' dysfunctional mind. It totally distorts reality. Most often, his apartment turns into the apartment of his daughter (Olivia Coleman), and it becomes a nursing home.
Here the color played a key role in setting the tone: Ochres and greens in Anthony's apartment reflect his old age and personality. For Anne's flat, Peter Francis selected pastels and soft blues, as blue became a narrative device.
See Also: Hardware for Mid-Century Decor: Have a Home Worthy of Hollywood Movies
2. Ma Rainey's Black Bottom
Courtesy of Netflix
Production design: Mark Ricker
Set decoration: Karen O'Hara and Diana Stoughton
Ma Rainey's Black Bottom is an American drama film directed by George C. Wolfe based on 1984 piece of the same name by August Wilson. The film in centers glitz and glamour are far from what Ma Rainey (Viola Davis), ''Queen of the Blues,'' and her band (Chadwick Boseman, Coleman Domingo, Michael Potts, and Glynn Turman) experience in Chicago and, as the singer, fights for control over her music in a time of racial prejudices and injustices.
Although the film is set in Chicago was filmed in Pittsburgh. The production designer Mark Ricker discovered an old mill in Pittsburgh to serve as the '20s era Chicago recording studio, which was the primary set for the film adaptation of the award-winning August Wilson play about legendary blues singer Ma Rainey (Viola Davis)
The design and set dressing were authenticated through research, but the brick and wood work and layout of the rooms worked well in creating a factory-like setting for the studio, where tempers flare during the long, drawn-out recording session in the sweltering heat.
Be Inspired By The 2021's Oscars Nominees For Best Production Design
See Also: The 2020 Oscars Jewelry Moments
Be Inspired By The 2021's Oscars Nominees For Best Production Design
Be Inspired By The 2021's Oscar Nominees For Best Production Design
3. Mank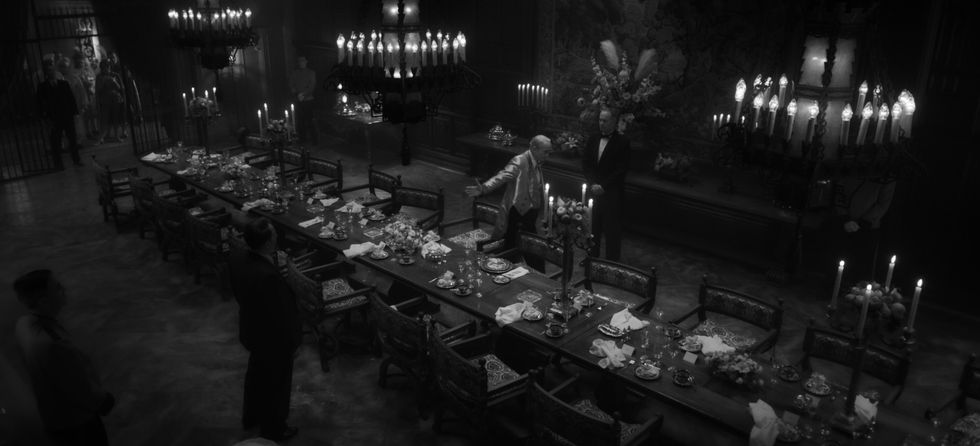 Production design: Donald Graham Burt
Set decoration: Jan Pascale
David Fincher's Mank is based on screenwriter Herman Mankiewicz's (portrayed by Gary Oldman) time writing the script for the iconic film Citizen Kane. Coming in with 10 nominations, Mank is one of the most buzzed-about films of the year.
Oscar-winning production designer Don Burt ("The Curious Case of Benjamin Button") had to think in terms of black-and-white design to authentically return to Hollywood's Golden Age in the '30s.
Mayer's birthday party and the pivotal costume ball, they instead created their own sets, where walls were rearranged and fireplaces, columns, and paneling were switched. And Burt and Pascale created a Gothic vibe with the interior design and extravagant objects that William Randolph Hearst (Charles Dance) collected or reassembled from Europe.
Be Inspired By The 2021's Oscars Nominees For Best Production Design
See Also: See Inside This Hollywood Hotel That Got a Major Renovation
Be Inspired By The 2021's Oscars Nominees For Best Production Design
4. News Of The World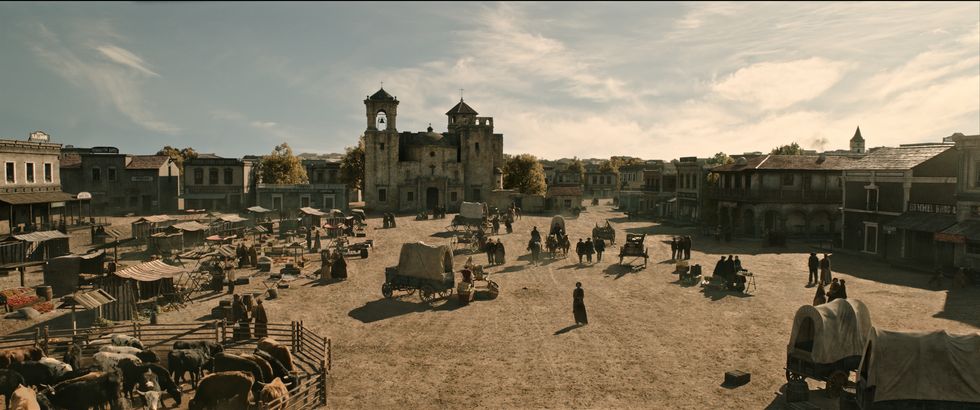 Production design: David Crank
Set decoration: Elizabeth Keenan
Left with nothing after the Civil War, veteran Captain Kidd (Tom Hanks) finds meaning in delivering the ''news of the world'' from town to town when he meets a young girl, Johanna (Helena Zengel), who was kidnapped from her family. His purpose shifts to getting Johanna home.
The production designer David Crank working with set decorator Elizabeth Keenan and art directors Natasha Gerasimova and Billy Ray recreated the volatile state of Texas five years after the Civil War, in and around Santa Fe, New Mexico, for the road trip of healing between Tom Hanks' ex-Confederate, Captain Kidd, and Helena Zengel's 10-year-old orphan. Each distinct stop on their journey (Kidd reading newspaper stories to the townspeople) is imbued with its own character and storyline, juxtaposed against remote and wild stretches of countryside. Environments were spare, often austere.
See Also: Oscars 2020: Statement Sleeves in Fashion on the Red Carpet
5. Tenet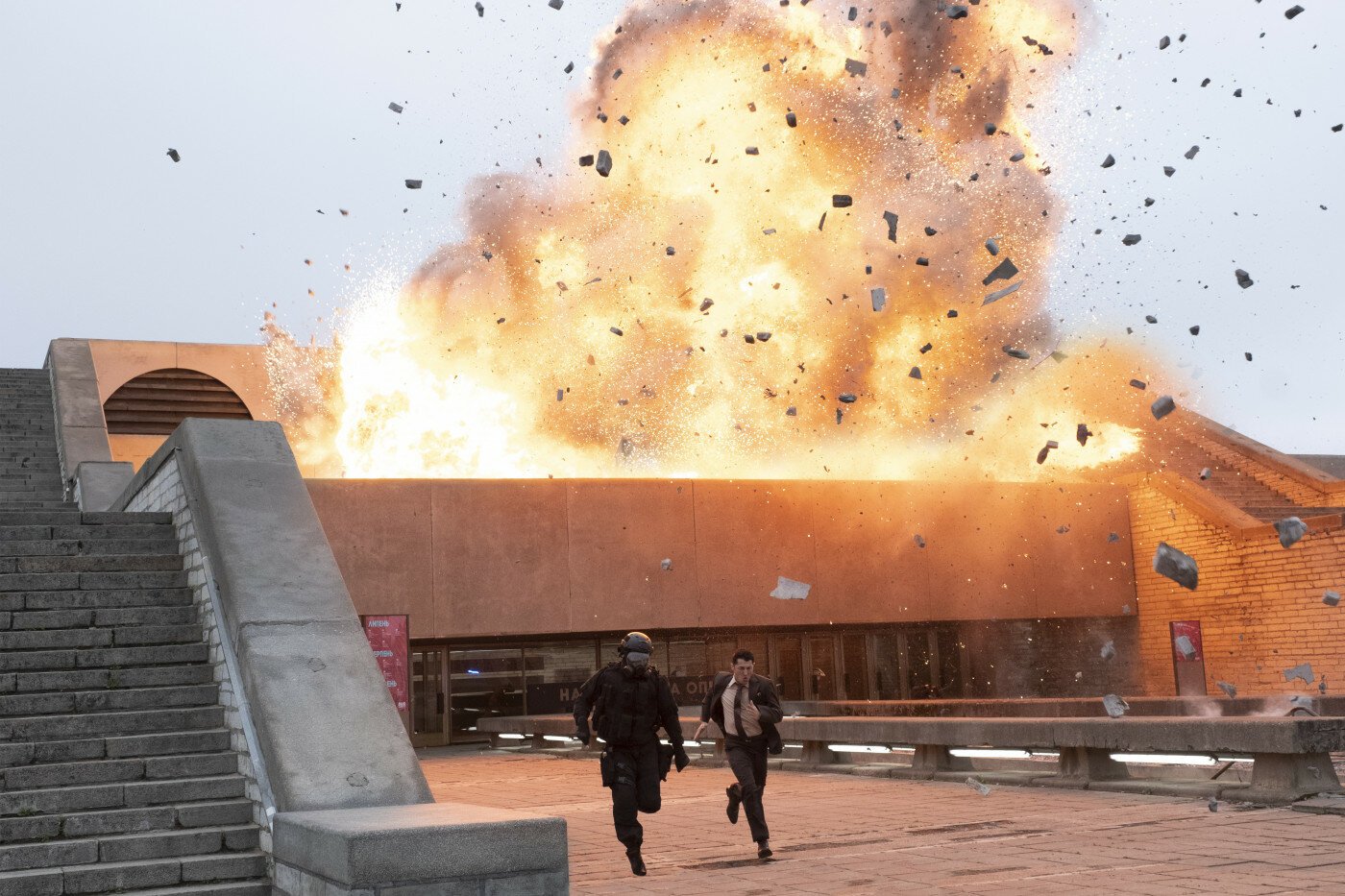 Production design: Nathan Crowley
Set decoration: Kathy Lucas
With the film, Tenet, Nolan's already six-time Oscar-nominated production designer, Nathan Crowley, utilized a series of iconic buildings, locations, and sets as a brutal backdrop for a war between past and present. The opening opera house heist was shot in a sprawling venue in Tallinn, Estonia, overlooking the Baltic Sea; the luxury superyacht of baddie Kenneth Branagh was transformed into an industrial-looking lair, which sat off the coast of Italy and the climactic, synchronized attack with two teams moving through time in opposite directions was shot primarily at an old iron ore mine in the Southern California desert, with existing structures piled next to several full-size constructions and a large-scale models.
If you were looking for some inspiration for your home decor, let yourself be dazzled by the fascinations of the films and be inspired by these 5 productions of nominated designs for the 2021 Oscars that PullCast presented to you.
Did you like our article Be Inspired By The 2021's Oscars Nominees For Best Production Design? Let us know!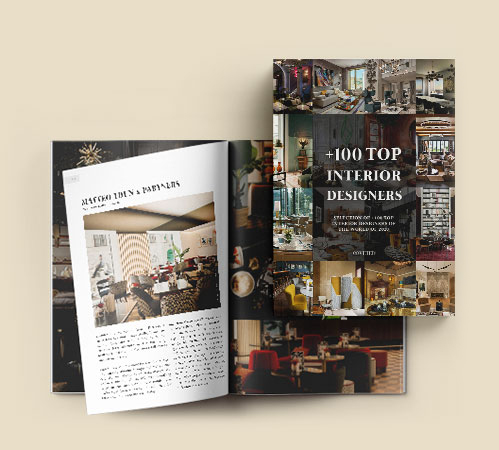 If you want to discover more about the exclusive and luxurious world of PullCast and our elegant collections of decorative hardware, then feel free to follow us on social media: Facebook, Pinterest, Twitter, Instagram, Linkedin, and Youtube!
Be Inspired By The 2021's Oscars Nominees For Best Production Design