Top Interior Design Projects with Decorative Hardware Inspirations ⇒ Explore a comprehensive range of interior design projects that highlight stunning decorative hardware inspirations. These outstanding projects range in various styles and decoration tactics conceived by extremely skilled designers and brands. As mentioned before, these projects share one thing in common, which is all are well-appointed with decorative hardware pieces that certainly steal the show!
The French style of Art Deco is known for combining modern styled pieces with fine craftsmanship and rich materials, creating a representation of luxury, glamour, and exuberance in furniture, jewelry, fashion, and more. To transport their clients into the golden age of Art Deco, the Budapest-based firm DD Interior Studio used PullCast hardware pieces supplied by Small Details to embellish this project and give it a timeless appeal, combining geometric shapes, mirrored surfaces, and the contrast of black and gold to create different textures and shapes.
Kitchen Interior by Wux Luxury Furniture
WUX Luxury Furniture decorated this remarkable kitchen interior that presents a fluid and elegant character in every single detail, from the living coral upholstery to the marble accents found throughout. The high-end design experience of this kitchen is further enhanced by the introduction of two exquisite hardware pieces: Flow & Nouveau, both of which bring a more sculptural and modern scheme to this set courtesy of their organic forms.
Monaco Apartment by Luxe Chic et Décoration
Based in Paris and Monaco, Luxe Chic et Décoration specializes in high-profile interior renovations for clients with specific needs but a single objective in common – owning a sophisticated and elegant home that suits their personal interior design taste. With this in mind, the firm chose PullCast for its newest project in a Flor Palace Apartment in Monte-Carlo, Monaco. The clients wanted a home with a modern and sophisticated style and a dark color palette with white marble accents, making it the perfect luxury setting.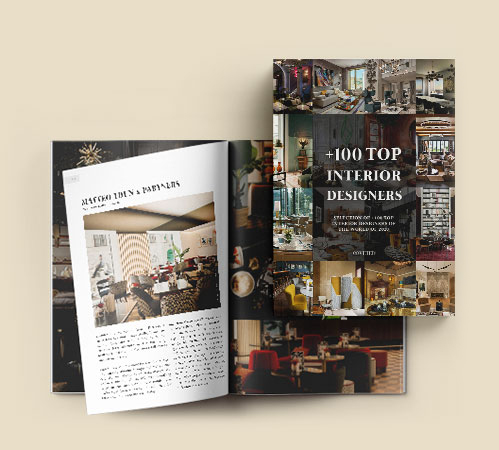 Read Also: A Luxury Apartment In The Center Of Budapest
Residential Project by Ksenia Schwarzmann
For this outstanding interior design project, Ksenia Schwarzmann opted to use diverging color schemes, high-end furnishings from luxury brands such as Luxxu and Brabbu, dramatic chandeliers, and decorative brass hardware by PullCast, all of which combined, resulted in outstandingly designed spaces.
Rich materials and textures come together beautifully in this astounding dressing room area that highlights a cream color palette and further enhanced by lavish furnishings and details. This soft quilted space is a great representation of how layered design has evolved. In regards to decorative hardware, the Flow door pull can be found on both closets of this area, a piece that is in complete harmony with nature, thus it presents a more organic form that decodes sophistication and personality.
Residential Project by Tóth Angelika
To create an utterly sophisticated and modern residence, Angelika has opted to introduce furniture designs and accessories from some of the world's leading brands, including the likes of Fendi Casa, Poliform, Cattelan Italia, Foscarini, PullCast, LUXXU, FontanaArte Lighting, Novamobili, among countless others. The designer also combined various design styles, pops of colors, and unique materials to create these timeless interiors.
Read Also: PullCast Inspirations – Admire 10 Striking Hospitality Design Projects
If you want to discover more about the exclusive and luxurious world of PullCast and our elegant collections of decorative hardware, then feel free to follow us on social media: Facebook, Pinterest, Twitter, Instagram, Linkedin, and Youtube!
interior design projects, interior design projects