The Newest Dior Pop-Up Store is a Luxurious Bazaar for Fashion Lovers ⇒ The French luxury fashion brand, Dior is once again the topic of discussion but this time due to the opening of an outstanding pop-up store in Capri, Italy. The new establishment that offers an immersive resort experience was conceived by Claudia Campone, the founder of THiRTYONE Design+Management.
Overlooking the Mediterranean Sea, the new Dior store features a reinterpretation of the traditional local ceramics combined majestically with the French textile tradition. In today's article, PullCast Blog steps inside this beautiful store that besides highlighting the brand's outstanding fashion collections, it also offers the most sweeping views one could possibly imagine.
The lifestyle and craftsmanship legacy of the island is well reflected in the store, especially noticeable in its serene ambiance that is embellished by exotic details of warm wave bamboo and cane as well as plant-filled ceilings.
⇒ Related Article: Luxury Design – Dior & Vespa Join Forces to Create Marvelous Motorcycle ⇐
Nestled on a small cliff, the Dior pop-up store in Capri was completely reshaped into a luxurious bazaar decorated in pastel hues of blue, gray, and pink and with a dash of tropical and coastal accents. dior pop-up store, dior pop-up store, dior pop-up store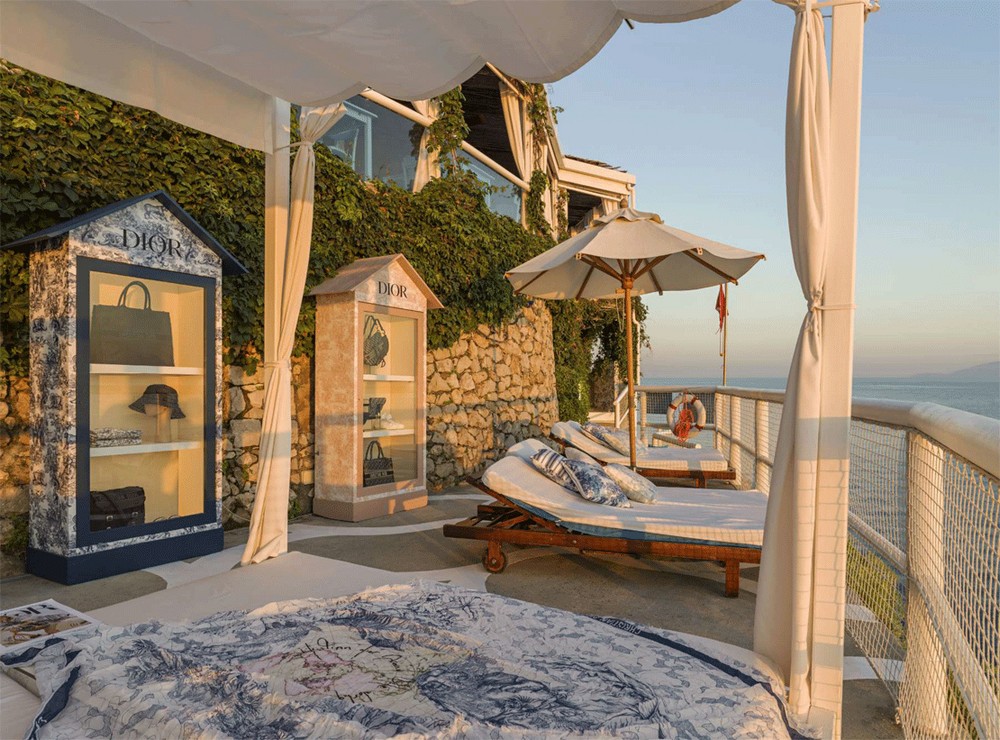 The outdoor area of the store is well-appointed with beach cabins that were customized with Dior's iconic graphics from the resort collection, including Bayadère and Toile de Jouy as well as camouflage patterns and drawings by Pietro Ruffo.
Furthermore, one of the latest fashion launches of the luxury brand, the Dioriviera 2020 capsule collection is also highlighted throughout. This exclusive series of items was designed by Maria Grazia Chiuri, Dior's creative director, and includes fun prints on tops and dresses sailor tops, summer accessories as well as iconic bags that feature the brand's staple design style. dior pop-up store, dior pop-up store, dior pop-up store 
All in all, the paradisiac store is bound to become one of the most sought-after summer destinations for many fashion lovers out there as it perfectly blends fashion and nature in one of the most coveting locations of the world.
⇒ Read Also: Fashion Trends: Discover The Ruling Colors of Autumn/Winter 2020/2021 ⇐

If you want to discover more about the exclusive and luxurious world of PullCast and our elegant collections of decorative and architectural hardware, then feel free to follow us on social media: Facebook, Pinterest, Twitter, Instagram, Linkedin, and Youtube!
Sources: THiRTYONE Design | designboom
The Newest Dior Pop-Up Store