Magical Christmas Inspirations For You Home Decor ⇒ Nothing like the Christmas season to switch up a few things, and in today's article, PullCast Blog explores exquisite Christmas inspirations to highlight your decoration.  In Today's article, we bring you a few luxurious ideas that will create that wonderful Christmas magic ambiance while keeping your home elegant!
a
Magical Christmas Inspirations For You Home Decor
Stay Modern
Like this amazing ambiance, besides the big Christmas tree, choosing modern, minimalist pieces as Christmas décor will allow you to decorate your home in a subtle but meaningful way, which is ideal if you want your home to seem stylish and put together during the holidays. Furthermore, because they aren't overly Christmas-y, you can keep these trees on your sideboards all year.
Keet It Original
Who says that you can be creative on Christmas decor? Use the most traditional decoration pieces and transform them into something different that will stand out in the middle of the whole decoration.
And because the Christmas tree is for the whole family and doesn't need to be just classical, surprise the kids of the family and add some different ornaments and get a funny touch to the tree!
GET THE LOOK:
Elegant White Decoration
White reminds us of snow, which in turn reminds us of winter, so white decorations are a great option. Plus, white is a classic color, making it more sophisticated than bright red and green shades. Go for a minimalist look and invest in candles and centerpieces that can easily be switched out once spring comes.
See Also: Christmas Decor Ideas: Deconstructing a Unique Living Room Set
Black Is Also Allowed
Neer the new year, it's time to change minds! Christmas doesn't need to be only red and green.
Any decoration should be allowed on Christmas as long as a vibe is there. Dark tones can be a choice too and stay pretty elegant!
Complement this darks look with outstanding pieces with a catching glow like golden hardware pieces. If you don't know where to find these pieces, PullCast has a whole offer perfect to shine in your decoration!
GET THE LOOK:
See Also: Unique Jewelry Hardware Trends You Can´t Miss This Winter
Natural Mystics
This Christmas use natural elements on your decoration and let nature shine through your ambiances! Create unique decorations with elements like pine cones and pine greens.
See Also: Top Hardware Trends Of Winter 2021/2022
Go more ahead and bring nature to your cabinetry and doors. PullCast create the Earth collection with the most unique hardware pieces inspired by natural elements that came out directly from mother earth.
GET THE LOOK:
Every Detail Counts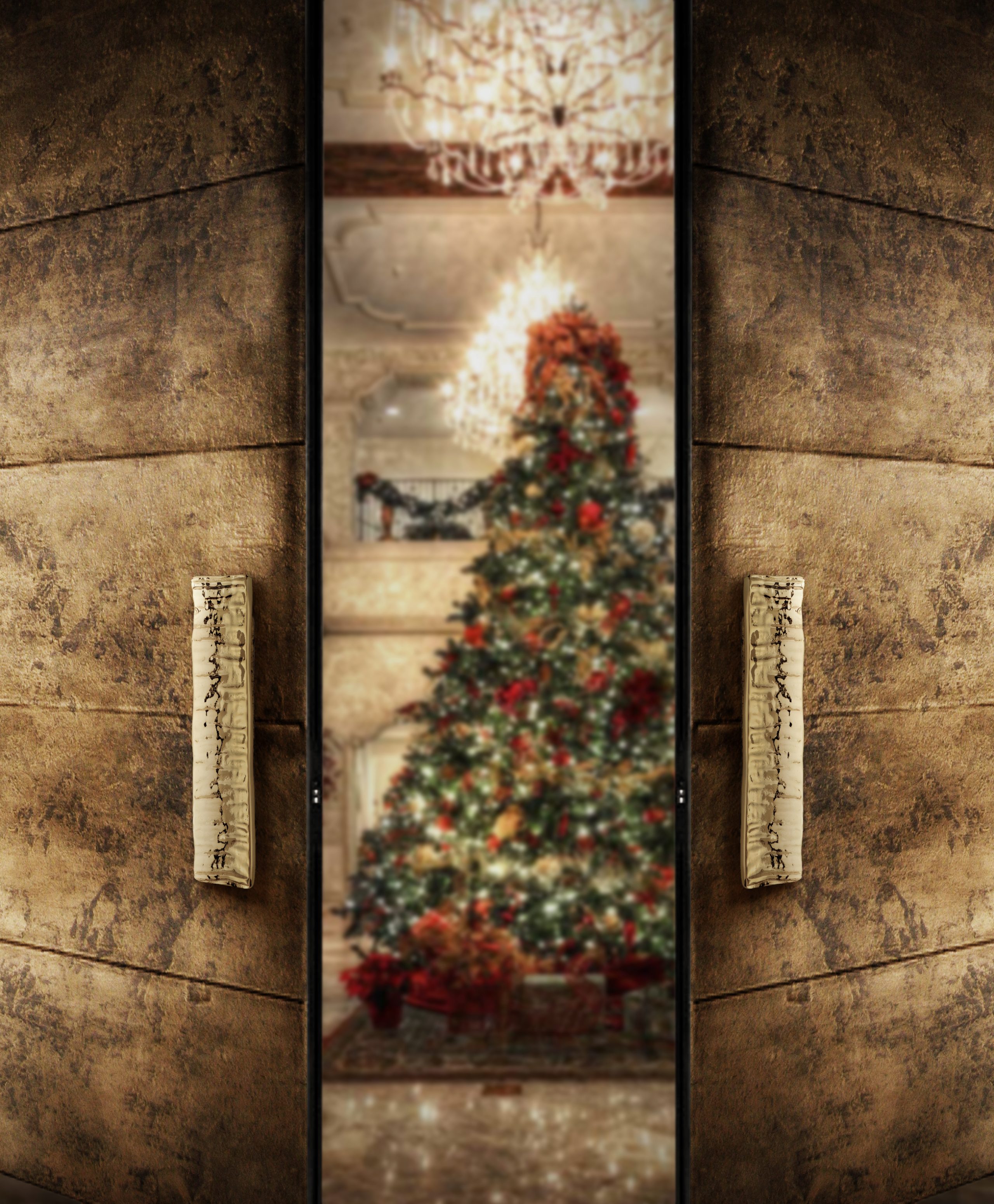 When decorating your home for the holidays, every detail counts, including your door pulls and cabinet handles. Refresh your home with new hardware from PullCast, such as our Baruka door pull. Match them with our other Baruka family pieces and you'll be all set for Christmas.
GET THE LOOK:

Did you like our article Magical Christmas Inspirations For You Home Decor? Let us know!
Discover the exclusive and luxury world of PullCast and dive into our amazing and elegant list of decorative and architectural hardware products. They will help you elevate and transform your home decor or your interior design project into a unique experience! For more inspiration regarding decorative hardware, follow us on Facebook, Pinterest, Twitter, Instagram, Linkedin, and Youtube!