Marvel In Outstanding Dressing Room Designs by Shubox Russia ⇒ Led by co-founders Andrey Shpagin and Anastya Shpagin, Shubox is one of the most sought-after yet promising interior design studios in Russia. The dynamic duo specializes in curating high-end wardrobes, closets, and dressing rooms that blend functionality and beauty to new standards.
In each project, Shubox Russia certainly opts for an enriching combination of materials, colors, and textures that certainly make quite a statement, not to mention their choice of furnishings, lighting pieces, and accessories, including exclusive decorative hardware pieces. In today's article, PullCast Blog explores three astounding dressing room spaces designed by the design studio that are an epitome of luxury and sophistication!
Rich materials and textures come together beautifully in this astounding dressing room area that highlights a cream color palette and further enhanced by lavish furnishings and details. This soft quilted space is a great representation of how layered design has evolved. In regards to decorative hardware, the Flow door pull can be found on both closets of this area, a piece that is in complete harmony with nature, thus it presents a more organic form that decodes sophistication and personality.
⇒ Related Article: Be Marveled by Hardware Inspirations for Closet and Dressing Areas ⇐
While in the former setting, the interior design studio took a lighter approach color-wise, for this one, they opted for stronger hues, such as brown, dark green, and gold.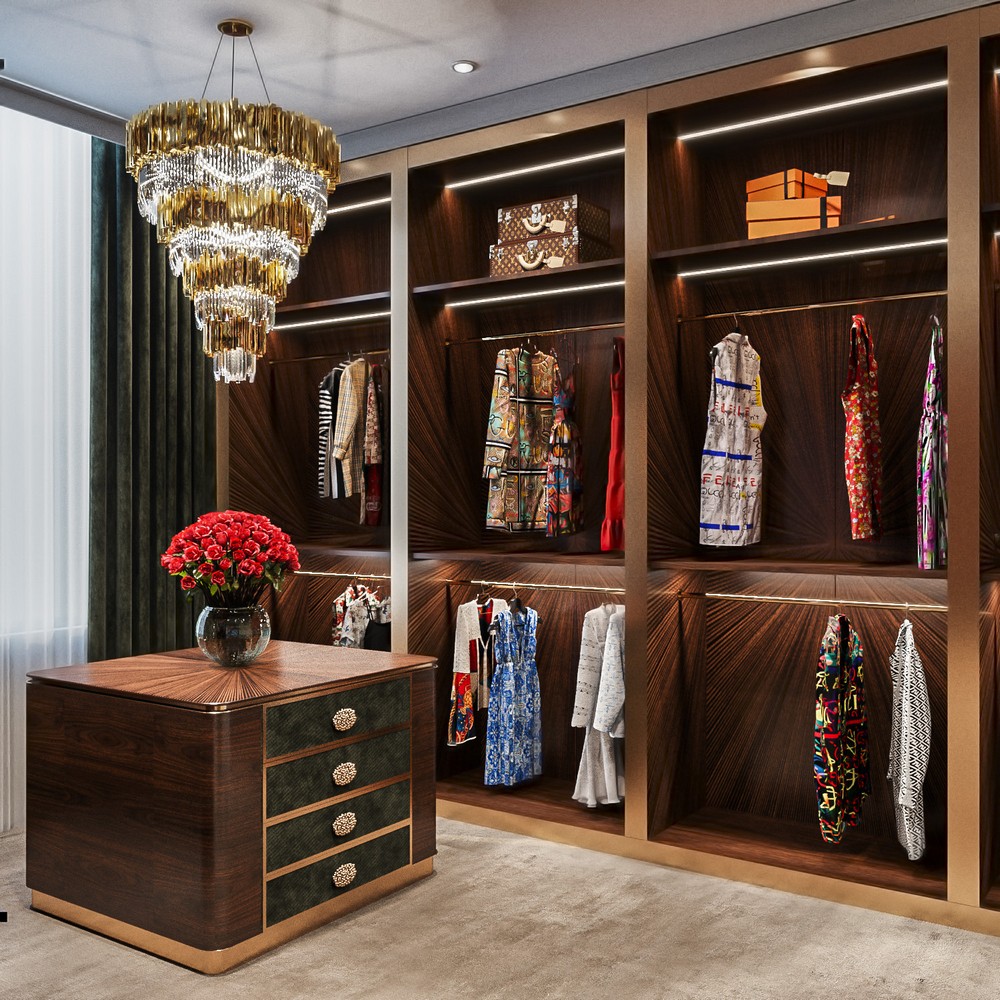 This majestic dressing room highlights a stunning brass and crystal chandelier as well as textured wooden designs and upholstered furnishings in sumptuous fabrics. However, the Caviar drawer handles that adorn a table with natural appeal, certainly make quite a statement and add a sense of mysticism and opulence.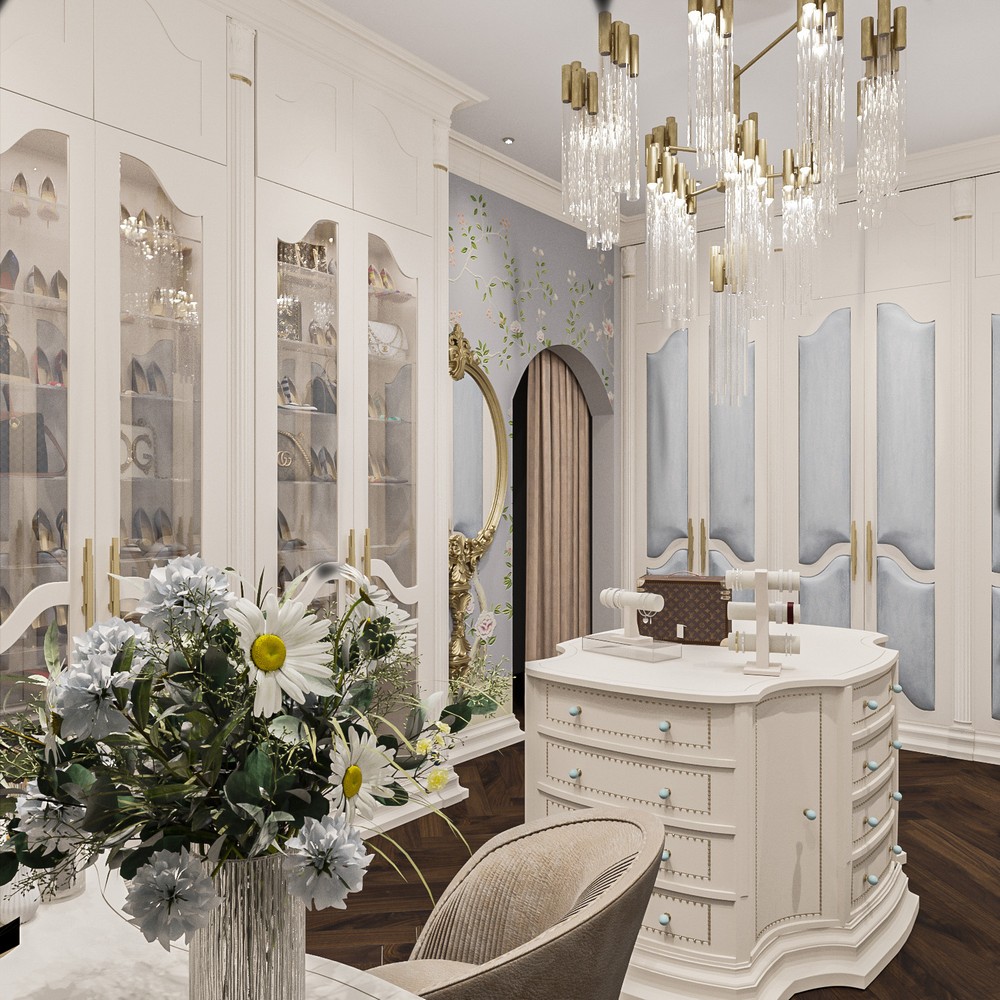 This mesmerizing dressing room space is actually one of the latest projects conceived by Shubox Russia. The color contrast is indescribable, the lighter blue tones merge beautifully with the white shades found across the room as well as the wooden flooring and the golden accents of both the cosmopolitan-styled door pulls and the gargantuan suspension lamp. Furthermore, the lively wallpaper and mirror grant a more whimsical touch to this wardrobe.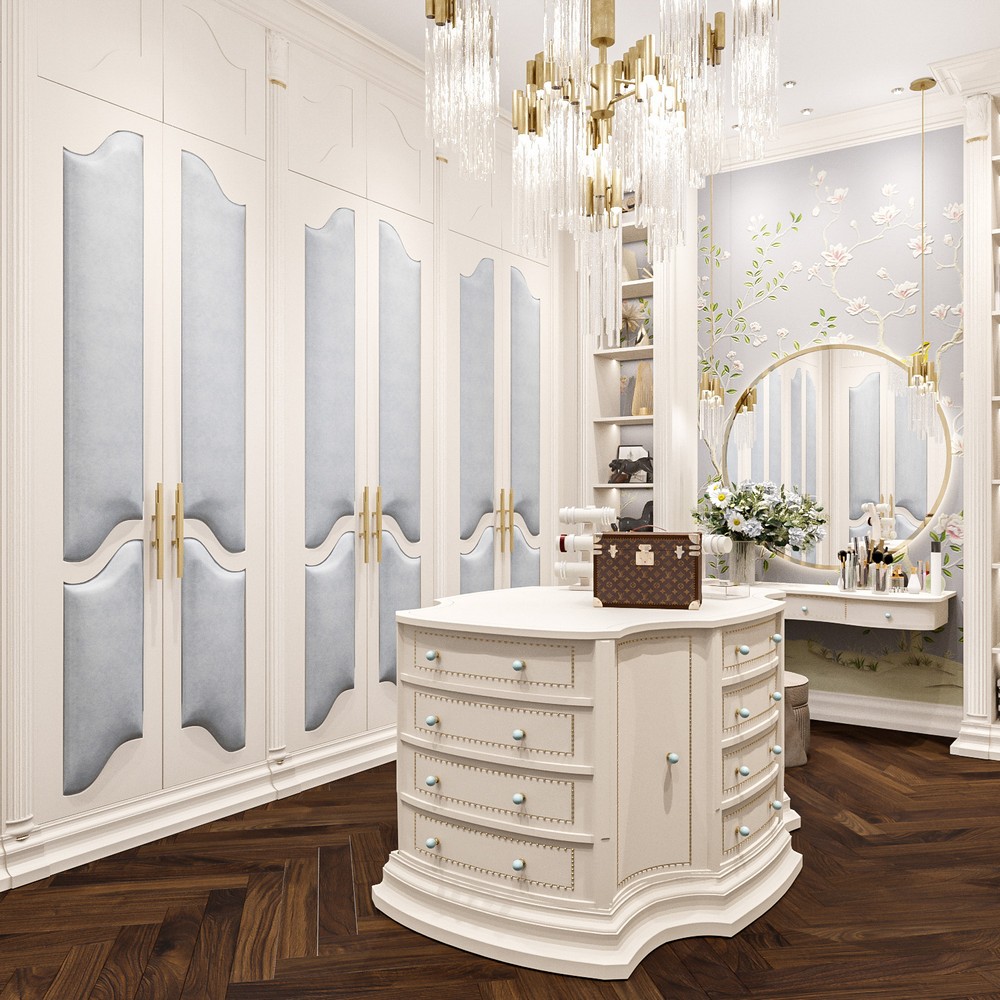 ⇒ Read Also: Sophisticated Miami Living – A Luxury Project That's About the Details ⇐
If you want to discover more about the exclusive and luxurious world of PullCast and our elegant collections of decorative and architectural hardware, then feel free to follow us on social media: Facebook, Pinterest, Twitter, Instagram, Linkedin, and Youtube!
dressing rooms