Luxury Yachts: Revel in the Beauty of the Tecnomar for Lamborghini 63 ⇒ This astounding brand-new yacht design was the result of an exciting collaboration between the world-renowned car manufacturer, Lamborghini and one of the largest yachting firms in the world, The Italian Sea Group.
The limited edition motor yacht takes its name in reference to Lamborghini's 1963 foundation. Highlighting modern lines and luxurious features and its main design inspiration was the hybrid super sports car, Lamborghini Sián FKP 37. In today's article, PullCast Blog takes a look at this remarkably developed vessel that was unveiled just a few months ago.
⇒ Related Article: The World's Largest Yachts that Shocked the Industry ⇐
Regarded as the future driving pleasure for any yachting enthusiasts, this quintessentially Lamborghini vessel was designed with the utmost attention to quality and details, combining Italian style and tradition, not to mention it is well-appointed with innovative engineering solutions.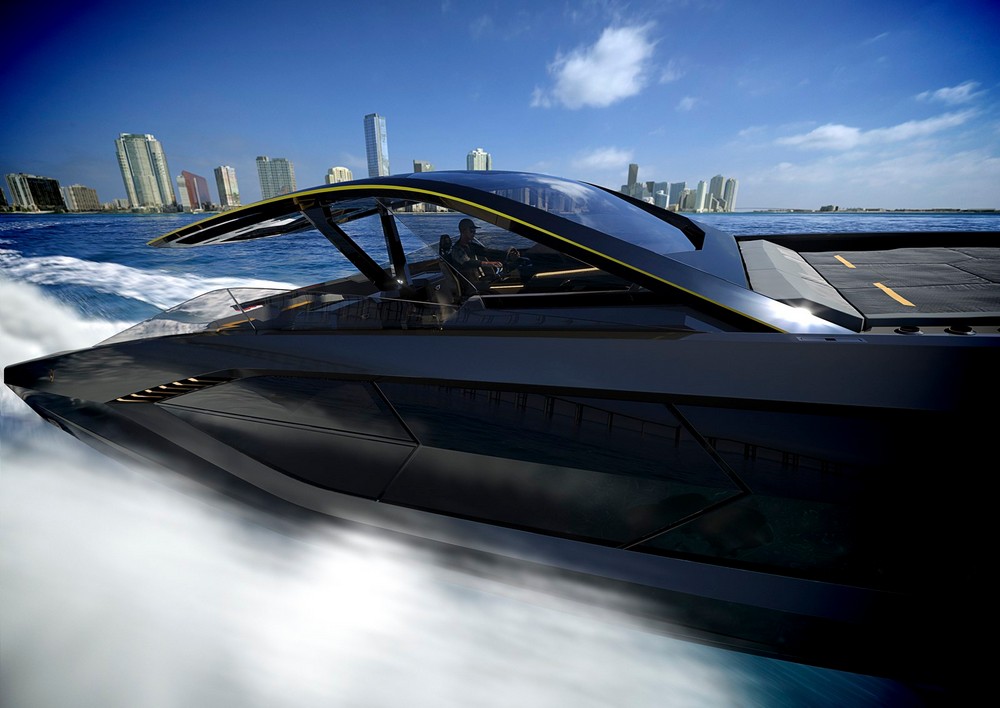 This unique vessel presents a super sportive silhouette with a nautical aesthetic. The hull and superstructure were actually created from a high-performance shell, developed by naval engineers, specialized in hydrodynamic sciences. luxury yachts
Tecnomar for Lamborghini 63's interiors definitely introduce high-tech design elements that are perfectly combined with Lamborghini's iconic clean lines, hexagon shapes, Y-motif, and high-quality materials. luxury yachts
Due to its carbon-fiber construction, the Tecnomar for Lamborghini 63 has been classified as an "ultra-lightweight" boat. Furthermore, the 4,000-horsepower yacht design measures 63ft and it is powered by two V12 engines, which allows the boat to reach 60 knots of speed. The Tecnomar for Lamborghini 63 currently has a price tag of approximately $3.4 million and only 63 examples will be made available come 2021. lux
"This yacht represents the significance of creating a valuable partnership, at its best: our co-operation allows the essence of both organisations' style and expertise to be transferred to different worlds, sharing in their diversity to interpret and add value to the final product in a new environment. If I had to imagine a Lamborghini on water, this would be my vision. I'm delighted to celebrate this successful collaboration." – Stefano Domenicali, Chairman and CEO of Automobili Lamborghini
⇒ Read Also: Recollect 4 Striking Luxury Yacht Interiors Decorated by Kelly Hoppen ⇐
If you want to discover more about the exclusive and luxurious world of PullCast and our elegant collections of decorative and architectural hardware, then feel free to follow us on social media: Facebook, Pinterest, Twitter, Instagram, Linkedin, and Youtube!
Sources: Lamborghini | Business Insider
Luxury yachts, luxury yachts, luxury yachts