Decorative Hardware: Front Door Inspirations for a Modern Look in 2023 ⇒ If you are looking to convey personality to your exterior design, then introducing distinctive decorative hardware to your door is a rather viable design solution, from modern to traditional as well as bold and distinctive.
There a few ways in which you can definitely upgrade your exterior front door design. Introducing a vibrant color is excellent to give a bit of energy to your entrance, however, there is another way to do so and it is by adding distinctive decorative hardware, and in this article, PullCast Blog presents a series of front door inspirations featuring exclusive door handles and pulls for an embellished and modern design.
There's no better way to upgrade your entrance, than by adding a design in gold and black tones. For instance, the Spear mid-size door pull grants a unique aesthetic to this robust door design, making quite a powerful statement.
In this exterior, the presence of charcoal sets a dramatic tone while being further enhanced by bright shades of green in the front door, also complemented by a circular decorative hardware piece in golden tones.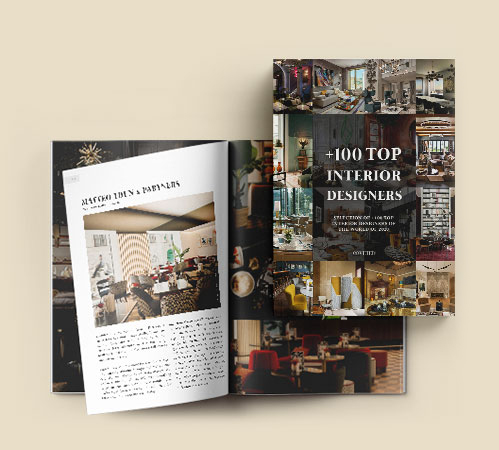 ⇒ Related Article: Five Inventive Door Handles You'll Go Crazy For! ⇐
Inspired by the skylines of major cities, the Skyline door pull becomes rather iconic in silhouette as it is bathed in a combination of polished brass and Alabastro Marble.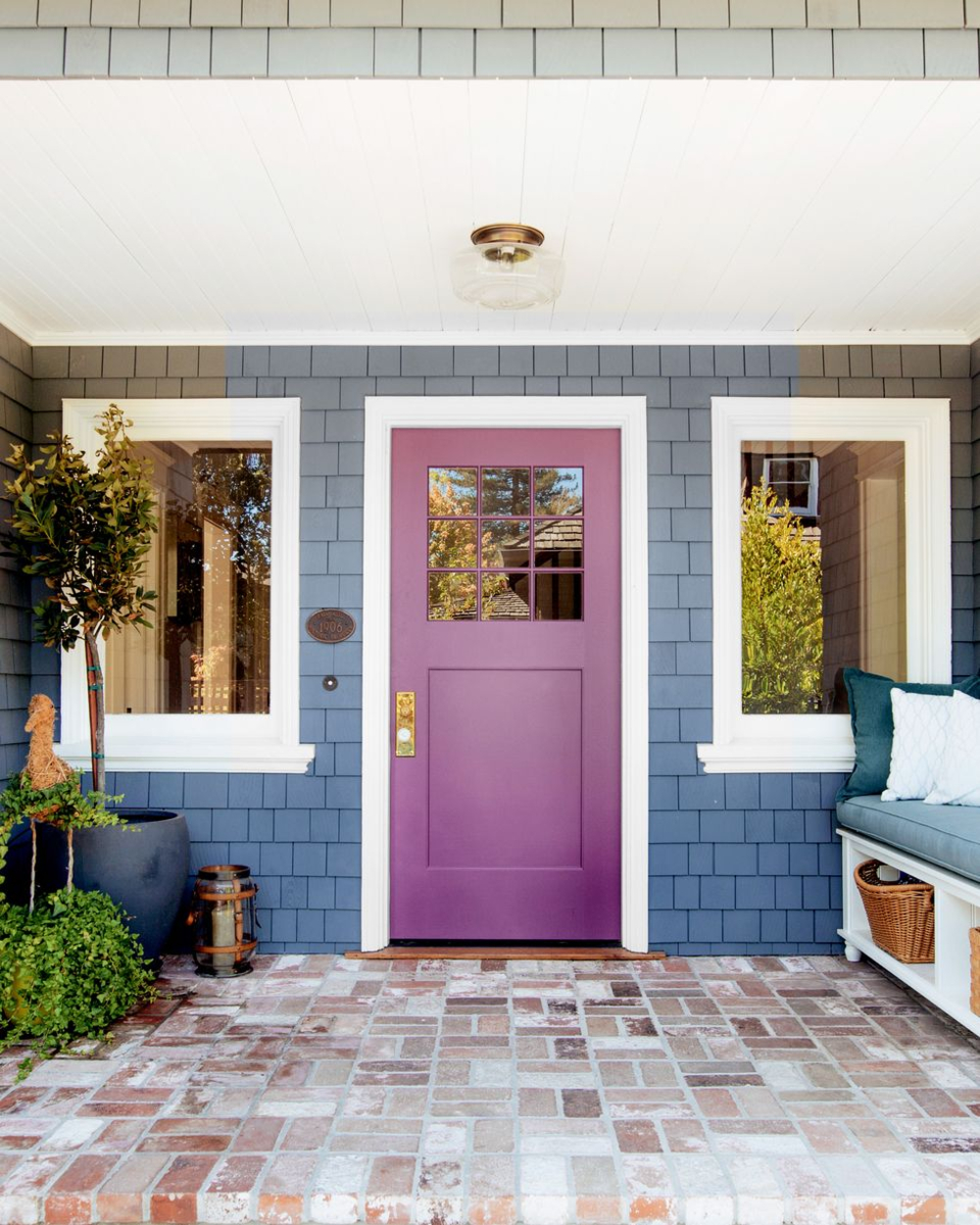 The purple tones of the door with golden tones of the doorknob make for surprising color contrast. This house was designed by Fergus Garber Young Architects.
In this front entrance, the Brubeck door pull provides a more mid-century modern flair. This exclusive decorative hardware piece is comprised of asymmetrical polished brass tubes.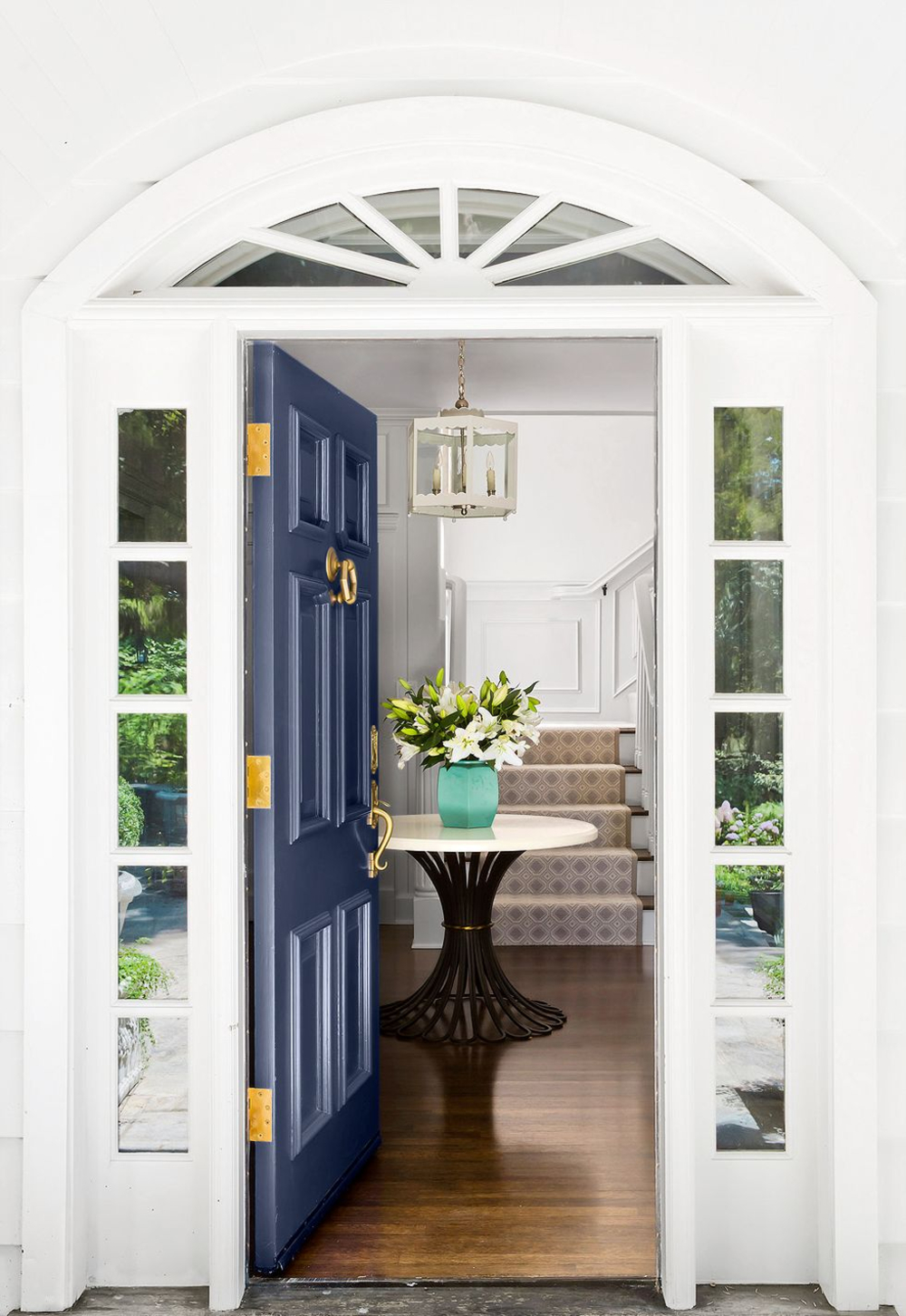 If you have a white entrance, it is a great idea to add colorful tones to your door. For example, the set depicted above highlights a more traditional style, however, the use of a rich blue with purple undertones certainly adds a more refreshing touch, not to mention all the golden details found in the doorknobs. This exterior was designed by Christine Markatos Lowe.
If by any chance your entry benefits from earthy elements, then a decorative hardware piece like the Sonoran big size door pull will certainly become the perfect addition due to its irregular beauty and uniqueness. Its design was actually inspired by the world's most known desert.
⇒ Read Also: Outdoor area design ideas to discover⇐
If you want to discover more about the exclusive and luxurious world of PullCast and our elegant collections of decorative hardware, then feel free to follow us on social media: Facebook, Pinterest, Twitter, Instagram, Linkedin, and Youtube!