Bathroom Ideas: How to Give A Riveting Yet Timeless Vibe to Your Decor ⇒ Creating the perfect balance between tranquility and elegance is the best way to granting a riveting yet timeless touch to your bathroom decor.
When it comes to decorating or remodeling a bathroom interior, there are so many ways to do so, from focusing on ornamentation to going all out on exuberant forms. In today's article, PullCast Blog explores six outstanding bathroom ideas that are not only glamorous but also bring comfort and function to a whole new level!
Bathroom Ideas with Avant-Garde Brass Hardware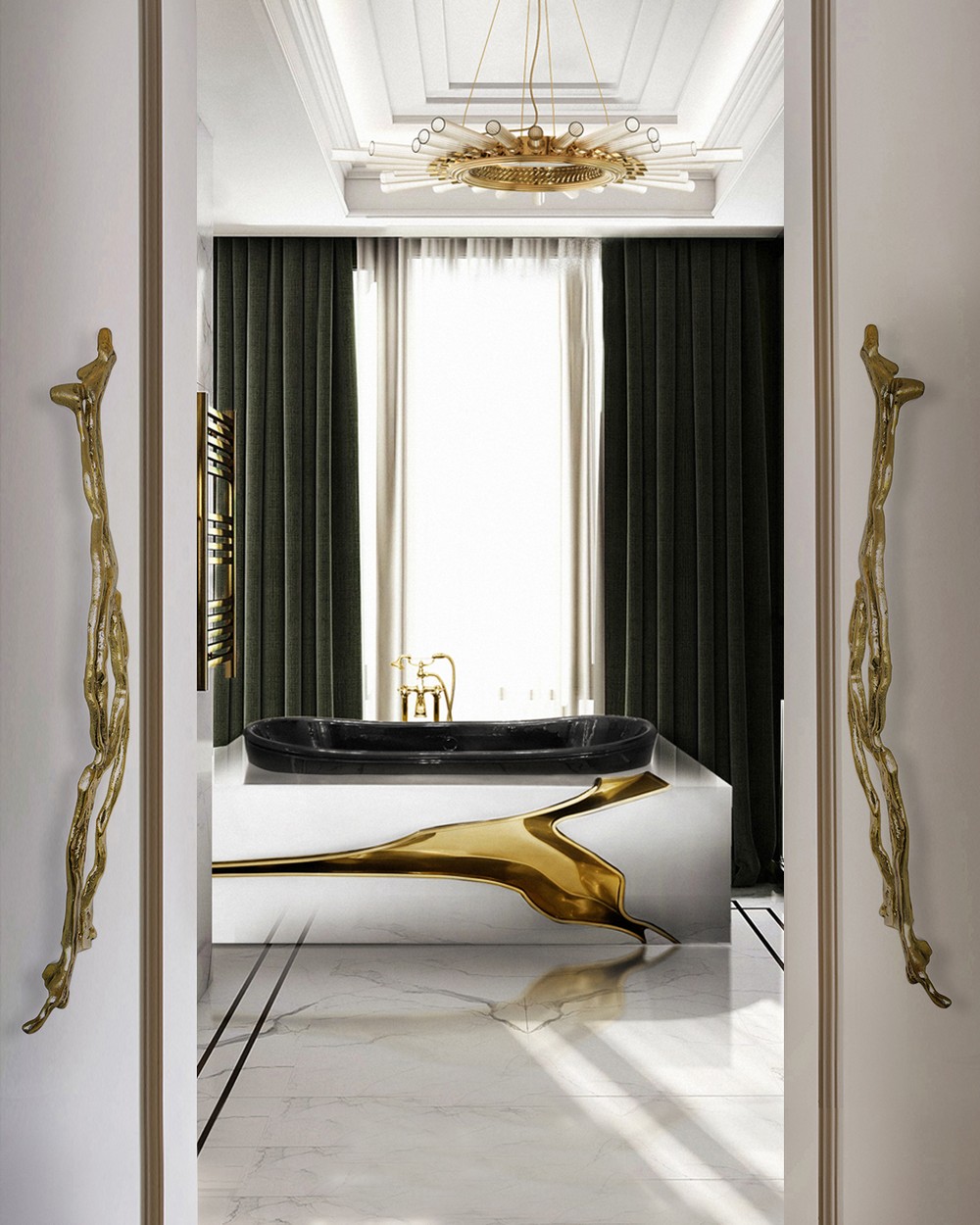 One of the easiest ways to introduce a glamorous and bespoke feel to your bathroom is by adding brass hardware to your bathroom furniture. The lustrous Flow door handle by Pullcast is a perfect choice as its versatile shape and texture are rather adaptable to any bathroom style.
Many Shades of Black with Gold on the Side
Choosing the color black for a freestanding bathtub will introduce opulence to your bathroom. It will certainly become the focal point of your space, especially if combined with gold accents, case in point, the exclusive door pull that certainly brings a glimmering and artful aesthetic.
Zen Bathrooms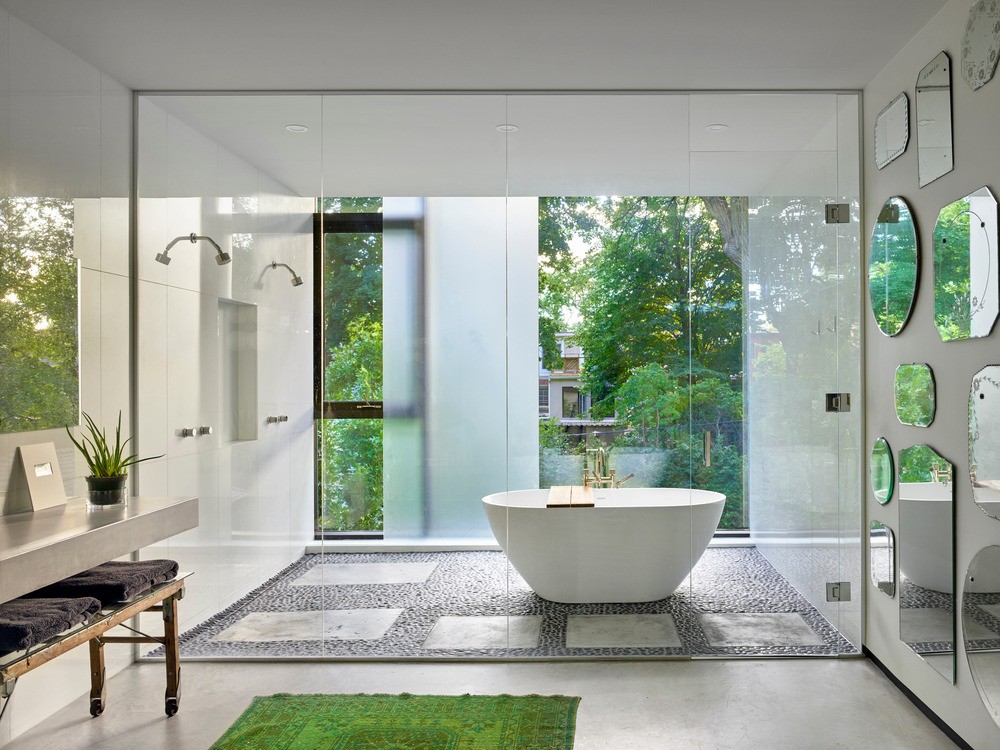 Introducing spa-like features such as a neutral color palette, natural materials, greenery, and minimal aesthetics is a great way to create your own stress-free environment.
⇒ Related Article: Luxury Bathrooms – How to Adorn Your Cabinetry with Decorative Hardware ⇐
Mirrors with Detailed Frames
Selecting wall mirrors that feature a frame that goes beyond its conventional concept is an excellent manner to add an intriguing touch to your bathroom, as you can see by Maison Valentina's Tortoise mirror. In addition, the Skyline drawer handle found on the cabinetry, which while it is subtle in size, assuredly introduces a more cosmopolitan flair to the overall decor.
Marble-effect Wallpapers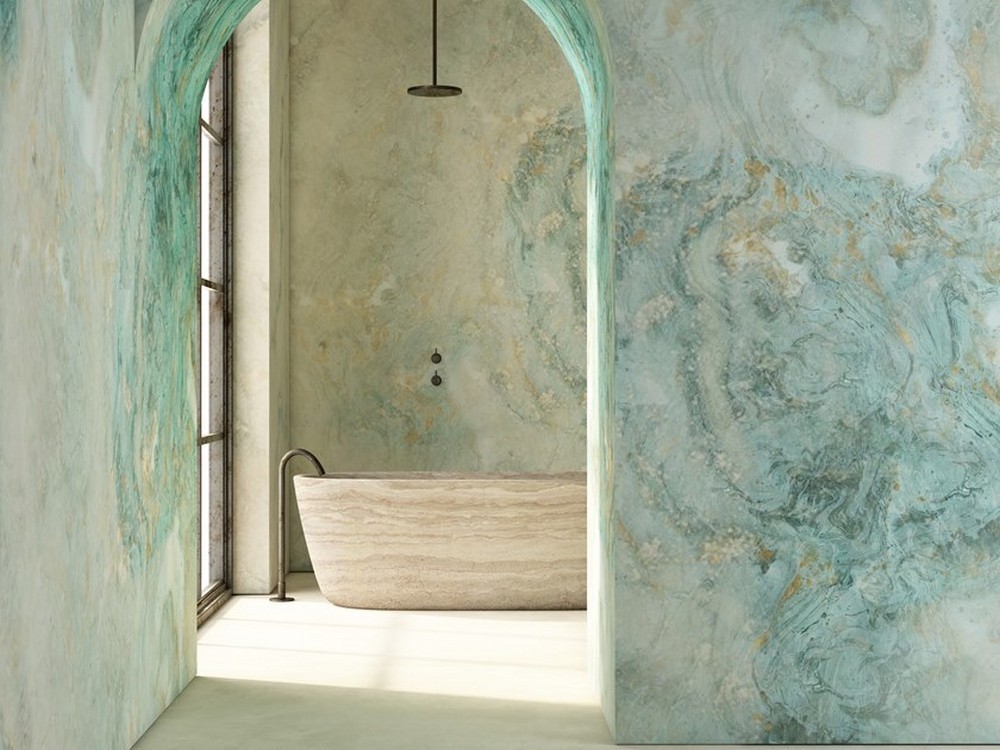 Bringing an undeniable sense of glamour and refinement, this type of wallpapers are perfect for modern or contemporary bathrooms. Marble is one of the most versatile materials in the world and this is one of the main reasons why it is so sought-after, there are so many kinds, from Nero Marquina to Estremoz, and it is also possible to mix and match it in various colors and patterns. For instance, the bathroom depicted above is a good example of how this trend should be implemented. In this set, one can find the Aqualunae wallpaper by Glamora which was inspired by a winter garden, perfectly merging dreamlike landscapes and granting this bathroom a natural look.
Use of Vivid Colors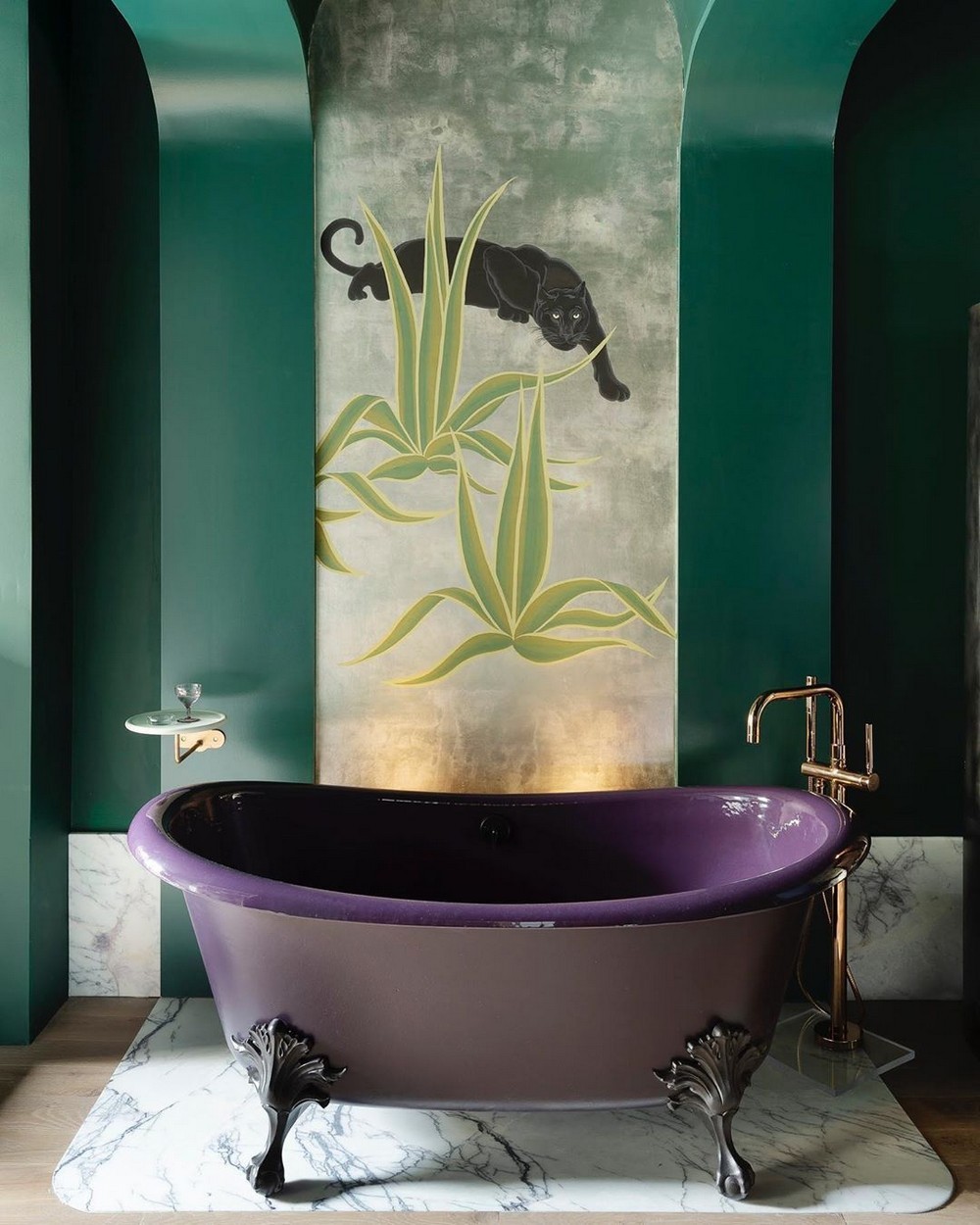 Adding a bit of color to your bathroom decor can be a great way to introduce more character and style to your set. For example, in this bathroom design, Studio DB made quite a dramatic statement by painting the walls in deep green tones and further enhanced it by introducing a unique wallpaper.
⇒ Read Also: Luxury Bathrooms – See 6 of the Most Iconic Collections Ever Designed ⇐
If you want to discover more about the exclusive and luxurious world of PullCast and delve into our elegant collections of decorative and architectural hardware by following us on social media: Facebook, Pinterest, Twitter, Instagram, Linkedin, and Youtube!