Virtually Step Inside Louis Vuitton's New Osaka Midosuji Boutique Store ⇒ Louis Vuitton is always trending no matter the industry, from fashion to design, the renowned luxury brand keeps reinventing itself by expanding its repertoire.
As of recent, the brand is set to open a new Osaka Midosuji boutique in Japan. The astonishing four-floor project was conceived in collaboration with architects Jun Aoki and Peter Marino, who have already worked with Louis Vuitton on multiple occasions. In today's article, PullCast Blog sails on a virtual tour through this brand-new boutique store!
The interiors of the store have a nautical theme to it, having influences from ships and yachts. Jun Aoki grants a pure, light and airy vibe by using a white palette as well as introducing metal motifs, inspired by the classic Higaki-Kaisen cargo ship.
Peter Marino combined maritime aesthetics with traditional Japanese culture. The architect used wooden floors, wood-clad pillars, and metal ceilings so as to resemble a ship or yacht deck. Throughout the store, you can also find a series of artworks that were either chosen or commissioned by Marino himself.
⇒ Related Article: LV Exhibition Celebrates 160 Years of Design Collaborations ⇐
Besides fashion items and clothing, the store also highlights a wide variety of Louis Vuitton designs, including the Cocoon and Bomboca sofa by Fernando & Humberto Campana and multiple pieces by Tokujin Yoshioka, all from the brand's Objets Nomades collection.
Two of the main attractions of the boutique store will be the Le Café V, the first-ever Louis Vuitton Café that will also boast a generous terrace and bar, and the Sugalabo V luxury restaurant that provides an intimate dining experience for only a selected few. Both spaces will have curated menus prepared by renowned chef Yosuke Suga.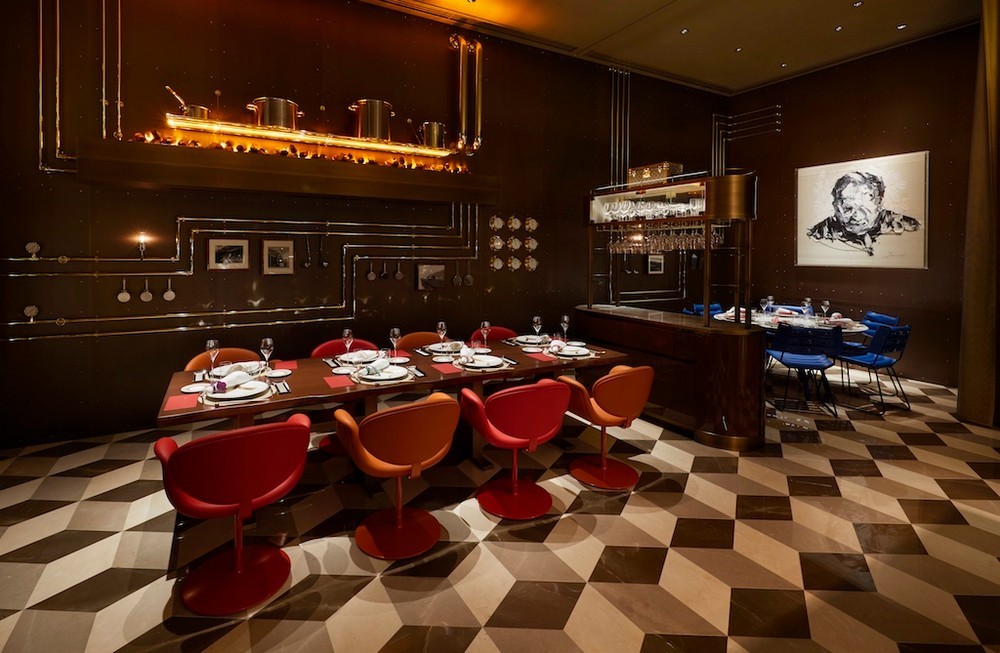 The architecture and interior design of the restaurant present nautical details matching the design of the boutique and thus offering a sense of continuity between spaces.
⇒ See Also: 6 Outstanding New Architecture Projects to Look Forward This Year ⇐
Discover the exclusive and luxury world of PullCast and dive in our amazing and elegant list of decorative and architectural hardware products. They will help you elevate and transform your home decor or your interior design project into a unique experience!  For more inspirations like this new boutique store by Louis Vuitton, follow us on Facebook, Pinterest, Twitter, Instagram, Linkedin, and Youtube!
Sources: Dezeen | Haute Living