Top 25 Interior Designers in Singapore ⇒ Singapore's reputation as a preeminent global destination for modern design was recently recognized with its designation as a UNESCO Creative City of Design. The influence of luxury design on the city is best observed through three primary areas: its hotels, its community of furniture makers and retailers, and its network of institutions dedicated to promoting the thriving scene. Singapore is filled with top interior designers that utterly pay homage to the city's essence and to contemporary design in general, so here are the 25 names that made a mark in interior design.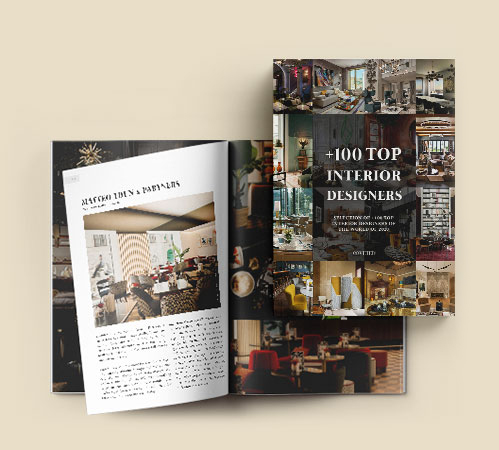 Aiden T
Aiden T is the anagram of the initials of its principal Arjan Nijen Twilhaar. The Award-Winning firm offers full design services, specializing in residential and commercial spaces. Founded in 2005, Arjan designed a wide range of design projects including landed property, condominiums, flats, spas, restaurants, hotels, retail, and offices.
akiHaus Studio
akiHAUS is a little boutique interior design consultancy firm that won the Interior Design Firm of the Year at the Lookbox Design Awards 2018, amongst many other awards.
Architology
Architology is a design consultancy that serves its clients based on their individual level of needs. From Interior Design to Branding, it processes every brief uniquely and offers design interventions that are tailored to each context based on the values of Boldness, Elegance, Purity, and Livability.
Arete Culture
Arete Culture is an interior decorating firm specializing in fast, affordable, and fuss-free home makeovers. They believe in creating beautiful and functional spaces that clients can feel at home in.
Related Article: Design Hubs Of The World – 25 Top Interior Designers From Moscow
Carpenters 匠
Carpenters Design Group adopts a fair and ethical business practice as well as appropriate marketing communications at all times and having the responsibility to our customers.
Ciseern
Being a market leader in Singapore's interior design industry, Ciseern by Designer Furnishings Pte Ltd had been established since 1997. As a creative interior design company that is famously known for its aesthetic interior design concept, they have been a trusted partner for many satisfied clients. As an interior design company built on 20 years of vast experience and expertise, Ciseern has accumulated an impressive track record founded on trust and credibility becoming one of the top interior designers in Singapore.
Design Intervention
DI partners Nikki Hunt and Andrea Savage are masters at bringing personality to life by using visual language to express their clients' passions and aspirations. Thus, in true Design Intervention fashion, they craft to their client's exact passions and aesthetic. Combining poised glamour, and feminine romance, while also incorporating her Chinese heritage, through modern design they create the perfect escape from the modern world.
Free Space Intent
Established in 1999, Free Space Intent (FSI) is a full-service residential and commercial interior design firm. With a decade of experience, they have worked with a large variety of private and corporate clients, creating a wide range of residential spaces, bars/lounges, restaurants, retail outlets, and office spaces.
Fuse Concept
Established in 2001, Fuse Concept aspires to provide quality design consultation and turnkey project management to residential and commercial projects. Their dedicated team of designers and craftsmen conduct our projects on the principle that their clients' needs and expectations are paramount.
Related Article: Design Hubs Of The World – 25 Top Interior Designers From Berlin
HBA Singapore
HBA creates the signature looks of today's luxury brands, independent contemporary boutique hotels, urban resort spas, world-class residences, restaurants, and casinos.
Juz Interior
Juz Interior specializes in transforming Singapore's residential spaces. Whatever your style or budget, they're the top interior designers you can trust.
LCL Interior
LCL's integrated interior design solutions include design, fit-out, and decoration. They are also responsible for the overall management of their amazing Interior Design Projects.
Mr Shopper Studio
Mr Shopper Studio was established in 2014 in the pursuit of creating the ultimate aesthetic and super customized consumer service for the local interior scene in Singapore.
Related Article: Top 20 Interior Designers in Dublin
Neu Konceptz
Home is where the heart is, and at Neu Konceptz, we design homes close to your heart. We understand homes and we understand homeowners. Their highly-trained interior designers are here to meet your needs with professionalism and provide a comfortable home for you and your loved ones.
Prestige Global Designs
Established in 2008 by Michael Ong and Jeremy Tay, Prestige Global Designs is a multi-award-winning interior design firm based in Singapore that prides itself in providing luxurious interiors for residences, show suites, hospitality and offices. The designs are customized to individual requirements, which includes creative planning for maximum spatial functionality.
Space Atelier
Established in 2014, SPACE ATELIER PTE LTD, is a creative practice that operates within the field of interior design. We approach to design through rigorous inquiry into the needs & challenges unique to each project, delivering tailored-made solutions & crafting spaces to reflect the unique quality of our client's individuality, tastes, lifestyle, and/or company image.
Singapore Carpentry
At Singapore Carpentry, they offer carpentry, interior design as well as design and build services, with meticulous attention to detail combined with the end-user experience in mind.
Superfat Design
Superfat Designs is a multi-disciplinary interior and architectural consultancy firm, with a keen interest in visual arts, photography, sustainability, and contextualism. They pride themselves in synthesizing clients' needs with contextualization and sympathy to the built environment, producing a design uniquely tailored to suit the lifestyles of their clients.
Studio DB
Long before DB Studio came into creation, they fueled their passion by crafting designs and building homes and offices for friends and relatives. In 2014, after five years of well-pleased patronage, DB Studio company came into fruition. Now, they live and breathe to construct interior design to suit every detail to their customer's needs.
Related Article: Discover the Work of 20 of the Best Interior Designers in London
The Scientist
Inquisitive, Explorative, Persistent, Creative, Analytical. These five elements are as important to a scientist as they are to a designer. Design is a multi-faceted profession in which creative and technical solutions are applied, to build a cosy and comfortable living environment.
Vivre Creating Design
Inspired to design stylish and luxury homes in Singapore, Vivre Creating Design delivers a  personalized interior that caters to your lifestyle, ensuring that every design detail is tailored to clients' needs.
Weiken
What impressed us about Weiken, is their refined sense of style. Their portfolio portrays a stylish and classy vibe. While browsing through their past works, many of them resemble dream holiday homes.
Studio Daminato
A multi-disciplinary firm that specializes in the built environment, Studio Daminato accepts commissions to design a range of private residential, commercial, corporate, theatre, retail and hospitality projects. Geographically, our international projects and client base have come to us from Singapore, Indonesia, Thailand, Switzerland and Great Britain.
Space Matrix
Founded in 2001, the design practice has evolved into a dynamic, agile, 21st ­century digital enterprise; a design consultancy that specializes in workplace design. They have developed a unique client focus that creates and delivers profitable, sustainable and future-­ready workplace solutions. The studio's continuing mission aims to continue revolutionizing the delivery of design and build services in both Asia and globally.
Ong & Ong
ONG&ONG is a holistic 360 solution consultancy excelling in infrastructure, education, commercial and high-density living. They design, engineer and manage. The intimate understanding of modern living allows Ong & Ong to curate unique and inspiring environments, setting a new benchmark that sets them apart.​
CYSA
CSYA is an architecture and design studio based in Singapore,
with a wide range of works that span across the region and beyond.
Formerly known as Chan Sau Yan Associates and CSYA Studio, the studio is founded by Chan Sau Yan Sonny in 1993. Since the beginning of the studio's inception, they are committed to designing with considerations on climate and context and believe in the active collaboration with all stakeholders to achieve design excellence.
Eight Design
Eight Design's team has a strong passion for all things design, and takes pride working with a broad range of clients to help them achieve their dream interior. They have been offering exceptional services as an interior and renovation contractor in Singapore for more than 15 years, and have a wealth of knowledge at their disposal to provide comprehensive solutions in a variety of contexts.
United Dream Lifestyle
United Team Lifestyle is a homegrown interior design company committed to creating home designs with unique blends of style, quality and functionality, reflecting the personality and tastes of discerning homeowners.
WATG
From WATG dawning days in 1945 Honolulu, they have pioneered hospitality, tourism and destination design. Independent to this day, WATG is a global multi-disciplinary design firm specializing in Strategy, Master Planning, Architecture, Landscape and Wimberly Interiors.
Puro Interior
Well-known in the industry for Their fresh approach and commitment to high-end luxury design and furnishings, PURE Interior provides only the best and refined furniture collection for cultured clienteles. Pure Interiors' flagship store features a curation of interior styles, incorporating exclusive luxury furniture designs, colours and patterns, mixing the elements in a contemporary manner so that display settings look considered and elegant in their space.
Hassel Studio
Hassel studio works across architecture, landscape architecture, interior design and urban design – a rich multi-disciplinary mix of skills and perspectives that unlocks the economic, social and cultural value of projects. They combine creative design expertise with capabilities in strategy, research, technology and experience design, and regularly collaborate with experts and partners from further afield.
The Interior Lab
The Interior Lab is an established interior design company in Singapore that centers on bringing beautiful and aspirational designs to life. But because beauty lies not only in the aesthetic, the firm also places immense importance in tailoring to their client's sensibilities and comfort. Founded by a pair of industry veterans with over a decade of experience, The Interior Lab has a strong 15-member team of designers who are passionate about good design.
9 Creations
An interior design firm that caters to a wide range of clientele with very different needs. As an interior design firm, they approach to each project renders one of a kind spaces, which distil the essence and spirit of the individual. The needs and wants of each one are paramount in the area of interior design. The firm made its mark by fusing interior design and home furnishing into a complete and modern approach to lifestyle.
Monoloft
Monoloft is a multidisciplinary practice combining sustainable architecture, interior furnishing, and experience design. Since the firm's inception in 2007, Monoloft has produced over 200 projects nationwide.
Sennex Consultants
Established in 2001, Sennex is a leading strategic planning, interior architecture, and construction firm with extensive experience on high-profile projects across the Region. Headquartered in Singapore, Sennex has operating entities in Hong Kong & Malaysia with collaborative partners in Japan, PRC, Korea, Thailand, Taiwan, Indonesia, and Australia.
DCA Architects
DCA Architects Pte Ltd is an innovative award-winning practice with expertise in master planning, residential, commercial, retail, mixed-use, and industrial projects. DCA's collective, cross-functional teams ensure a high level of service by working closely with clients to achieve quality end products in Singapore and the Asia Pacific.
Miaja Design Group
MIAJA's principal focus is interior design services for leading hotel operators, including Accor, Minor International, Tata Group, InterContinental Hotels Group, and Carlson Rezidor Hotel Group. These developments include projects based in the Middle-East, Central Asia, South-East Asia and South Pacific, to name a few. MIAJA provides a "unique and distinctive" design approach to each of its projects, including the newly completed Sofitel So Singapore, the Pullman Central Park Hotel in Jakarta and the Sofitel Mumbai BKC in India, for which MIAJA has gained international recognition.
Cameron Woo Design
Cameron Woo is a highly awarded and acclaimed Interior Designer born in Papua New Guinea and of Australian Chinese heritage descent. His early appreciation for Design and Architecture came from living on his parent's tropical plantation in the South Pacific near the beach. Cameron attended the renowned Faculty of Design Architecture & Building at the University of Technology, Sydney and after working for and collaborating with some of Australia's most celebrated architects and interior designers, he founded his own practice, Cameron Woo Design (CWD), in 2000.
Aedas Singapore
Aedas is the world's only local and global architecture and design practice driven by global sharing of research, local knowledge and international practice. Their 1,200 creative minds with design studios across the globe create world-class design solutions with deep social and cultural understanding of the communities they design for.
Gensler Group
At Gensler, they are one community, united by a commitment to holistically improve the human experience. Guided by determined optimism, they can use the power of design to spark positive change and create a future that promotes equity, resilience, and wellbeing for everyone.
B+H
B+H's bold design solutions are inspired by the confidence that's derived from honed insight, active listening, fearless entrepreneurialism, and a collaborative fusion of perspectives. Design performance achieved through constant innovation, accountability, hands-on service, cultivating talent, and being a champion for diversity in all its forms.
If you want to discover more about the exclusive and luxurious world of PullCast and our elegant collections of decorative and architectural hardware, then feel free to follow us on social media: Facebook, Pinterest, Twitter, Instagram, Linkedin, and Youtube!
interior designers, interior designers