The Most Iconic Buildings & Shops in London – Part 2 – As you know, London is viewed as one of the top Capitals of Design and around September, the British Capital hosts numerous events and exhibitions that seek to promote creativity and innovation!
This year, the London Design Festival will take place from 15-23 September 2018 and visitors can expect to see a wide variety of exhibitions throughout numerous venues and institutions in London. Amongst the exhibitors present at this event we can find PullCast! This luxury jewelry hardware brand will be present at Decorex and 100% Design and believe us, PullCast will cause a splash. But today, PullCast Blog will focus on bringing you the best visual guide for the city. So here you'll find the best Buildings & Shops to visit in London while you attend the festival!
It's one of the most iconic hardware shops in London. Established in 1842, Farmer Brothers has over 55,000 products in stock and a solution for any problem. Don't believe us? What if we tell you that even staff at nearby Harrods when confronted by a hardware question usually says "you'll find it at Farmers"! What better add can you get? Adress – 319 Fulham Rd, Chelsea, London SW10 9QL.
Speaking of Harrods, if you visit London you must stop by the biggest and most popular luxury department store in London! You'll find it everything here, including luxury brands and furniture. Adress – 87-135 Brompton Rd, Knightsbridge, London SW1X 7XL
Designers Guild was established in 1970 by brother and sister, Trisha Guild and Simon Jeffreys. Their range of luxury designs, fabrics, wallcoverings and bed and bath collections are available worldwide but their UK flagship store is situated in Kensington. Adress – 265-277 King's Road, SW3 5EN
When Zeev Aram opened his first showroom in 1964, the Londoners that walked past the shop front didn't know what had hit them. Today the shop features a huge range of stunning design pieces, from chairs and tables, to lamps and storage. There is even a whole floor of the shop dedicated to new work by designers that are still relatively unknown, as helping talented designers is something Aram has always deemed vital. Adress – 110 Drury Lane, WC2B 5SG.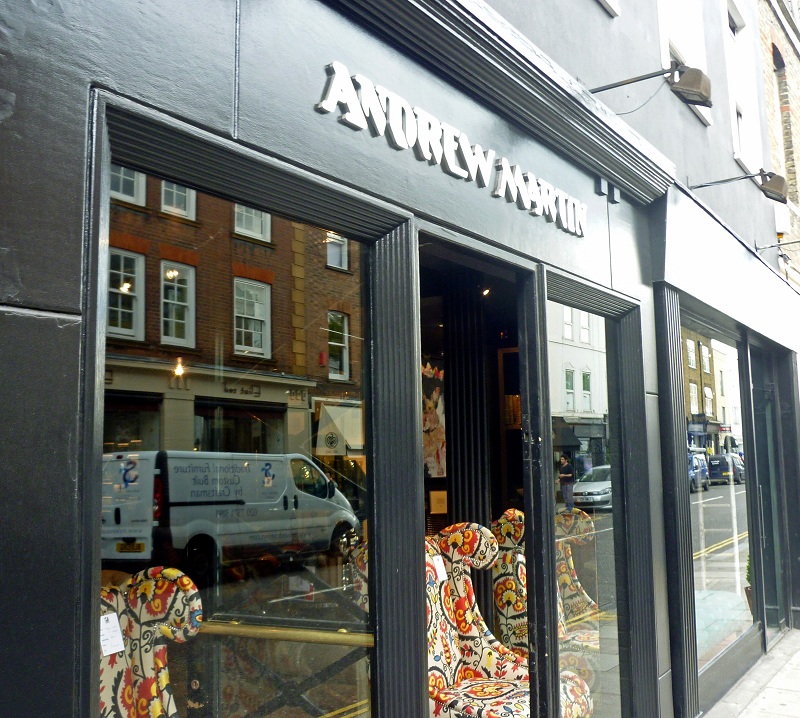 The Andrew Martin shop is an explosion of different cultures, decades and nostalgia. Their design items are inspired by all three, and pieces on display have an unusual emotive power to them. Stepping inside you will see a range of unusual objects and things you wouldn't expect to see in an interior design shop, such as giant leather animals, some taller than six foot. Nothing on show is subtle – if you are after a few statement pieces this is the place for you. Adress: 198-200 Walton St, SW3 2JL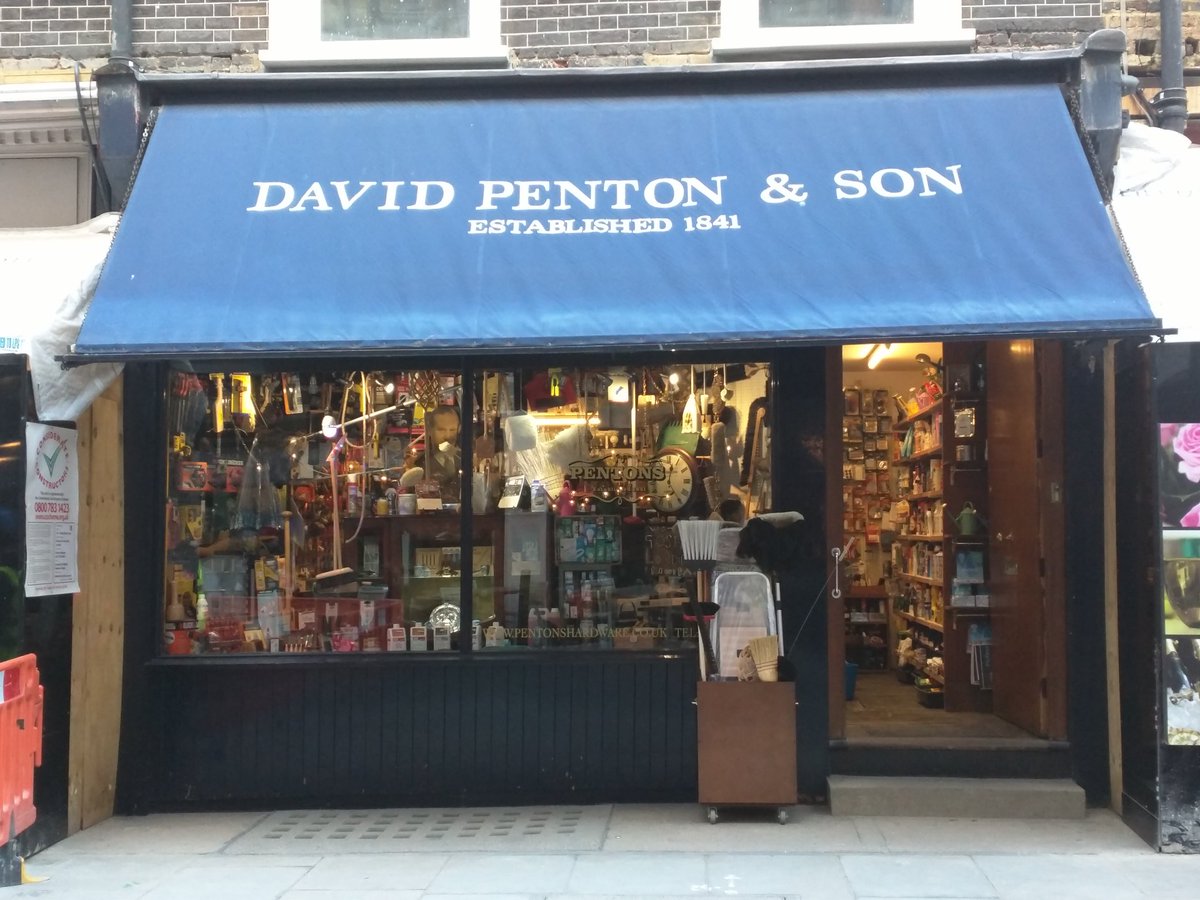 This one os the oldest shop on Marylebone Lane, and one of the oldest hardware stores in London, having traded there for over 167 years. A stones throw away from Selfridges and Oxford Street, the location is as unique as the shop. The lane has some of the most unusual shops in London. Adress – 64 Marylebone Ln, Marylebone, London W1U 2PE, Reino Unido
Bernardes Trading
If you want to put the finishing touches to a steam train, a wireless radio or secure your 1920s hammock, then Bernardes is a must. The shop, proudly run by four generations of the Bernardes family in Plaistow, south-east London, since 1908, has a stock room from the Edwardian era. Adress – 375 Barking Road, London.
Right in the heart of the action in London, Portland Hardware offers one-stop hardware and electrical shopping as it should be – fast, fun and easy to find whatever you need. It's one of the mosy modern hardware shops in London and you can miss a visit! Adress: 146 Great Portland Street, London, W1W 6QB.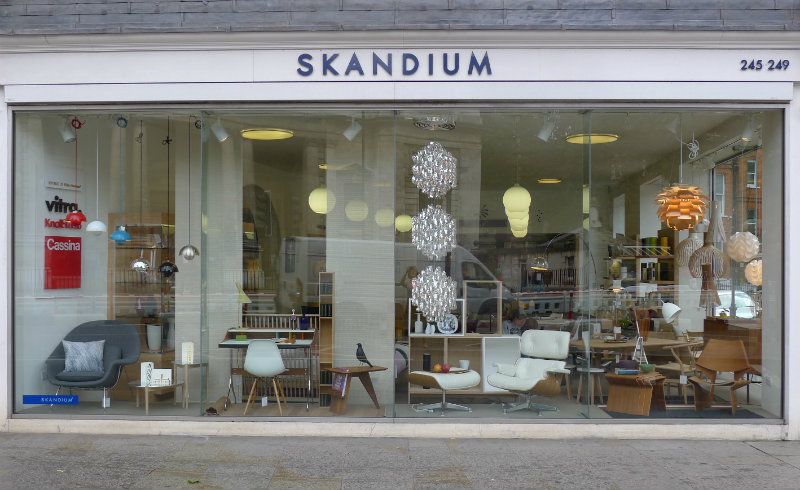 Specialising in Scandinavian Modernism, Skandium has a range of unique designs on sale. All understated and chic, Skandium stocks furniture, ceramics, lighting and glass. Items are made to be durable and versatile, and all are laid out neatly in the shop. Skandium shows how cutting-edge design can work in your home. Adress: 86 Marylebone High St, W1U 4QS.
A child's dream come true. Molly Meg is an independent children's design store offering an adorable selection of furniture, home decoration, vintage style toys, gifts and party supplies. Although established since 2009, their first permanent store opened in October 2016. Adress: 11 Essex Rd, N1 2SL;
DISCOVER THE WORLD OF PULLCAST
Discover the exclusive and luxury world of PullCast and dive into our amazing and elegant list of hardware products. They will help you elevate and transform your home decor or your design project into a unique experience! Follow us on Facebook, Pinterest, Twitter, Instagram, Linkedin and Youtube!