Outstanding Home Decor Inspirations ⇒ Discover the most Outstanding Home Decor Inspirations selected by PullCast just for you. Let yourself be inspired by this amazing selection that PullCast created so you can adorn your house with the best interior design ideas.

See Also: Online Shop Sales – Discover The PullCast Selection
Outstanding home decor inspirations
LIVING ROOM
Create a unique space and an exquisite ambiance with Boca do Lobo pieces. With golden details and masterpieces like this, you can elevate any room design.
Rest in your living room and get the best vibes that a design could give you. With the perfect choice of furniture and the right lighting, you can get the most stunning room decoration.
Combining comfort with a stunning decoration is the definition of luxury design. With this comfy and incredible sofa and these exquisite furniture pieces, you can ally the practicality to a breathtaking ambiance.
"Ultimate Luxury" is the perfect description for this ambiance. From the choice of the lighting to the upholstery pieces, this ambiance couldn't be more exquisite.
Your living room is probably the space you should put more effort into when it comes to home decor. It's the space you will want to be after a long day at work, therefore, space needs to be the most comfortable and elegant like this one!
See Also: Outdoor Trends to Live by this Summer
As sunny days and warmer nights start making their approach, now is the perfect time to pay attention to the patio you've been neglecting. It may be outdoors, but it's still a part of your home—as such, it should feel connected to the rest of your space, so make sure to give it some love this summer.
Infusing a space with multi-functional furniture and décor. This Zen Living Room is the Blissful Escape We All Need Right Now!
See Also: Texture Inspirations: Trends Edition
Rustic decor style has the power to transport us to a calm and relaxing home ambiance. It usually gives us the feeling of warmth that we feel when we get home. So, setting up a rustic living room at home means setting up a peaceful home ambiance that offers plenty of comfort and tranquillity.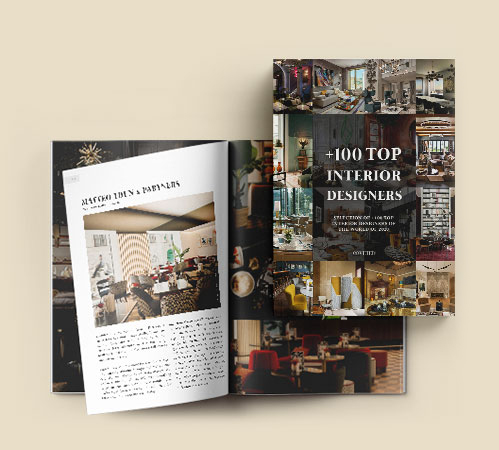 Extravagant sofas which want to rule your home! It's time for a new design of your favorite room? Versailles Armchair is the missing piece in your living room.
Incorporating this classic hue all throughout the home is always an inspired idea, but there's something especially striking about a black living room. No matter if you live in a modern apartment, a historic Victorian, or a rustic loft, a black living room is always a good idea.
See Also: The Most Unique Architectural Landmarks in Warsaw
DINING ROOM
Each Boca do Lobo creation carries the legacy of centuries of craftsmanship. Get this power in your room with the combination of this exquisite table and astonish lighting suspension.
Reunited your family and friends around this luxurious table and have a great meal surrounded by this stunning ambiance repleted of unique pieces with exclusive designs.
In many homes, the dining room is often considered a more formal space in the home. The dining room tables seem to be reserved for more extravagant occasions and holiday festivities so make sure you pick the right one to welcome your guests.
This dining room is stunning.  It has a color palette set on a neutral scale, where beiges and creams are present to create a cozy and warm appeal, and where the golden details stand out.
BATHROOM
This is some lovely styling for a bathroom, going for a gold and white bathroom is a chic and timeless option – it will work any time!
Get The Look:
In need for more outstanding home decoration inspirations?
ENTRYWAY
Consider the entrance hall your opportunity to sweep guests off their feet. Whether visitors are welcomed into a soaring space crowned with a luxurious black door with gold handles.
Get The Look:
"Are you a person who sees beauty in nature? Strelitzia is the perfect piece, inspired by a flower from South Africa and connected to royalty."
Get The Look:
Hendrix gives you the luxury you need at your doorstep, with its eccentric design it will make everything much more daring!
Get The Look:
Inspired by Roman culture and made in Egypt, this one is the missing piece to make an entrance more inviting!
Get The Look:
BEDROOM
"Warm white paint colors offer a neutral background but feel anything but stark. Cream color paint makes your home feel warm and inviting so, why not choose these calm tones for your bedroom"?                outstanding home decor inspirations
No matter your style, pink is a great color to incorporate into your bedroom palette. This sunny bedroom is a bit boho and eclectic, but still sweet and welcoming.
This cute bunny theme girls' room showcases how a kid's room can be classic and childish at the same time. By combining a soft gray color with pops of blush pink this luxury girls bedroom transmits calmness and a dreamy environment.
Eclectic, coastal, and boho styles. The warm, enveloping glow created by the pink bedrooms makes it great for styles with natural and organic elements.
If you're looking for a sleep oasis, green is your best bedroom color choice. Green represents nature, calmness, freshness, relaxing and growth.
Whether you introduce pops of color with paint, bedding, or artwork, you'll find something to emulate in this gorgeous example of a colorful bedroom.
Did you like our article Outstanding Home Decor Inspirations? Let us know!
If you want to discover more about the exclusive and luxurious world of PullCast and our elegant collections of decorative hardware, then feel free to follow us on social media: Facebook, Pinterest, Twitter, Instagram, Linkedin, and Youtube.