Most Spectacular Yachts Designs by Top Designer Kelly Hoppen – Kelly Hoppen is one of the Top British Interior and Product Designers! Her projects and products are known worldwide and her two companies, Kelly Hoppen London and Kelly Hoppen Interiors, are always on the Top of the Lists of the Best Studios/ Design Companies in the World!
Read More: Fabulous Bathroom Wallpapers For A Stylish Upgrade
For those who don't know, Kelly Hoppen is a world-renowned British Designer who has pioneered a simple yet opulent style that has permeated interior design at every level. As well as designing apartment and houses for an ever-expanding international private client list, Kelly also undertakes commercial design projects including hotels, restaurants, office spaces and aircraft interiors.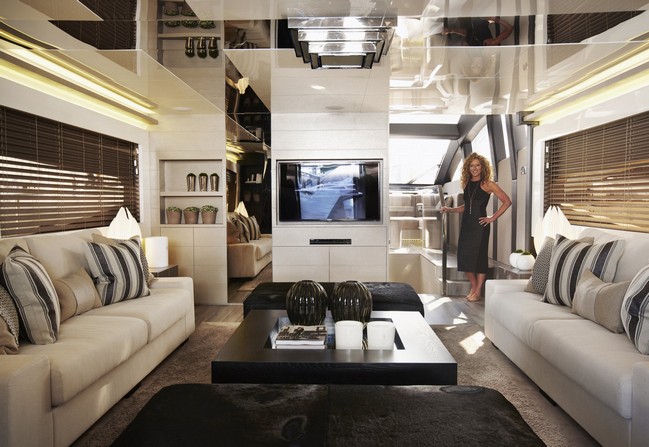 Credits  – Kelly Hoppen
Kelly's ever-evolving style is underpinned by a subtly coordinated fusion of East meets West; clean lines and neutral tones, blended with charming warmth and sumptuous opulence. She started her career with just 16 years old! She had the opportunity to design a family friend's kitchen and, for that work, she received a modest commission, but that money and the experience itself helped Kelly's grow her career as an interior designer and, later, as a strong product designer. Hoppen grew a lot since them and, currently, she's one of the Top British Designers of the World and a Champion of Women's Rights in the Industry. She's a strong Role Model for the Industry and it has been involved in hundreds of luxury design projects worldwide.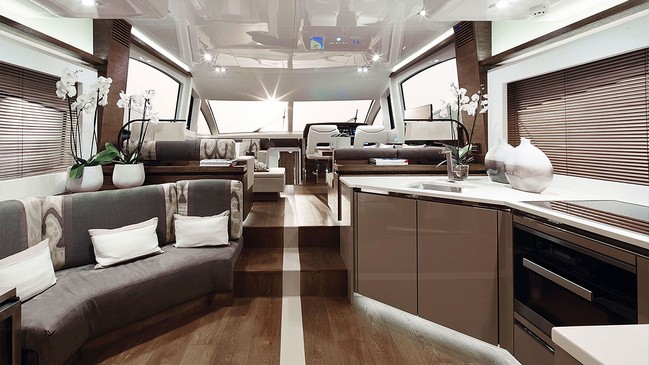 Credits  – Kelly Hoppen
You may not know this, but Kelly Hoppen is also a Yacht/ Boat Designer! That's right, Hoppen is so talented and versatile that she even designs Interiors for some of the most luxurious yachts on the planet. Kelly Hoppen was hired by Pearl Motor Yachts to create three stunning yachts designs for the Pearl Series: 65, 75 and 95.
Credits  – Kelly Hoppen
In all three vessels, Hoppen produced stunningly calms interiors by using her well-known effortless style. The end result is a luxurious styling and outstanding levels of comfort provided by this expert designer. These are bound to satisfy the needs and desires of any owner. If you think that Yacht Design is Impressive, then get ready to get to know one of the biggest projects of Hoppen involving boats. Hoppen joined forces with Celebrity Cruises to create a stunning design for a new cruise ship. She's named him Celebrity Edge and it's a vessel with an innovative new art as well as a revolutionary design to match.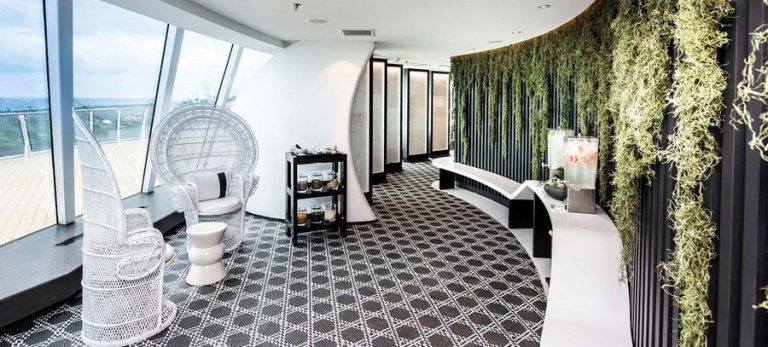 Credits  – Kelly Hoppen
Celebrity Edge has 1,500 Suites designed by this famous British designer. This is a good example of a ship in which Kelly Hoppen's style can clearly be seen through the neutral palettes with little touches of bright colors. Not only that, but the vessel also has a classic and timeless style, exuding harmony and elegance for the guests.
Credits  – Kelly Hoppen
Discover the exclusive and luxury world of PullCast and dive in our amazing and elegant list of decorative and architectural hardware products. They will help you elevate and transform your home decor or your design project into a unique experience! Follow us on Facebook, Pinterest, Twitter, Instagram, Linkedin, and Youtube!