Il Dolce Far Niente – Discover The Chilling Cliff-Top Resort in Greece – The hotel Acro Suites takes its name from the Greek term akros/akron which means 'on the edge', an appropriate title considering its perch atop a sheer drop-off and its gaze toward the blue Aegean Sea below. This Hotel, occupies carved-out caves along coastal cliffs of Crete. Today, PullCast will inspire you to travel there.

---
A DREAM RETREAT ON CRETE
---
 A wellness and yoga resort which integrates itself into the idyllic landscape.
The view of the Aegean Sea and the private swimming pool where you can spend the evening while watching the sunset. Contemporary design merges with the bucolic landscape, thanks to the use of organic materials such as stone, wood and marble, a palette of earthy tones and natural fabrics such as silk.
Naturally-Eroded Landscape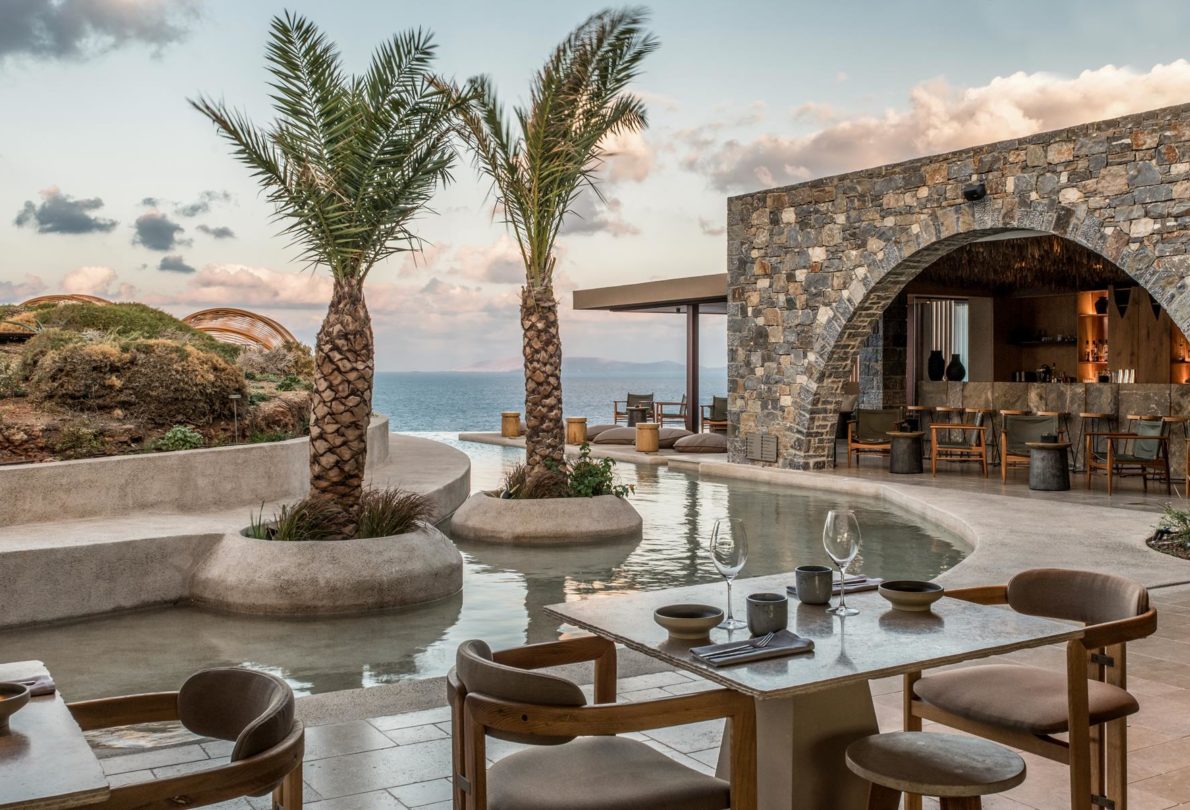 Crete's Acro Suites hotel comprises forty-nine breezy villas, each of which peers out toward the sea through a wall of glazing. Among these units are the Cave Suites which occupy caverns within the rocky cliffs that had been carved-out by Cretan sculptors. Inside visitors are enveloped by heavy, textured stone which suggests a naturally-eroded feature of the landscape. Meanwhile, the ocean views are framed by the rugged mouth of the cave.
The suites and villas are set in small caves, it goes without saying that your stay will be an immersive experience on this Greek cliff.
DRAWER HANDLES
REF EA1016

Named after fire, sun, and volcano features, Catha cabinet hardware vigorous forms resemble the calm after the storm. A luxury drawer handle that represents the force of nature ready to become a cut diamond in your luxury interior designs.
The Spirit of Well-Being
The focal point of Crete's Acro Suites hotel is the spirit of well-being. Communal areas are designed to exude serenity, simplicity, and tranquillity .
The result is at once minimalistic and pure, with meticulous attention to detail.
Immersed in modernity and fluidity, The Nouveau door hardware is inspired by the art Nouveau époque. An époque was full of distinction and luxury, portraited in this organic shape element full of refinement. Follow Nouveau's door pull approach and consider the whole, inside and out with this hand-cast polished brass door hardware.
Il Dolce Far Niente
The unique, single, Sunset Villa is located on the West side of the resort on a spot that offers you a breathless sunset and panoramic sea views of the deep blue. The perfect place to practice : " Il Doce Far Niente".
Did you like our article Il Dolce Far Niente – Discover The Chilling Cliff-Top Resort in Greece Let us know!
Discover the exclusive and luxury world of PullCast and dive into our amazing and elegant list of decorative and architectural hardware products. For more inspiration regarding decorative hardware, follow us on Facebook, Pinterest, Twitter, Instagram, Linkedin, and Youtube!