Gucci Decor: An Exquisite Collection of Home Accessories & Furnishings ⇒ A couple of years ago, the renowned fashion house adventure into the world of home decoration and Gucci Decor was the incredible result that comes from it.
The Gucci Decor has an extremely maximalism essence as eccentric motifs, color-clashing details, trippy florals, and exuberant silhouettes best define the exclusive collection. Throughout this article, PullCast Blog showcases a series of extraordinary products from this outstanding collection.
⇒ See Also: Brass Hardware & Modern Furnishings: A Perfect Match Made in Heaven ⇐
Gucci Decor is comprised of a comprehensive range of furnishings and home accessories, including scented candles in porcelain jars, lacquered chairs upholstered with embroidered seats, highly decorative pillows, and double-sided screens crafted in wood and velvet, just to name a few.
The Gucci Decor collection can be best described as being flexible and a personal approach to decoration. It also brings a dash of the contemporary romanticism into one's home, a style that Gucci is so known for.
All throw pillows are decorated with animals from the Gucci Gardin, such as a velvet cushion with the legendary tiger motif and the pink tassel pillows with cat logos.
The porcelain scented candle holders come in numerous styles, patterns, and colors. Two of the most iconic products are the ones with Gucci's signature eye design and the one with a 3D butterfly design.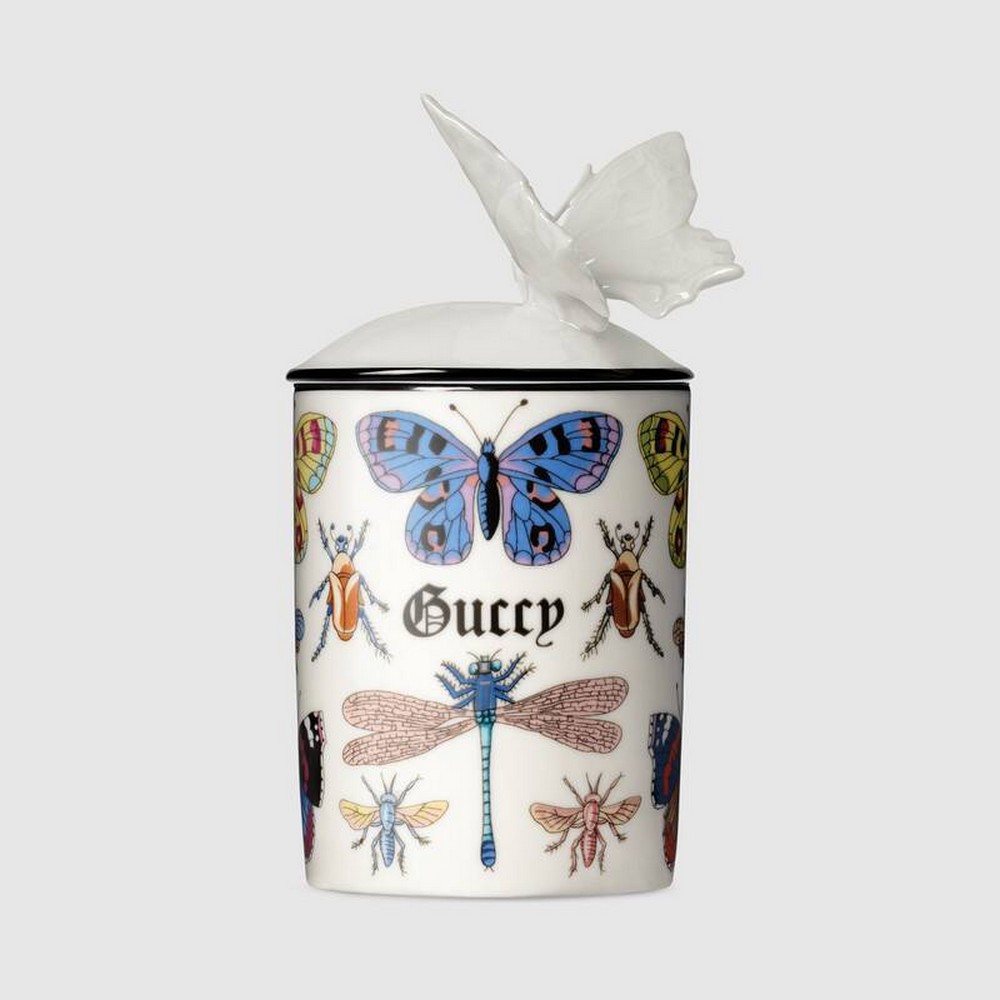 The tableware products from the Gucci Decor collection also benefit from the same vibrant nature. They come in many designs and colors as you can see below.
In addition, Gucci has also developed a unique assortment of screens, from an octopus-inspired panel screen to a pineapple screen.
Lastly, Gucci has created a comprehensive range of curvaceous velvet armchairs and rectangular stools that come in various colors and highlights a cluster of fauna and flora motifs. These were embroidered and then hand-applied to the upholstered furniture designs.
Nowadays, there are many fashion brands besides Gucci that have expanded their business into interior design, including the likes of Fendi, Armani, and Ralph Lauren, all of which, have offered the industry enticing furniture designs, home accessories, textiles, among others.
⇒ Read Also: Jewelry Trends for 2020 – Entertain the Idea of Making a Statement! ⇐
Discover the exclusive and luxury world of PullCast and dive in our amazing and elegant list of decorative and architectural hardware products. They will help you elevate and transform your home decor or your interior design project into a unique experience! To discover more collections like Gucci Decor, follow us on Facebook, Pinterest, Twitter, Instagram, Linkedin, and Youtube!
Source and Images Credit: Gucci