Discover the Most Enthralling Hospitality Interiors by Rockwell Group ⇒ Best known for its extraordinary design vision and sleek architecture projects, Rockwell Group is an interdisciplinary architecture and design firm that emphasizes innovation and thought leadership in every project.
Discover the Most Enthralling Hospitality Interiors by Rockwell Group
Founded in 1984 by David Rockwell, Rockwell Group is driven by a deep curiosity about the world. They are driven by design which when it comes to chosen projects, allows them to have a lot of possibilities of creating extraordinary experiences and built environments around the world. In today's article, PullCast Blog explores a series of the firm's best hospitality interiors.
Moxy East Village, NYC
The interior design of the hotel is mostly influenced by the vibrant and ever-transforming neighborhood, and as such, represents the city's past, present, and even its future. Rockwell Group opted for an edgier design in order to celebrate urban New York's rich patina. In addition, throughout the hotel, guests are able to see bespoke art installations by contemporary artists.
Moxy East Village is comprised of a series of floors, each representative of a certain narrative related to the neighborhood's essence. For example, the lobby best reflects the industrial nature of the area, nevertheless, most of the hotel's public spaces also pay homage to the music and art scene of New York, especially in reference to the '70s and '80s.
Fairmont Royal York, Toronto, Ontario
The Fairmont Royal York (formerly the Royal York) is a historic hotel, which opened in 1929 in downtown Toronto. Their redesign for the lobby and amenities is inspired by a journey from the city's past through to its present, embracing and highlighting the building's rich patina while adding a contemporary layer.
Given the hotel's connection to Toronto's Union Station, they took material, form, and detail cues from the aesthetics of rail travel. Spaces easily transition from places for work and relaxation, breakfasts and elevated dinners, and celebratory events.
⇒ Related Article: Architecture and Design: Top 25 Firms Based in New York – Part I ⇐
Taj Mahal Palace & Tower Hotel, Mumbai, India
In 2010, Rockwell Group created a master plan for the renovation of the Taj Mahal Palace & Tower Hotel, in addition to redesigning two dining destinations within the hotel: Wasabi by Morimoto and the historic Harbour Bar. Throughout the hospitality venue, one can certainly sense India's traditions, crafts, and colors, whether it be in furnishings, artwork, or even materials used.
Dream Hollywood, Los Angeles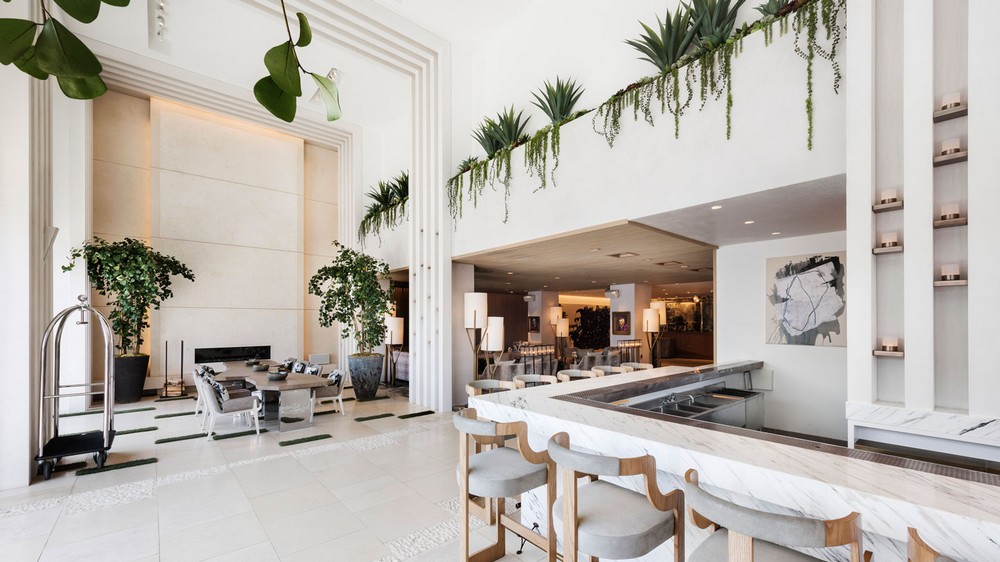 This magnificent hotel is located just a stone throw's away from the legendary Hollywood Walk of Fame and the Grauman's Chinese Theatre. In the design of the several areas of the contemporary hospitality venue, Rockwell Group balanced mid-century modernism with garden-inspired elements and plush upholstery, resulting in a combination of hyper-chic and comfortable components.
Gran Hotel Inglés, Madrid
The Gran Hotel Inglés has been a landmark since it was built in 1853. As the first hotel to have a restaurant, and located on the first street to receive electric lights in Madrid, the hotel quickly became a cultural icon. Politicians, artists, writers, and intellectuals made it their gathering place.
The Madrid Studio of Rockwell Group has brought back the glamour, elegance, and innovation of Gran Hotel Inglés, drawing inspiration from the hotel's 165-year-old history. The design concept celebrates the hotel's history as a gathering place for the avant-garde and intellectuals, weaving original imagery and salvaged historic items into the design of the public spaces, gym, spa, meeting rooms, and guestrooms.
Nobu Hotel Miami Beach
Rockwell Group designed the guest rooms and suites, as well as the public areas including the lobby, restaurant, and the first-ever Nobu Hotel Pool and Lounge. Nobu Hotel merges Eden Roc's iconic Miami Modern architecture with an inventive interpretation of Chef Matsuhisa's signature style. Layers of highly textured and patterned materials such as walnut, bronze, washi paper, linen, glass, and leather create a sumptuous yet contemporary environment.
⇒ Read Also: Architecture and Design: Top 25 Firms Based in New York – Part II ⇐
Rockwell group, Rockwell group, Rockwell group, Rockwell group, Rockwell group
Discover the Most Enthralling Hospitality Interiors by Rockwell Group
If you want to discover more about the exclusive and luxurious world of PullCast and delve into our elegant collections of decorative and architectural hardware by following us on social media: Facebook, Pinterest, Twitter, Instagram, Linkedin, and Youtube!
Source: Rockwell Group