Best Rooftop Bars in Warsaw ⇒ Beautiful architecture and a cosmopolitan vibe combine in Poland's capital and largest city. Many of the Warsaw rooftop terraces are beautiful and sophisticated in appearance, but nevertheless offer a wonderful 'value for money' experience. Rooftops are always a great spot to unwind after a long day, sharing a romantic moment with someone special, welcoming a new day at sunrise, or thanking a departing day at sunset. It also provides a new perspective and a new impression of the city.
So, are you ready to explore Warsaw's most gorgeous and opulent rooftops? Just keep reading today's article to be inspired by these beautiful surroundings!
See also: Warsaw's Top 3 Luxurious Hotels
Check the Best Rooftop Bars in Warsaw
The View
The View is a multi-level nightclub and bar located on the top of the Spectrum Tower, a modern office skyscraper that is considered one of Warsaw's best. This upmarket club is open on weekends for beverages, music, atmosphere, and (of course) views. To get into the club, take one of two panoramic lifts to the 32nd floor, where the rooftop bar is located. Its stylish, round design provides a stunning 360-degree perspective of the city and, aside from the rooftop bar, it is Poland's biggest observation deck. The large terrace is decorated in a modern chic style and features a DJ booth, a circular rooftop bar, and a large VIP section, as one would expect from a nightclub.
Editor's Choice 
Level 27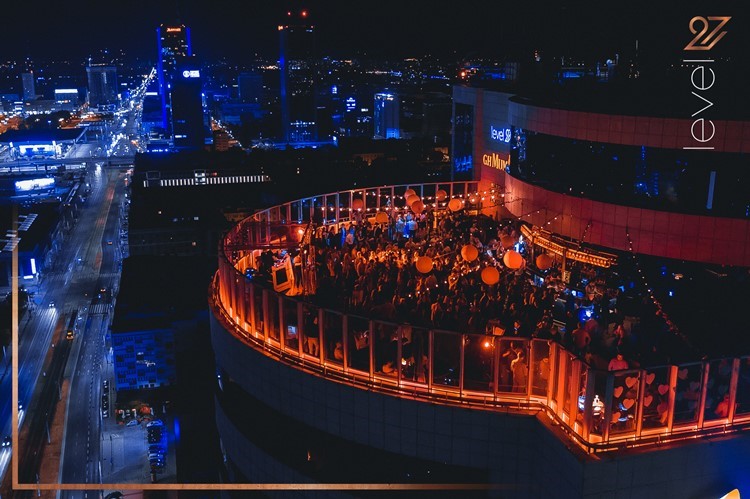 A stylish modern rooftop bar in the centre of Warsaw, located on the 27th level. Weekend events abound in an amazing experience, thanks to the unique views of the city skyline and the slogan 'Higher level of clubbing.' Level 27 is one of Warsaw's largest rooftop pubs, with an area of 450 m2 divided into two zones: the core (inside) half and an open-air terrace. As a member of The World's Finest Clubs, you can expect a high-octane atmosphere, live DJs, classic cocktails, and a wide range of premium spirits and champagne.
Editor's Choice 
Skyline Door Pull
Belle Epoque Champagne Bar
The Belle Epoque Champagne Bar is an intimate and exclusive rooftop bar located on top of Hotel Bristol, one of Warsaw's most notable monuments. The rooftop patio is set elegantly on a small cupola terrace and features luxurious and comfortable lounge furniture, as well as stunning views of the Royal Route and the Warsaw skyline. The password and reservations are required to enter Room 1902 and enjoy a menu that includes Perrier-Jout champagne and champagne-based drinks.
Editor's Choice 
The Roof Sky Bar
The Roof Sky Bar, located on the top of the contemporary Crowne Plaza Warsaw, provides an urban and elevated drinking and dining experience. The rooftop, which is located on the 21st floor and is divided into a sophisticated inside lounge with floor to ceiling windows and an outdoor patio, offers spectacular views of the city skyline and buildings. You may enjoy a variety of created cocktails that honor the city's neighborhoods, as well as an international cuisine menu and live music.
Editor's Choice 
Panorama Sky Bar
The Panorama Bar is located on the 40th level of the Marriott Hotel and offers spectacular views of Warsaw.  The bar's menu improved after it reopened this year. There is a wide range of drinks and cocktails to choose from. It's a great place to go on a date or meet up with friends before going out to party somewhere else.
Editor's Choice 
Did you enjoy our Best Rooftop Bars in Warsaw article? Please let us know! Our stunning hardware will assist you in elevating and transforming your home decor or interior design project into a one-of-a-kind experience! Follow us on Facebook, Pinterest, and Instagram for more decorative hardware inspiration!