Architecture News: Be In Awe of 7 Grandly Designed Buildings in China ⇒ Since ancient times, the architectural and design scene in China has always been heavily influenced by the country's culture, following a more traditional style. Nowadays, this interplay between tradition and architecture remains, but creators are opting to introduce modern elements to their creations mainly due to urban development and high demand for contemporary designs.
From Beijing to Shenzen, discover the most incredible architecture and design projects that were recently completed in China. Officially completed in the last couple of years, these impressive design and architecture projects will certainly stand the test of time and are a great example of progressive architecture and design, conceived by some of the world's leading references in these industries.
Alain Ducasse at Morpheus by Jouin Manku, Macau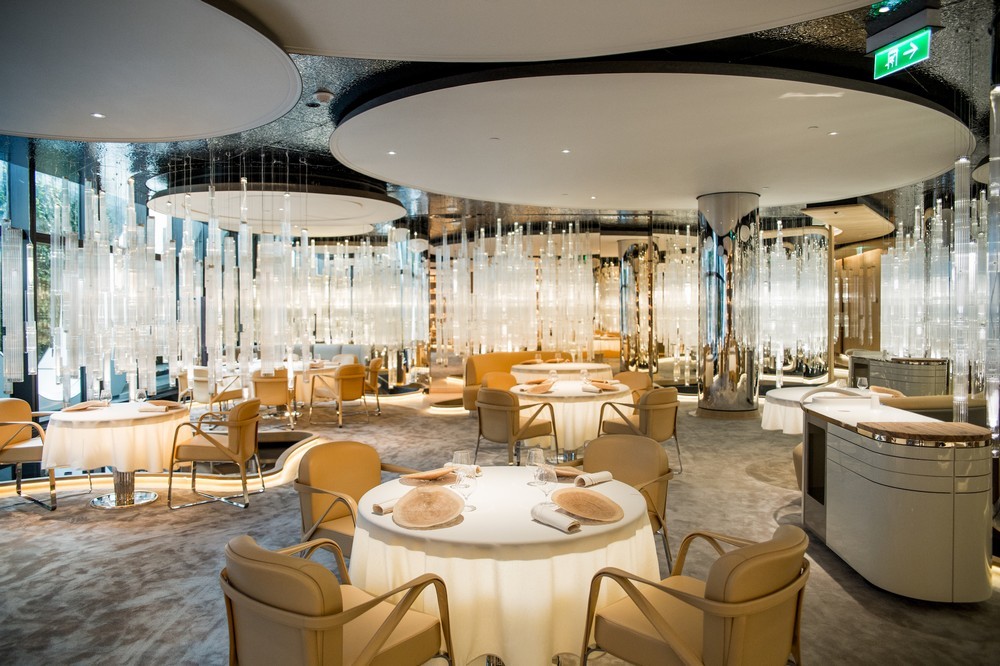 Neutral tones of beige, gray, black, and cream enhance the decor of this new Alain Ducasse restaurant decorated by Jouin Manku. This time around, Manku opted for a more dreamscape aesthetic by introducing a translucent forest of LED-lit brown-glass cylinders by Lasvit, among other enticing features.
Aranya Art Center by Neri & Hu Design and Research Office, Qinhuangdao
The Aranya Art Center is comprised of an amphitheater, galleries, and a roof deck, among other spaces. Its exterior presents molded concrete panels that are in symphony with the nearby Bohai Sea.
⇒ Read Also: Shaping the Future of Architecture – One Thousand Museum by ZHA ⇐
Hyatt Regency Beijing Shiyuan by CL3 Architects
The concept behind the Hyatt Regency Beijing luxury hotel in Shiyuan is all about green living. The five-star hospitality offers the ultimate sensory experience and it is surrounded by nature. For instance, the entrance reception lobby is inspired by the mountain landscape and the Great Wall in Badaling whereas the conference area has river-like influences. architecture news, architecture news, architecture news
JINYI Cinema by One Plus Partnership, Guangzhou
The JINYI Cinema is an outstanding entertainment building located in Guangzhou. In order to emphasize on wood textures, One Plus Partnership opted to use aluminum plates and marbles furnished with wood patterns. Every area of the cinema provides an unmatched sense of comfort and warmth. architecture news, architecture news, 
Morpheus Hotel by Zaha Hadid Architects
According to Zaha Hadid Architects (ZHA), the building is the "world's first free-form high-rise exoskeleton". Its rippling structural geometric grid negates the need for internal walls or columns that would clutter the hotel's interior design. Using the existing foundations, the architects designed a 40-story building formed of two circulation cores that connect at the base via a podium, separate, then merge again at the rooftop level.
Oxalis Restaurant by Sò Studio, Shanghai
The interiors of the Oxalis restaurant are inspired by French farmyards and the cuisine is extremely rooted in nature and its seasons. A relaxing dining mood is set courtesy of the use of brighter tones and materials such as rattan, wood, and white marble. According to Chef Jonas, the restaurant could be described as a "Bistronomy" as it takes features from both pubs and a conventional restaurant.
Suzhou Swan Harbor Park by Lacime Architects, Suzhou
Suzhou Swan Harbor Park is an authentic showcase of Jiangnan culture as well as Chinese traditional architecture. The building presents a series of functional blocks that are combined into an enclosed courtyard space, highlighting all the natural beauty of this area. architecture news, architecture news, architecture news, architecture news
⇒ Read Also: Musée Atelier Audemars Piguet Officially Opens ⇐

If you want to discover more about the exclusive and luxurious world of PullCast and our elegant collections of decorative and architectural hardware, then feel free to follow us on social media: Facebook, Pinterest, Twitter, Instagram, Linkedin, and Youtube!
Sources: Interior Design | ArchDaily 
Architecture News: Be In A