5 Spring Fashion Trends You'll See Everywhere This Year ⇒ With springtime just around the corner, fashion becomes a pivotal industry when it comes to setting trends. This year, trends such as flourishings colors and layered clothing will be everywhere!
Spring fashion is about to come in stronger than ever with a more maximal approach, so expect to see a lot of floral and striped patterns, outlandish clothing and the use of vivacious colors whether on the runway, fashion campaigns or street style. In today's article, PullCast Blog showcases five spring fashion trends that people are bound to adhere to them, sooner or later.
Feathers
When it comes to feathered designs, there are a lot of options, you can go for an eveningwear gown or just a feathery frock or top, and then wear a modern pair of jeans for an edgy and elegant look. For instance, above you can see a glamorous and tailored gown designed by Burberry that assuredly makes a lot of heads turn.
"I Like to See Everything in Neon"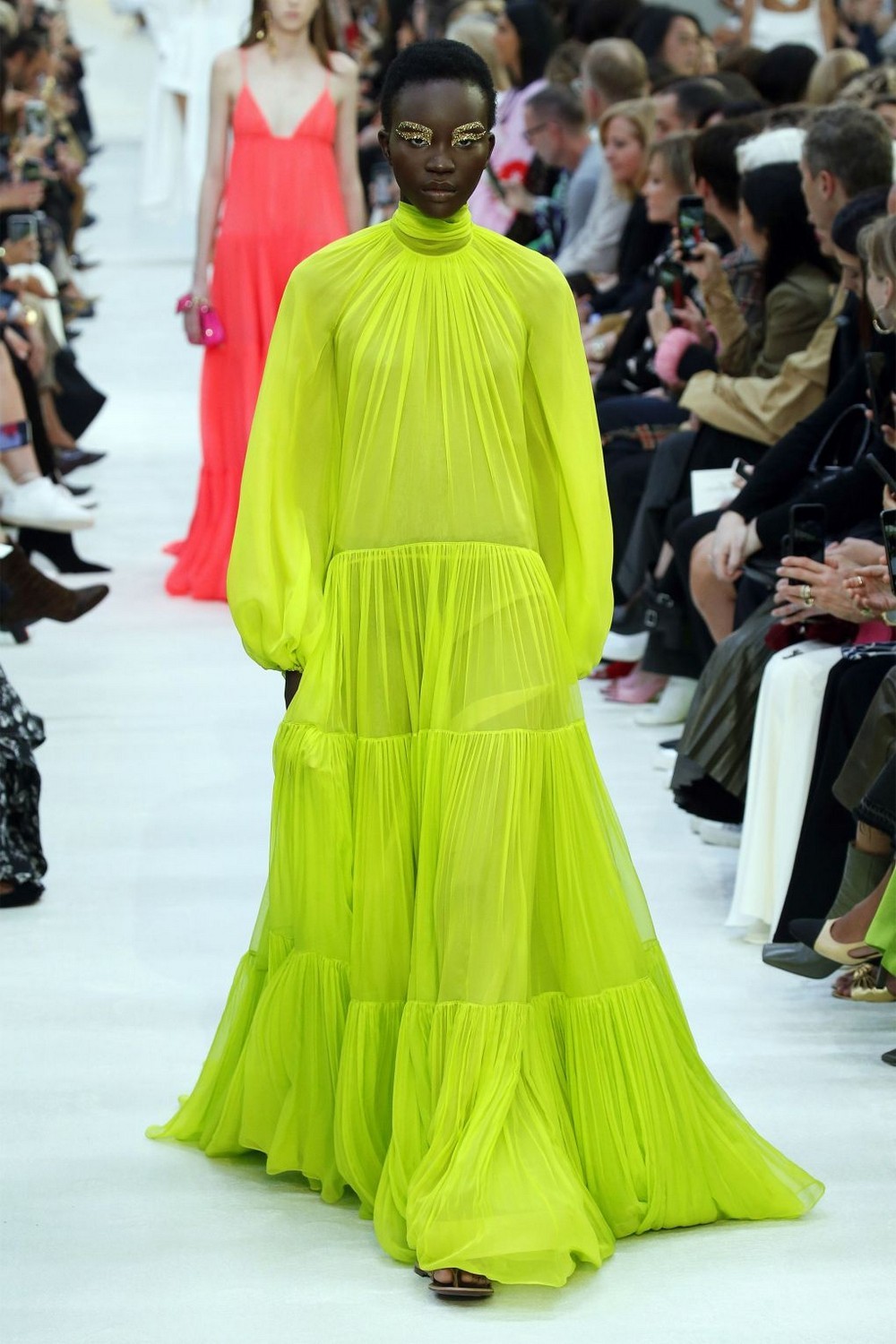 This compelling tone will be making waves, so expect to see maxi dresses in green neon, among other fluorescent colors. Above, you can see a runway look by the renowned designer, Valentino.
⇒ Related Article: The 2020 Oscars Jewelry Moments ⇐
Polka Dots
Throughout the latest fashion weeks, this print-like trend definitely made a comeback, after a few seasons of absence. When it comes to polka dots that are various options to choose from that vary in shape, size, and even color. In the image depicted above, you can see actress Alexandra Daddario casually wearing an outstanding Carolina Herrera dress.
Spring Leather
Whether in fashion or interior design, leather will always be one of the most sought-after materials due to its flexibility. In the New York and Paris spring runway shows, spring leather could literally be spotted everywhere.
Tiers for Days
There's nothing more fabulous than tiered dresses and the versatile of these pieces is undeniable. They offer volume, high drama and the possibility to twirl like no other and easily become the center of attention. For instance, take a look at how unique is the tiered maxi skirt by Chanel in black and white tones.
⇒ See Also: Designer Spotlight: Discover Kelly Wearstler's Multi-Layered World ⇐
Discover the exclusive and luxury world of PullCast and dive in our amazing and elegant list of decorative and architectural hardware products. They will help you elevate and transform your home decor or your interior design project into a unique experience! For more spring fashion trends and design inspiration, follow us on Facebook, Pinterest, Twitter, Instagram, Linkedin, and Youtube!
Source: Harper's Bazaar