Winter Decoration Ideas That Aren't Christmas-y ⇒  While it is generally accepted that Christmas is the time to choose tacky and emotional over elegant and sophisticated, not everyone feels the same, especially when it comes to Christmas decor. As the holidays draw to an end, keeping the season's spirit in your home while not making it seem like a Santa's Workshop is easy if you follow our inspirations.
Read More: New Years Eve Party Decorations
White Shades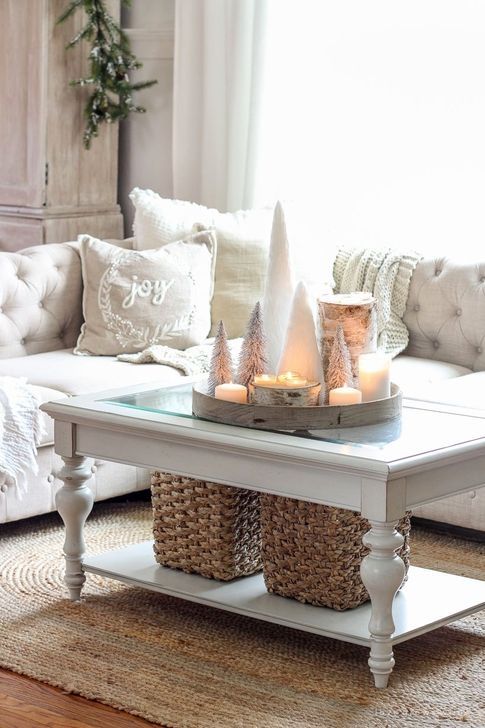 White reminds us of snow, which in turn reminds us of winter, so white decorations are a great option. Plus, white is a classic color, making it more sophisticated than bright red and green shades. Go for a minimalist look and invest in candles and centerpieces that can easily be switched out once spring comes.
Use Seasonal Plants
Winter plants are usually quite different from the other seasons' ones, as most lose their leaves. Take that to your advantage and decorate your vases with sticks, pine leaves and other seasonal plants you can find. It will create the winter ambience you want without being too overwhelming with the decoration.
Redecorate Your Mantel
If you're the type to excessively decorate your mantle for Christmas, remember to take a few things down once the holidays pass. Keep it simple and leave in only your favorite pieces,  such as your stockings, so as to not overload your fireplace.
Add In More Texture
The best part of Winter is to cosy up with blankets and enjoy the warmth while looking out at the cold day outside, and to emulate that feeling you need to add more texture, whether in the form of blankets or pillows. Try to keep them neutral, as these are usually comforting colors, or in accordance with your room's color palette.
Discover the exclusive and luxury world of PullCast and dive in our amazing and elegant list of decorative and architectural hardware products. They will help you elevate and transform your home decor or your design project into a unique experience! Follow us on Facebook, Pinterest, Twitter, Instagram, Linkedin, and Youtube!
Winter Decoration IdeasWinter Decoration Ideas
Winter Decoration Ideas;Winter Decoration Ideas
Winter Decoration Ideas