Top 20 Interior Designers in Munich⇒  Munich Interior Designers are located in the famous capital of Bavaria, the global center of art, science, technology, publishing, culture, innovation, education business, and design. From furniture and homeware to decorative pieces, Munich is full of classic and contemporary boutiques and top interior designers that will transform your house into your ideal space.
1. BESPOKE
BESPOKE plans and implements individual projects in the areas of upscale private interior design as well as gastronomy and office design. According to the motto "Everything from a single source", BESPOKE accompanies the customer from the idea to the finished work. And that with a lot of commitment and heart. The team of interior designers conceptualizes, designs, plans, coordinates, projects.
2. Brückner Architekten
Shaping the future with in-depth knowledge from all areas of construction – that is Brückner Architects. The office is one of the leading owner-managed architecture firms in southern Germany. For Brückner Architects, developing, planning and realizing means thinking in terms of processes, across all disciplines. The architects and interior designers as well as the general planners, develop smart floor plan concepts that ensure efficient use of space with maximum design.
3. CSMM
CSMM has been a consultancy and architecture company for 17 years, specializing in office real estate and working environments at home and abroad. CSMM supports all creative and rational decisions relating to the tailor-made office concept, this includes advice on the selection of the property, organizational analyzes, workplace strategies, moving and moving in as well as the future-proof redesign of the work environment.
4. Egetemeier
Egetemeier designs and plans private and public spaces, from houses or apartments to offices or restaurants. With great passion, their team of interior designers and furnishing specialists looks after interior services worldwide.
5. GABRIELA RAIBLE INNENARCHITEKTUR
GABRIELA RAIBLE INNENARCHITEKTUR is an interdisciplinary design and planning office in Munich-Schwabing. Intelligent room structures, clear design language and modern lines as well as the passion for craftsmanship and high-quality materials determine the work of Gabriela Raible and her team.
6. Gensler Munich
With the purpose of creating a better world through the power of design, Gensler Munich designs interior spaces for living and working. The designers work collaboratively and strategically to deliver innovation, quality and sustainable performance.
7. Heerwagen Design Consultin
The interior design office Jeanette Heerwagen Design Consulting has been working in Munich for over 20 years in the areas of interior design and consulting . A committed team of architects and interior designers , together with a well-coordinated team of craftsmen, passionately develop diverse projects from office to dentistry.
8. IAM Interior Architects Munich
Committed to the transformation of buildings into industrial, commercial, or private spaces to meet even the most discerning demands, IAM interior architects munich covers not only the interior design of nurseries and exhibition facilities but also the development of office premises and trade fair stands. They have extensive experience in each stage of the architectural process, from design to execution, owing to both works with several well-known architectural firms.
9. Landau+kindelbacher
Founded in 1994 by Gerhard Landau and Ludwig Kindelbacher and successfully renamed a GmbH in 2009, Landau + Kindelbacher employs a team of around 60 architects and interior designers who work on national and international, private and commercial projects in a highly committed and versatile manner.  With an ever new, individual expression of perfection, the company creates a unique architecture with carefully planned details and high-quality standards.
10. Made x Munich
Made x Munich designs living or working spaces as a whole, their service starts with the first decision-making: advice on property selection, from overall planning to floor plan design with a comprehensive interior and exterior concept.
11. Malluvia
MALLUVIA is an interior design studio in Munich, which is run by the founder Marcella Breugl. For the studio, the customer's vision is always the starting point, whether it's for a renovation of an old apartment to the conception of an open-plan office.
12. Mang Mauritz
Mauritz Mang creates holistic architecture and interior design. In their careful planning of rooms with coherent and stylish interiors, Thomas Mang and Stefan Mauritz have developed their very own design language. Nevertheless, they take into account the individual wishes and preferences of their customers down to the smallest detail.
13. Mhp Architekten
Founded in 1999 by Heiner Huber and Alois Maier in Munich, Mph Architekten is a team of architects, interior architects, and designers that builds houses, offices and retail design with authenticity in a contemporary and exciting design language.
14. Pilati Interior Design
For two generations PILATI Interior & Design has stood for bespoke design solutions and a natural instinct for unique materials. With many years of experience in interior design and furnishing, the company develops individual rooms tailored to the most diverse personalities.
15. Raumkonzept Peter Buchberger
Raumkonzept Peter Buchberger search for the individual living space – from opulent minimalism to elegant understatement. With innovative and high-quality materials and an excellent network of selected international designers, trend scouts, art consultants, craftsmen and manufacturers, the company implements tailor-made solutions.
16. Sebastian Zenker
The focus of the studio Sebastian Zenker Interior Design is on private residential and hospitality projects. Together with his team, he sets up private dream homes – from penthouses to townhouses, city villas or other private living spaces – as well as luxury hotels, upscale restaurants and exclusive stores or boardrooms.
17. Silvestrin Design
Commendatore Danilo Silvestrin was born and grew up in Italy and since the sixties is living in Germany. The combination of these two cultures and his love for contemporary art have influenced his work, having as motto – "Design is art that makes itself useful".
18. Silvia Decke
Silvia Decke is a passionate interior design studio with a pronounced tendency towards clarity, simplicity and the all-important task of creating atmosphere. Their sophisticated projects are based on extensive concept work while maintaining functionality and creativity.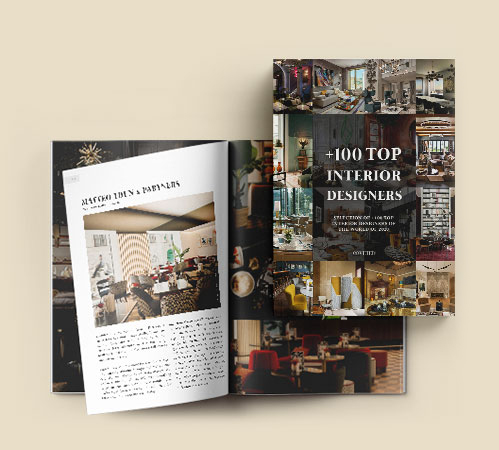 19. Stephanie Thatenhorst
Stephanie Thatenhorst work includes the conceptual presentation of the building project, its personal implementation and support as well as the interior. Her work encompasses the conceptual portrait of the construction project, its personalized application and supervision all the way to its interior design.
20. Studio Katharina Kassner
Studio katharina kassner transforms rooms into personalized places that reflect the soul of the user. Their top priority is a close relationship with the customer, in order to develop a tailor-made, high-quality and sophisticated solution. With many years of experience in the areas of living, gastronomy and brand architecture, the studio develops strategically clever and holistic creative concepts.
⇒  Related Article: Top 20 Interior Designers in Dublin ⇐
If you want to discover more about the exclusive and luxurious world of PullCast and our elegant collections of decorative and architectural hardware, then feel free to follow us on social media: Facebook, Pinterest, Twitter, Instagram, Linkedin, and Youtube!