Top 15 Interior Designers From Monaco ⇒ Monaco is all about lifestyle. With so many fabulously remarkable properties, content, as in interior design, is just as important as style when it comes to buying or selling Monaco real estate. Being a luxury location, Monaco is also home to some outstanding interior designs and interior design services for exclusive properties. In today's article, PullCast Blog explores the top 15 interior designers from Monaco.
1. CARTE  BLANCHE DESIGN MONACO
Carte Blanche Design Monaco offers chic designs and is a relative newcomer in Monaco, having established an exclusive furniture showroom in just 2011. Run by a design duo; their projects focus on residential properties, including spa facilities and even homes on the water with yacht interiors too.
2. CASAMANARA 
Casamanara is a place where the exchange of ideas coupled with an acute interest in listening to one's needs, results in creative proposals that are individually tailored and do not merely follow some set of pre-determined parameters or stylistic dogma. In a world filled with endless choices, we strive to bring some clarity through harmony and confidence.
 3. DJANDI INTERIOR DESIGN 
Djandi Interior Design is yet another firmly established Monaco design company of more than 30 years. Designer, owner Carol Djandi has remodeled a wide range of properties from a 1930s mansion to uber-cool LED chromotherapy lightbox rooms.
4. HUMBERT & POYET
In 2007, they decided to join forces to create the Humbert & Poyet agency in the Principality. Thirteen years later, this young duo is among the finest in Monaco: restaurants such as Beefbar or Song Qi, showrooms, offices, villas, apartments, hotels. In Monaco always, but also in Paris, Berlin, London, Mexico City, Dubai, Hong Kong.
5. KAMIL INTERIOR DESIGN
Kamil Interior Design, named after owner Kamil, an Iranian architect, interior decorator, and artist that has been established in Monaco for over 30 years. Kamil has worked on projects from private townhouses to villas, seafront penthouses, and yachts.
6. LUXE CHIC & DECORATION
Based in Monaco, Luxe Chic & Decoration are experienced in high-level requirements, constrained achievements, respecting a budget pre-established by the client. Ultimately, valuing your property through a quality renovation does not cost much more and their professional expertise allows clients wishing to maintain a certain standing to be able to capitalize on their real estate investment.
7. MCLAREN INTERIORS 
McLaren Interiors is part of the UK-based McLaren Group, and the office in Monaco specializes in contemporary and classic creations. Focused on the luxury market, the company also designs and produces its customized furniture.
8. MONACO PROJECT
With many years of experience and more than 50 completed projects in Monaco and the Côte d'Azur, Monaco Project offers a complete turnkey management service that gives you, the client, high-quality service for the project management of your renovation or construction project.
9. NEUMARK DESIGN | ARCHITECTURE
NEUMARK Design | Architecture is a studio where individual contemporary interiors are developed in conjunction with bespoke high-tech architectural solutions.
10. RR INTERIORS MONACO
RR Interiors Monaco accompanies and assists the customer from the project up to the choice and supply of furnishing complements, with professionalism and experience, having a large number of suppliers and master craftsmen, able to concretize unique, precious, and bespoke projects.
11. SABRINA MONTE-CARLO
Sabrina Monte-Carlo is a dynamic, modern design studio run by former fashion-industry expert Sabrina Monteleone. With a passion for fashion and fabrics, Sabrina is inspired by Mediterranean chic and has designed interiors not just for properties but yachts and private jets too.
 12. SERÉNITÉ LUXURY MONACO
Sérénité Luxury Monaco has been working since 2066 to upscale contemporary furniture, create a fully-modular design, and find out the best options for all your indoors and outdoors.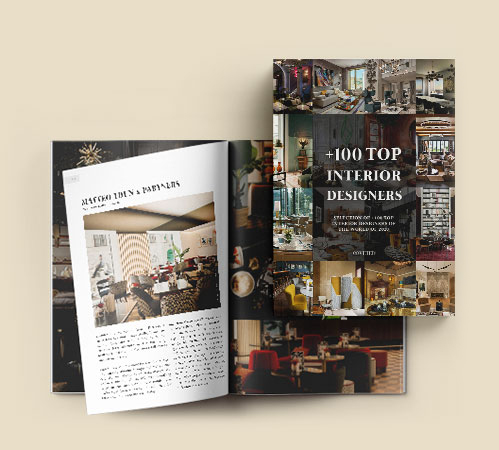 13. SPAZIO ITALIANO
Spazio Italiano adds the natural design flair and opulence of Italy which is just up the coast from Monaco, to create stunning Riviera interiors that promise vision and passion. Interior designs built for the luxury living, Monaco style.
14. TANIA ARCHITECTURE D'INTÉRIEUR 
Tania Architecture, an interior design firm based in Monaco, is involved in all areas of the interior design of your apartments, villas, shops, and offices. They put interior design at the service of your project and transform constraints into opportunities.
15. Y&S DESIGN WORLD 
Y&S Design World is an international design agency run by two young Russian designers with a meeting office in Monaco. The glamorous pair creates equally sophisticated-looking interiors for luxurious private residences and apartments and stunning penthouse interiors.
⇒ Related Article: Top 25 Interior Designers in Connecticut ⇐
If you want to discover more about the exclusive and luxurious world of PullCast and our elegant collections of decorative and architectural hardware, then feel free to follow us on social media: Facebook, Pinterest, Twitter, Instagram, Linkedin, and Youtube!
Interior designers from Monaco