The Most Luxurious Home Decor⇒ Discover a one-of-a-kind and exquisite compilation of  ideas, and get inspired by the astonishing projects that PullCast has hand-picked particularly for you!
The most luxurious home decor
Entrance
When modern and design meet, the result can only be a magnifique piece just like we see here. We get inspired by art and create something extraordinary, things that no one ever imagines. Allow us to open your horizons and discover this new adventure with us.
Green, Green, and more green. This color makes us feel so relax and so calm that we just needed to share this hall design with you! And let's not Forget this rug. It's like I'm seeing a painting. No words to describe it!
The most eye-catching hallways always require elements that are just as impressive. With that being said, few floor décor items are more impressive than the Heron Rug with its exquisite design and an all-pink style that will surely take your breath away.
Enhance your unique and sophisticated hallway with the lovely and minimalistic Umlaza Rug, in grey tones and made in natural wool and botanical silk this piece will leave a unique and special impression on every guest.
See Also: Ideas that will turn your Entryway into a pleasing "Welcome home!"
The foyer is the first impression you present in your home design. So it's better to upgrade your entrance to make your house more inviting and stylish. The Boti Table by Delightfull is the perfect lighting fixture for an impressive entryway since its unique design will dazzle the guests.
A quite special piece from the mid-century brand's collection by one and only Essential Home. For a playful and fun look in your interior, the Hepburn cabinet is the one you should pick.
If your entrance hall has a staircase of this size, this suspended lamp with golden tones will make all the difference. If you're looking for elegance and luxury at the same time, this lamp that runs the entire staircase is just the thing for you.
See Also: Contemplate These Powerful Kitchen And Dining Room Inspirations
Bedroom
The bedroom is probably one of the most important divisions of a house. When it comes to interior design, there are many factors to take into account, such as lighting, color schemes, and comfort. A neutral color scheme can be very useful since brighter neutrals give a more open, clean look.
Editor's Choice:
Interiors designers balance a wide range of needs to achieve a practical and beautiful bedroom lighting arrangement. The Turner Wall Lamp by Delighting can elevate your bedroom decor. An art deco wall lamp that will give a twist to your decor.

Living Room
When we talk about luxury and comfortable, everybody finds that an impossible mission. We dare to break down that label and we made a comfy yet elegant design that we are such everybody will love it!
See Also: Pullcast Ebooks
How luxurious is this home decor?
Neutral colors are perfect for every room. Whether it's in a bathroom or a living room like we see here. If you want to have a space that feels comfortable yet wants to emanate elegance. This is the right choice of palette for you!
A proof that boldness and neutrality can co-exist perfectly within the same ambiance. This astonishing living room design counts with a statement white garden rug to achieve a daring yet suitable aesthetic that will leave anyone mesmerized. 
See Also: Kitchen And Dining Room Inspirations For An Unique Decoration
Living rooms play an important role, as it's the place where you entertain your guests or even pass time with the family. So spice the decor with the Floor Lamp by Delightfull, a piece that will add a Mid-Century touch to the decor.
An amazing view from the Eiffel Tower demands amazing lighting to set the perfect mood for a relaxed night in a modern bedroom hotel. Hotel bedroom decor can be tricky since you have to combine comfort and luxury. The Turner Table Lamp and Turner Floor Lamp brighten any room with their unique design.
Nothing completes a home decor or interior design project better than an armchair and lightning. The combination between Minelli armchair and Brubeck floor represents a more classic look present in every single detail but just as stunning as ever!
Final details of this luxurious home decor
Bathroom
Dark is a word that maybe many persons fear. But not us! A great dark ambiance can enhance many things such as this beautiful chandelier. We are the light, so don't be afraid and come see the many pieces we have for you!
Design your bathroom with a luxurious and classic approach. Combine the best bathroom hardware with a gorgeous statement mirror and lights to highlight your bathrooms´ best fixtures and dazzle every single guest with a breathtaking bathroom ambiance.
Shine, shimmer, and glimmer. The three words that can describe this beautiful bathroom. And if we look up, we see the Empire plafond illuminating all this design. A powerful presence in a powerful design!
Editor's Choice:
Marble bathrooms are not only decadently beautiful, but also an example for guests that good materials find their way back into our home, especially when combined with the beautiful gold sinks.
We all need a space in our bedrooms where we can get pretty and ready to party. This marble dressing table can be a good option if you want to prepare in great style! If you didn't like this one don't worry we have more designs for you to see!
Classic and elegant, marble is always a good choice when it comes to bathroom decor. Inspire yourself with Florence Stool.      the most luxurious home decor
Kitchen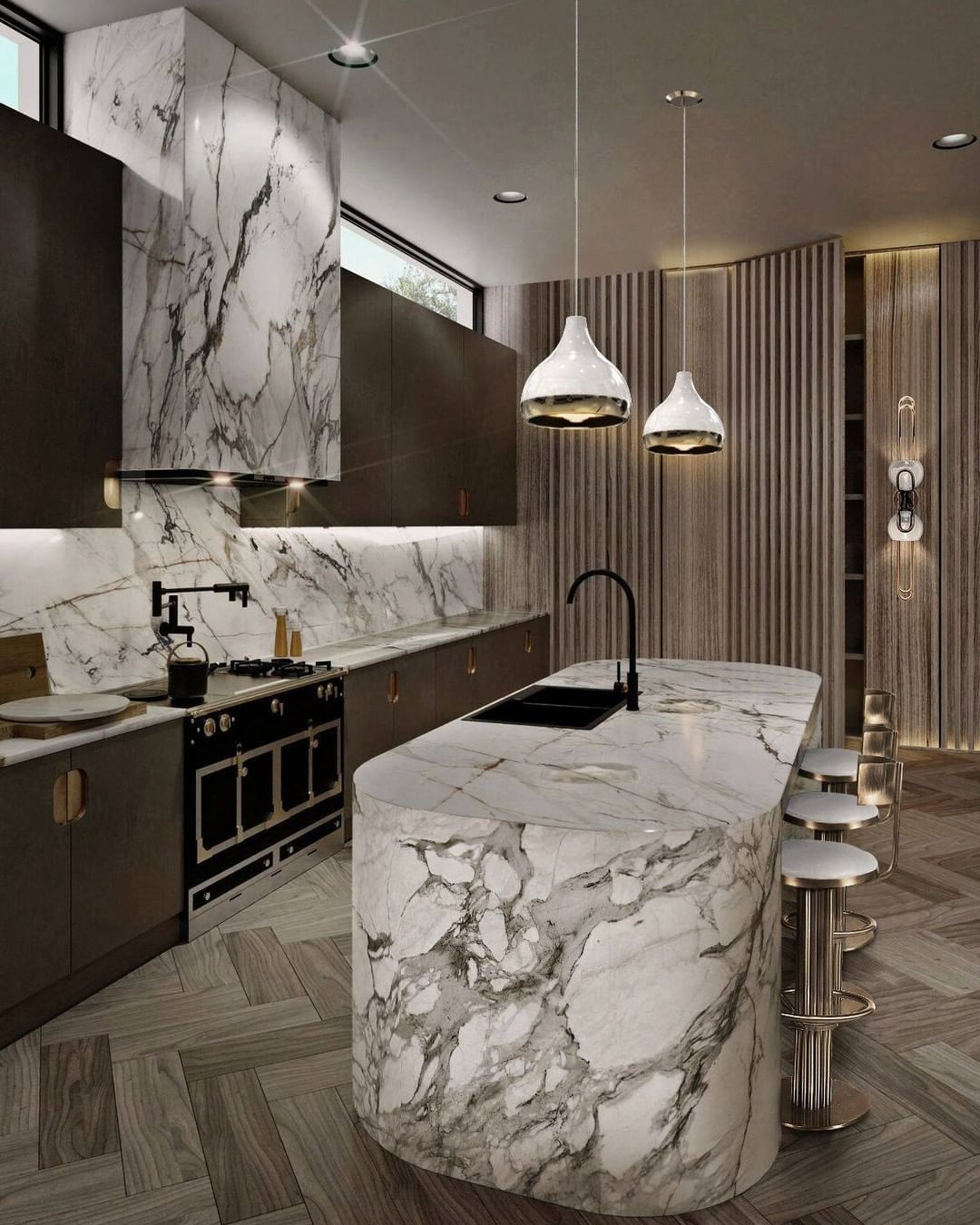 Nothing works better for a modern kitchen as the perfect golden accent bar chair, and what better than Kelly Bar Chair to do the job? Along with Matheny XL Pendant, they make the perfect match to accentuate a modern color palette.
Did you enjoy our article The Most Luxurious Home Decor? Please let us know!
If you want to discover more about the exclusive and luxurious world of PullCast and our elegant collections of decorative hardware, then feel free to follow us on social media: Facebook, Pinterest, Twitter, Instagram, Linkedin, and Youtube