Presenting the 2nd Edition of The Luxury Design & Craftsmanship Summit – The Luxury Design & Craftsmanship Summit is back for a second edition, once again taking place in Oporto, Portugal. This event, organized by Covet Group and with the strong participation of PullCast, will bring together the creative minds, designers, makers, and brands in order to discuss all themes luxury related.
.
Read More: Product of The Week – Caviar Drawer Handle
.
This second edition of The Luxury Design & Craftsmanship Summit will bring you a new perspective in regards to the world of luxury design. From the 26th to the 27th of June, the participants will be introduced to some new ideas as well as to some of the most innovative practices of the luxury and design industries who fight and strive for the growth and elevation of Craftsmanship.
Get your tickets HERE!
Taking place in a city renowned for its craftsmanship heritage, Oporto – Portugal, this event will seek to elevate design and craftsmanship by bringing together many thinkers and makers behind the luxury design industry, inviting all of the interested participants to see and engage in more than one live debate fit for those who seek to be at the forefront of the Luxury Design field. It's no coincidence that Oporto was chosen to be the destination of this event, seen as this amazing touristic city is also becoming an emerging design hub for the creative world. The tickets are now on sale Here!
NETWORKING
The greatest opportunity of brokering new connections and strengthen ties for professional development with the brightest influencers and industry's decision makers, from the luxury sector executives to renowned brands creative minds and artists.
HOT TOPICS
A lively debate stimulated by keynote speakers, panel sessions and one-to-one interviews. Don't miss the opportunity to learn from creative minds and industry thought leaders.
TRENDS
Get to know the latest branding trends and strategies to reinvent the luxury industry, and the most avant-garde projects of design that are bringing together thinkers and makers.
LIVE SHOWCASE
Contact directly with the master artisans and see the behind the scenes reality trough live workshops. An immersive experience to find out why exclusivity and authenticity are the main values claimed by many luxury brands worldwide.
CURATED GALLERY
Wander through a curated exhibition of the finest craftsmanship creations. Be able to explore rich raw materials enhance the rich legacy of Arts & Crafts designed with a new contemporary narrative.
Among the highlights of this event is the fact that participants will be able to see for themselves a series of amazing arts and crafts in a live showcase in which several master artisans that will show what they can do best! From ceramic painting, working filigree, metal working or tapestry, if you attend this event you will be able to see how these arts are done, as well as how they are a valuable tradition passed down from generation to generation. These live showcases will occur ate both days of the event!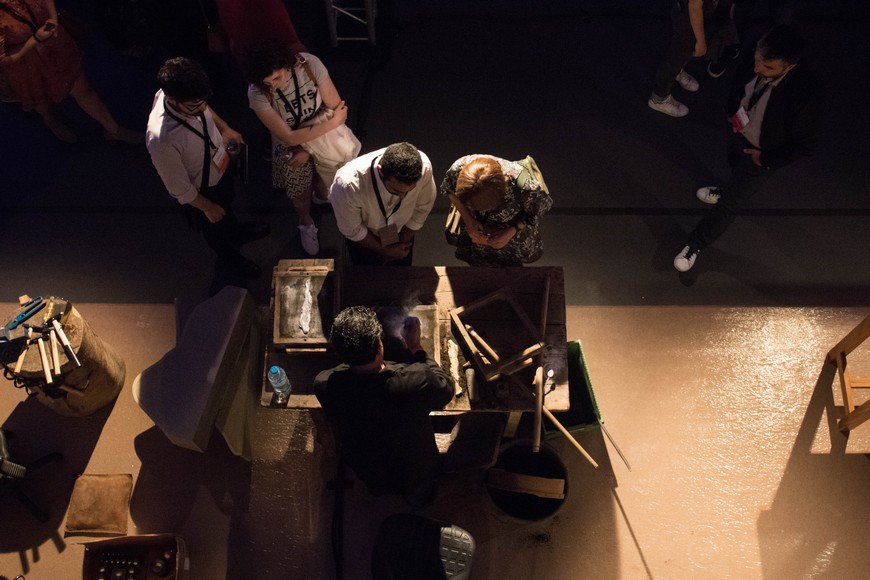 During the event, you will also be able to hear from some amazing and popular design personality n some incredible conference panels! In it's first edition, the Summit presented a vast list of design leaders on those panels, among them  Luís Onofre (designer of luxury shoes and accessories and President of APICCAPS), the Michaelangelo Foundation (an international non-profit entity that celebrates and preserves master craftsmanship and strengthens its connection to the world of design), Vista Alegre (the oldest porcelain factory in the Iberian Peninsula), Topázio (a Portuguese company with more than 140 years of history, expert in the creation of unique designed hand-carved silver), Boca do Lobo (a Portuguese brand of furniture-art design recognized for its unique and innovative design always hand-worked), and many others.
If you attend the Craftsmanship Summit you can expect a series of initiatives dedicated to networking, case studies, and the discussion of some of the hottest trends related to luxury design and luxury brands, like PullCast, Covet House, Boca do Lobo, DelightFULL or BRABBU. The tickets are on sale right now, and you can purchase them, as well as take the chance to know a little more about the Luxury Design & Craftsmanship Summit 2019 at the event's official page.
As we've mentioned before, the beautiful and culture-filled city of Porto will be the home to this unique event. This exclusive event will take place in Porto, one of the oldest European cities, that is now considered a true design powerhouse. Azulejos (tiles), considered by most a heritage in Portuguese culture, cover the city and embellish the already natural beauty it has to offer. Bathed by the Douro River, the magic and mystique of this place are unquestionable. The river bathes the shores of the old city at the same time it is the birthplace of the many vineyards where grapes come from to produce the iconic Porto Wine.
Read More – Calm Costal Coral – Beach House
All in all, the Luxury Design & Craftsmanship Summit wants to Elevate and Promote Design! Rich in culture, people and heritage, the Covet Group and Foundation want to empower a debate not only in the city itself but also in the world. This debate will be focused on enhancing and extending Design and Craftsmanship and discuss and reinforce our role in all of it.
DISCOVER THE WORLD OF PULLCAST AND CHECK OUR NEW CATALOGUE!
Discover the exclusive and luxury world of PullCast and dive in our amazing and elegant list of decorative and architectural hardware products. They will help you elevate and transform your home decor or your design project into a unique experience! Follow us on Facebook, Pinterest, Twitter, Instagram, Linkedin, and Youtube!