MODERN CLASSIC INTERIORS WITH CLÉ DE MAISON – CLÉ DE MAISON is a total interior design studio specializing in modern classic interiors of exceptional luxury, rendered with elements of Neo Art Deco style. Continue reading our blog and find out more about this PullCast reseller in Vilnius, Lithuania!
---
See also: FABULOUS HOME ONE-OF-A-KIND DECORATION STORE

---
Who's Clé de Maison?
Clé De Maison, which was founded by Vaida Žemaitytė, produces settings where a variety of situations, ways of life, and emotions can develop and bloom. To ensure that the client can start enjoying their new home as soon as the keys are handed over, every project is meticulously completed. They oversee construction procedures, carefully carry out each project, and represent high-end furniture and home accessory suppliers from all over the world. They work with a wide range of interiors (both private and public).
Clé de Maison Interiors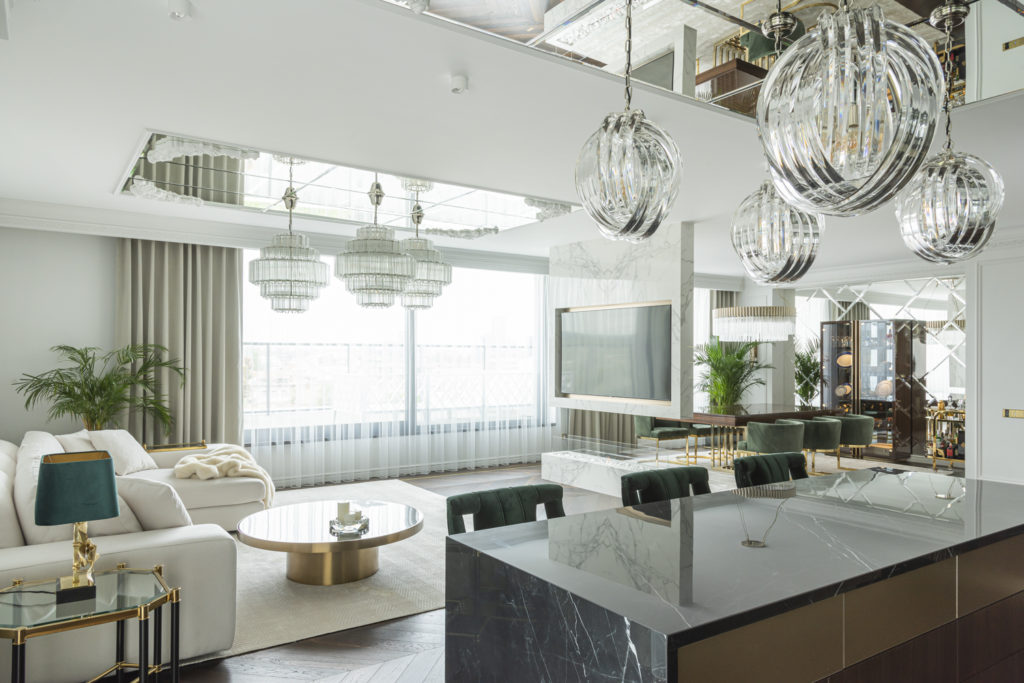 The interiors created by CLÉ DE MAISON are dominated by lightness, light, refined modern style elements and lines. Luxurious materials or their imitations (stone, crystal, mirrors, wall moldings) are used. The style of the interiors is easily identified from the combination of contrasting materials and geometric patterns.
Clé de Maison amazing decor
The perfect finishing touch to each room's amazing decor is beautiful, elegant lighting. The use of glitzy chandeliers and other lighting fixtures proved to be a chic addition that gives the rooms character and refinement. Cle De Maison created a timeless dynamic that functions as a display of opulence with accurate detailing and tactility by striking the perfect balance between eclecticism and a more contemporary aesthetic. That is evident in this magnificent bedroom.
Editor's Choice
Tiffany Marble Drawer Handle CM3003 and Tiffany Marble Drawer Handle CM3004
Valakampiai Residence
The construction of the Valakampiai Residence took four years to complete. Colored diamonds served as the primary source of inspiration for this project, which reflects a bold personality and aesthetic throughout its interiors. To emphasize the boldness of this house, rich materials and textures were combined with regal colors and opulent finishes. The living room's center table is adorned with glossy Ebony Macassar, and the floors and stairs are both covered in Carrara marble.
Matching the styles
Every room in the house would match the style chosen by the interior designer by using the colors and textures she used. The main objective was to design appealing interiors while always keeping the client's vision in mind.
---
Find Our Resellers Here!
https://www.pullcast.eu/reseller
PullCast and Clé de Maison share the same values and unique vision of craftsmanship beauty found in details. This makes them a perfect representative of our jewelry hardware brand in Vilnius.
---
See also: SPRING BEST SELLERS FROM OUR COLLECTIONS

Did you like our article MODERN CLASSIC INTERIORS WITH CLÉ DE MAISON ? Let us know! They will help you elevate and transform your home decor or your interior design project into a unique experience! For more inspiration regarding decorative hardware, follow us on Facebook, Pinterest, Twitter, Instagram, Linkedin