Luxury Villas: Discover Boca do Lobo's New Island Mansion in Capri ⇒ Boca do Lobo, one of the most renowned Portuguese design brands in the world, has recently unveiled the interiors of a stunning new Island Mansion in Capri that represents luxury design and world-class interiors at its finest.
The highly expensive three-story house is well-appointed with outstanding modern and contemporary furniture, lighting, and accessories from brands such as LUXXU, Mysa, Cobra Art, Rug'Society, Maison Valentina, and of course, Boca do Lobo! Besides one-of-kind designs, the Island mansion is also comprised of a generous sun deck, a private heliport, and an infinity pool covered with exquisite and traditional Portuguese tiles. All of these astounding amenities are surrounded by the crystalline blue waters of the Mediterranean Sea.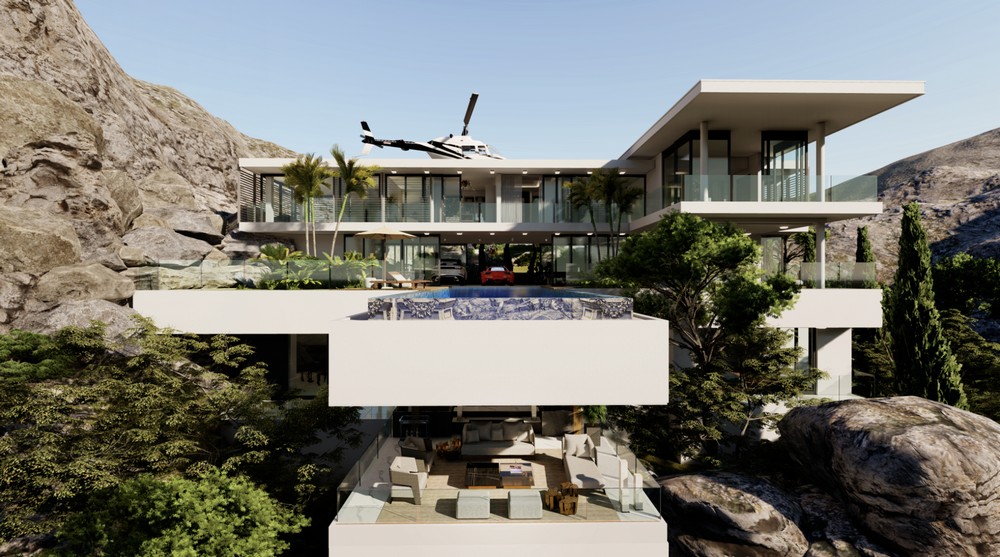 Easily described a true expression of a luxury lifestyle experience, every room of the mansion highlight sweeping ocean views, including two living rooms, two dining areas, two master suite bedrooms. Now, let's take a look at some of the fascinating interior spaces that can be found within this glamorous mansion.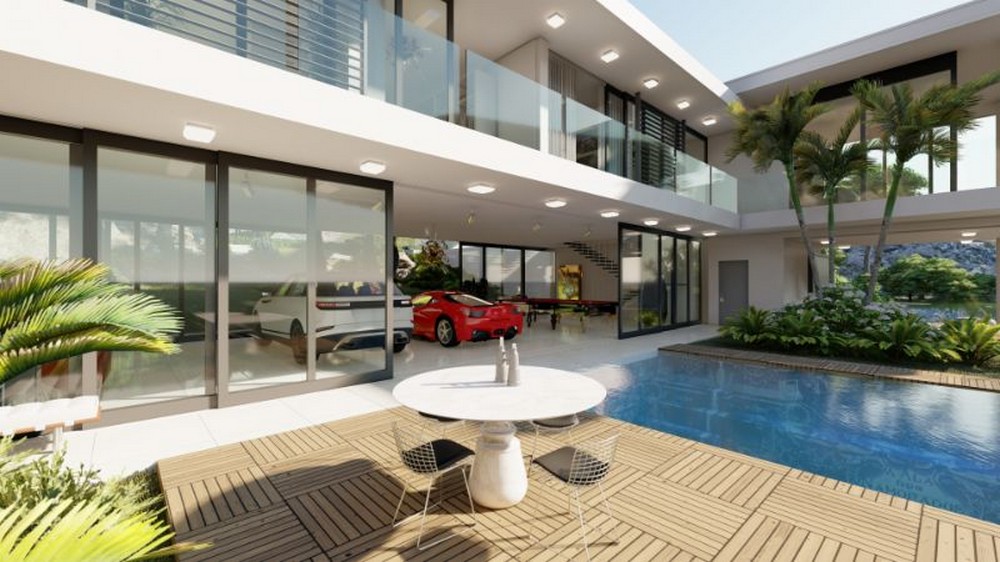 The outdoors benefit from neutral hues with the occasional pop of color and plenty of greenery. In regards to furnishings, the terrace lounge is furnishing with gold pieces and modern sittings, including Mysa soon-to-be-officially-launched Galea line of furnishings as well as the Eden side tables by Boca do Lobo.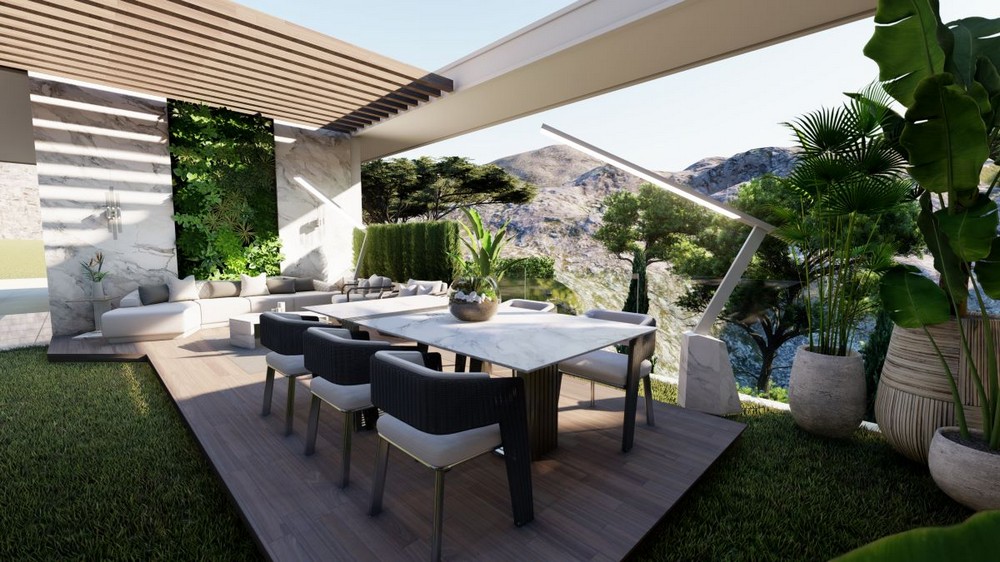 Furthermore, the outdoor dining area is styled by the Vertigo dining table – a piece that combines unique materials such as stainless and Carrara marble for a delightful contrast, – and it is complemented by Galea dining chairs. Another stand-out piece in this space is LUXXU's Anguis sofa, a timeless piece dressed in white fabric that grants a new perspective on comfort.
Modern opulence is what best defines the master bedroom decorated by LUXXU. This exquisite space highlights a black and gold palette with subtle accents of earthy tones. The Château bed manages to make quite a decor statement that is further elevated by the presence of the elegant and sober Waltz nightstand, adorned by industrial-styled decorative hardware as well as the noble Empire pendants in brass and crystal glass.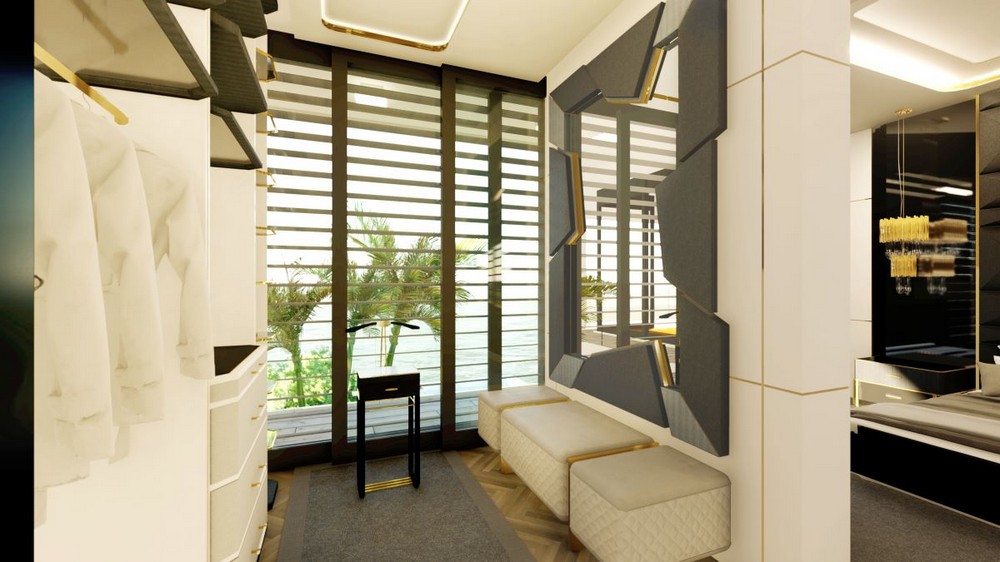 This master bedroom also features a walk-in closet that provides plenty of sophisticated storage solutions, from the modular Waltz closet in white hues to the valet stand. Other exquisite design elements include the oversized Athos mirror which pairs perfectly with Tenor Ottoman.
⇒ Read Also: Modern Bedrooms – 6 Interior Spaces to Draw Exquisite Design Ideas From ⇐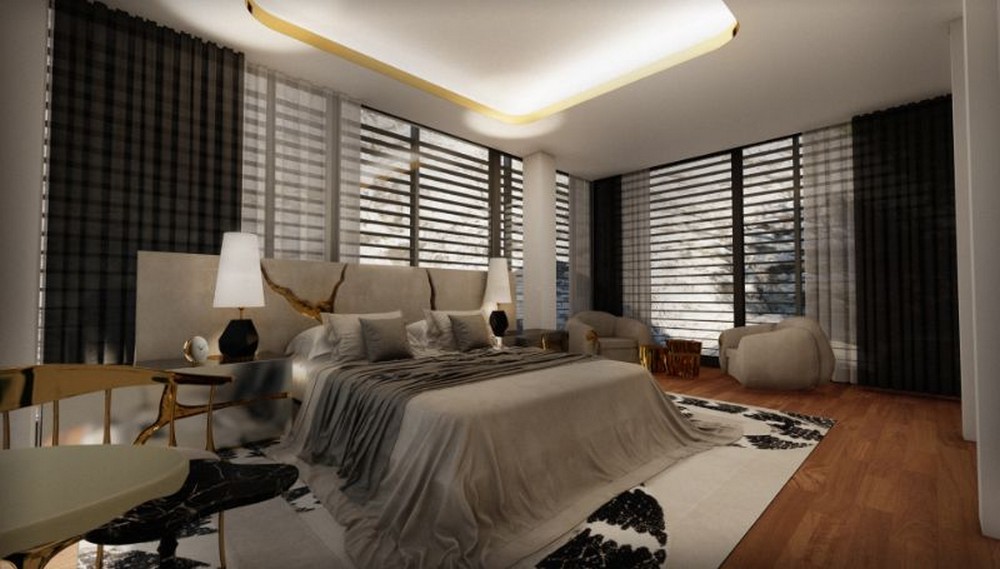 The master suite by Boca do Lobo opens up to a balcony where one can truly be mesmerized by breath-taking views of the island. Plenty of exclusive designs adorn this majestic bedroom, including the dazzling Lapiaz nightstand and the sultry Soleil armchairs by Boca do Lobo and Rug Society's Imperial snake rug.
This division also features a marvelous walk-in closet done in an astounding collaboration between Boca do Lobo and the legendary fashion house, Jimmy Shoo. A gold and white color scheme reign the space that is complemented by exquisite designs and iconic Jimmy Choo shoes on display. luxury villas, luxury villas, luxury villas, luxury villas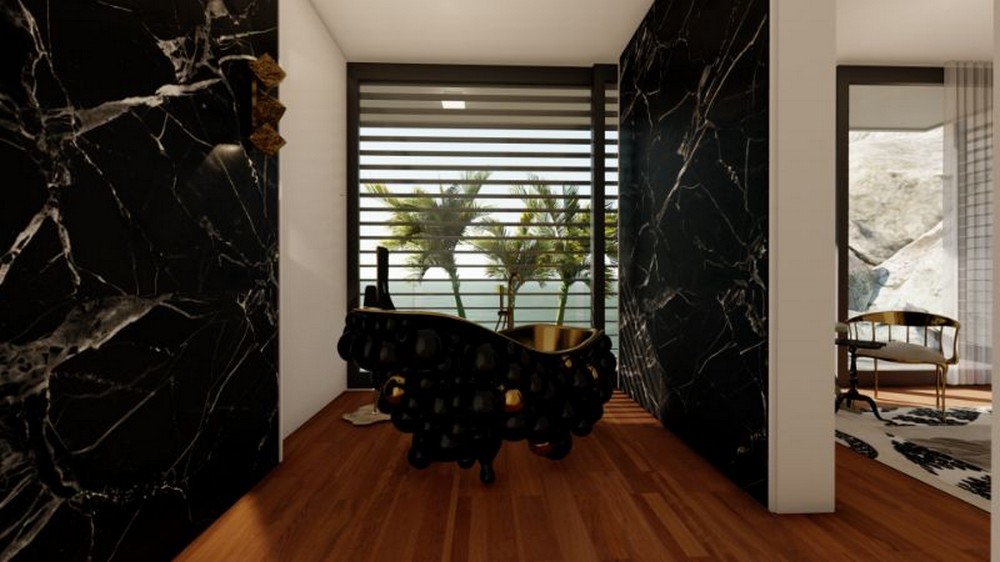 The bathroom decor is best defined by shimmering black surfaces, wood flooring, and a futuristic bathtub by Maison Valentina entitled Newton, which easily the centerpiece of the whole division and defies the concept of conventional design.
The dining and living areas benefit from an open concept and an exclusive atmosphere. This space is well-appointed with gold-and-white sofas and armchairs by Boca do Lobo as well as the Empire chandelier by LUXXU that highlights extravagant shapes.
The focal point of the other dining room area located on the 2nd floor is undoubtedly the Fortuna dining table in golden tones by Boca do Lobo that certainly provides a refined aesthetic. Nevertheless, this space also features one-of-a-kind designs such as the Nº11 chairs, the eye-catching Robin mirror, the Lapiaz sideboard, and the radiating Supernova chandelier. luxury villas, luxury villas, luxury villas, luxury villas, luxury villas,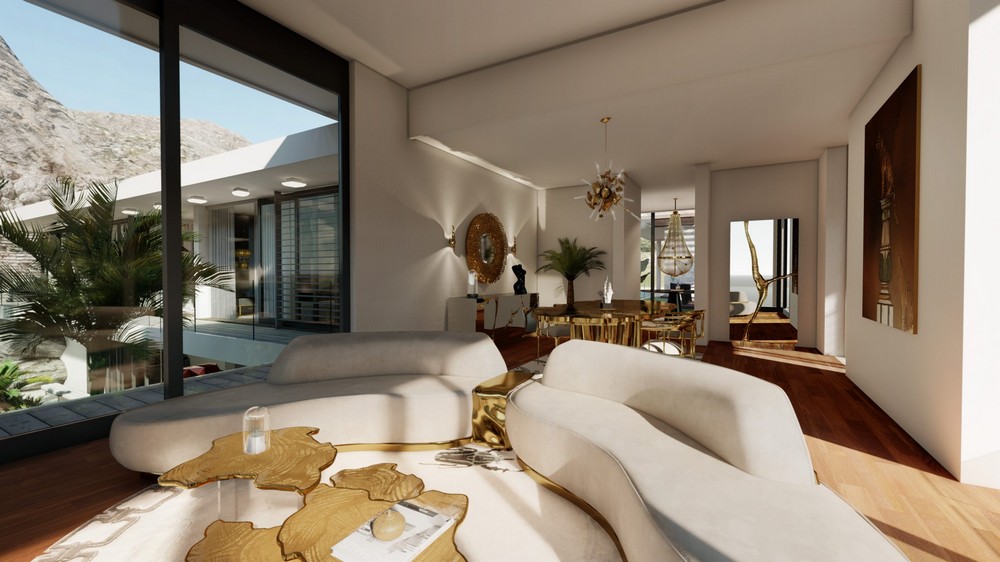 As a whole, this contemporary mansion showcases unprecedented craftsmanship, bespoke details, and the ultimate artful lifestyle experience. The home is designed so that the interior flows seamlessly into the exterior creating indoor-outdoors dream areas.
⇒ Read Also: The Newest Dior Pop-Up Store is a Luxurious Bazaar for Fashion Lovers ⇐
If you want to discover more about the exclusive and luxurious world of PullCast and our elegant collections of decorative and architectural hardware, then feel free to follow us on social media: Facebook, Pinterest, Twitter, Instagram, Linkedin, and Youtube!
Luxury villas, luxury villas