Jewelry Gift Guide – Fine jewelry is an eternally popular Valentine's Day gift, since it will help you do just that. Jewelry is thoughtful and romantic, as you're giving the gift of beauty. Then, as an added bonus, it's also practical, since it can be worn day after day. Today, PullCast Blog will show you some of our romantique pieces. Be dazzled!
Jewelry Power
Receiving a jewel denotes elegance. Jewels are an intentional reminder of understanding and thoughtfulness that should never be a secondary choice. Different pieces were worn to symbolise different messages such as security, wisdom, elegance, and prosperity. Many women like to wear jewelry as a symbol of femininity or to showcase social status. Jewelry can also make a woman feel confident and beautiful.
PullCast details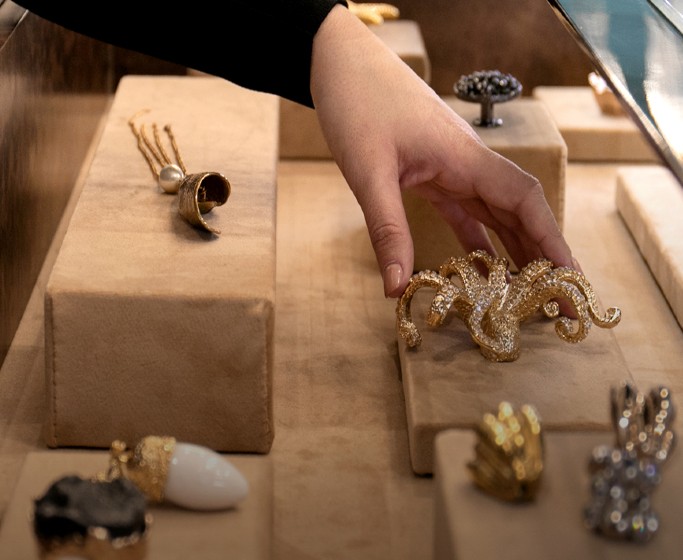 Expressing what life brings us into our jewelry hardware is an ecstatic challenge. Nurturing an experimental mindset, PullCast travel through the finest crafts and materials to rewrite a story for each design. Unfolding a world of recreation, as true storytellers do. This is PullCast mission.
Your vision
If you have an idea, PullCast can design and develop a concept of your product. We can assist you with technical aspects and will guide you through materials, finishes and dimensions. Each unique masterpiece is handcrafted and hand-finished, and as such, product appearances may vary in color and texture, as well as the colors of the natural stones, from the images in the Catalogue.
REF LE4011

Inspired by a world-renowned delicacy, the Caviar drawer handle portrays mysticism, exuberance, and opulence. Made of brass and finished in black nickel and Cubic Zirconia crystals, the ornamental allure of Caviar allows it to become the perfect add-on to mix and match in any style of furniture.
REF CM3022

The world of diamonds was a key factor in creating the Karat drawer handle. Extravagant in its modern form, Karat draws down the same state of purity and uniqueness a cut diamond does. Inspired by the fineness of precious metal, with the Karat series of luxury gold cabinet hardware, you can uniquely articulate diverse design aesthetics and create a sculpture scheme.
Did you like our article Jewelry Gift Guide? Let us know! They will help you elevate and transform your home decor or your interior design project into a unique experience! For more inspiration regarding decorative hardware, follow us on Facebook, Pinterest, Twitter, Instagram, Linkedin, and Youtube!