Hardware Design Ideas For Your Entryway ⇒ Hardware are the perfect piece for a luxury and stunning entryway. Looking for that different touch for your entryway door? We have the best ideas of hardware design for you here!
Contemporary Hardware
Who doesn't love a contemporary touch? This can be the perfect idea for you. The distinctive design of the Atlas family hardware will make for a great statement piece in your drawers, cabinetry, and doors, draw attention to the details of your entryway. It represents the complexity and multitude of cultures and people that live in the great cities.
Marble Hardware
There are a few ways in which you can definitely upgrade your exterior home decoration game, and while pops of color and green elements play a humungous role, another aspect that is bound to give character to your home entrance is an embellished door pull.
Our sugestion is the PullCast's door pull. The Skylines are the city's profile, an iconic symbol, and just like our door pull, create a silhouette when set in context. Mix and Match your designs with the Skyline Cabinet and Door Hardware.
Brubeck Door Pull
Another hardware idea for your entryway is the Brubeck door pull, an asymmetrical polished brass tubes compose this artistical series of Furniture and Door Handles taking inspiration in Deligthfull's most luxurious lamps.
In this front porch, one can find a variety of design styles, from the contemporary aesthetic of the door and flooring to the tropical nature of the location. The Brubeck adorns this entrance with a mid-century modern design touch.
Spear Door Pull
This scandalous Door Pull is a great idea for your entryway is a unique and powerful pull for a big entrance, made with Polished Brass & Marble Nero Marquina gives him structure and beauty.
The imponent Spear Door Pull was inspired by the Celtic sun god that possessed the "Invincible Spear". The legend tells that the spear was blazingly hot, and it became hotter the longer it was used. It was stored in a vat of water at night to keep it from catching fire and scorching the earth. Honoring Celtic culture and myths, PullCast's designers projected this mythical big size door pull to bring a powerful statement into the main doors.
Stylish Door Pull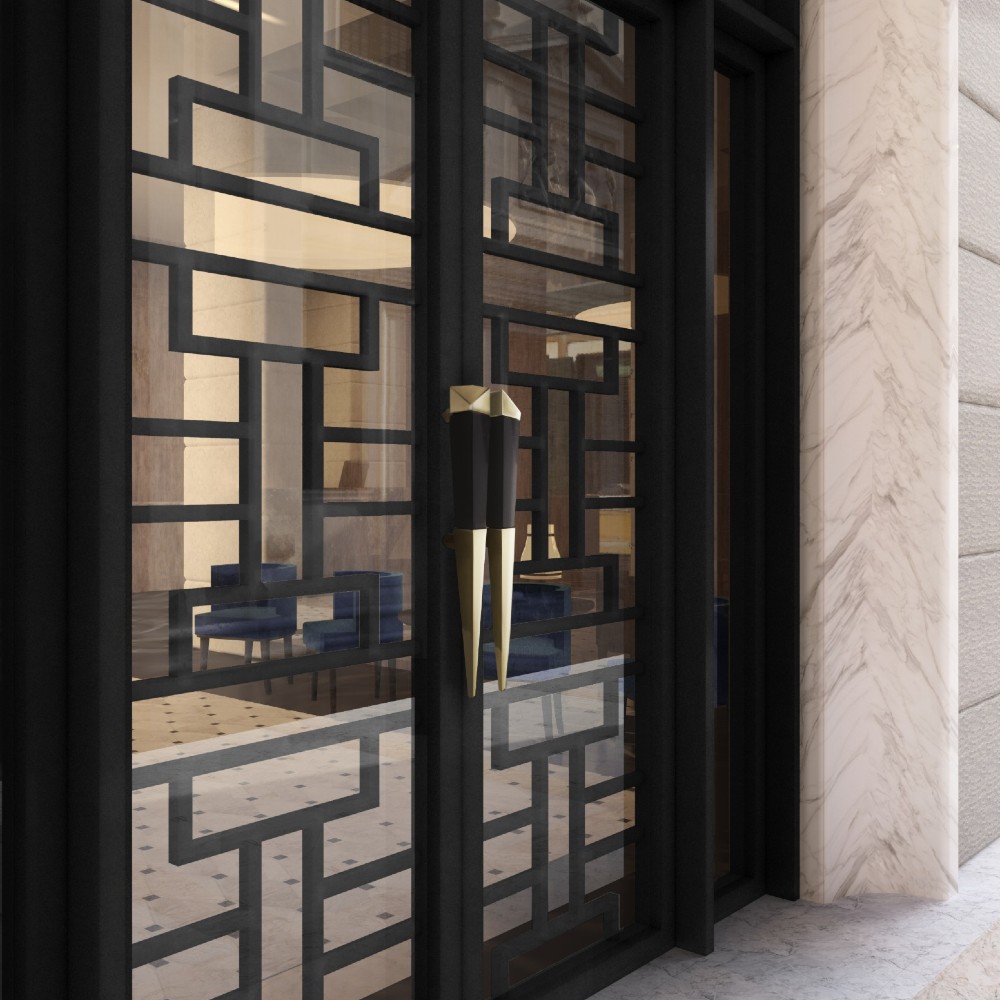 Door Pulls are more than objects, they're another way to express creativity through decorative hardware. PullCast Hardware Jewelry is a combination of artistry and design that enabled us to create highly refined and stylish door pulls.
This is another piece of Spear door pulls family and another glamorous idea for your entryway decor.
Door Pull and Door Knobs
On a door design a door knob and a door pull can be combined and it can create a monumental effect but it is important to make it sure that the material and the style of the door hardware design matches. Also, you have to consider the hardware placement and the door design itself.
⇒ Read Also: Luxury Bathrooms: How to Adorn Your Cabinetry with Decorative Hardware ⇐
If you want to discover more about the exclusive and luxurious world of PullCast and our elegant collections of decorative and architectural hardware, then feel free to follow us on social media: Facebook, Pinterest, Twitter, Instagram, Linkedin, and Youtube!
Hardware Design Ideas For Your Entryway