Can You Handle This Trend? – Spring Bathroom Trends – As you know, with each new year, comes new trends in the interior design for the overall home or for a specific room. Today, PullCast is focusing on Bathrooms and in Spring, but also in how the amazing PullCast products can help you achieve the Top Trends of the Year and a Stunning Bathroom Decor.
Read More: Can You Handle This Trend? – Color Trendy Home Decor
The following MoodBoard will tell you all you need to know about Bathroom Trends for this Spring. So use it and abuse it to create that stunning Bathroom Look you've always dreamt of.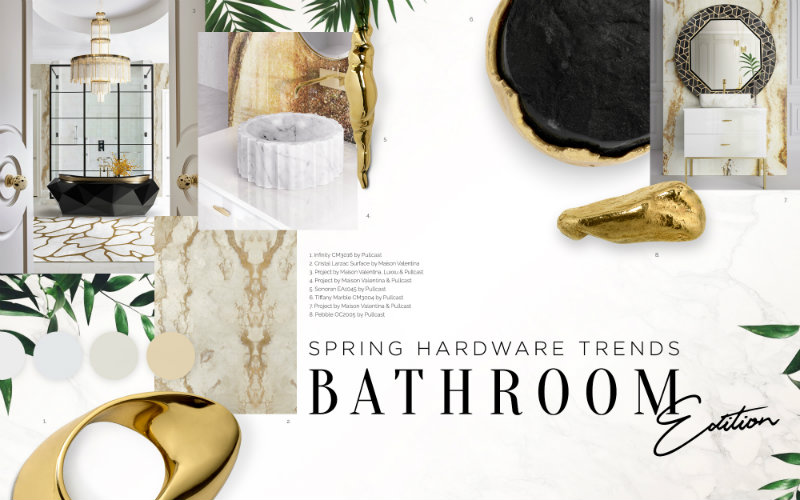 The obvious trick for this year but for any year is to focus on details. You don't need much to change completely your space, add some splash of bright color or just include some stunning Hardware Detail, like the Toile Pull.
One of this spring's trends also focuses on the use of ultra-modern, high-gloss modular furniture that can give any bathroom light and spacious look – even if it's not blessed with generous square footage. Opting for wall-hung units achieves a feeling of openness: as more of the floor is visible, the eye is tricked into selling the space as both bigger and lighter. To achieve this look you can also an elegant and powerful Pull like the novelty Inifinty by PullCast
Last but not least give emphasis to Gold! The design world is definitely experiencing a renaissance now, but its important to set the right tone. Think gentle champagne and rose shades rather than showy orangey tones. And use metallics sparingly but with purpose, for instance, use amazing Hardware Products, like the incredible Kesya Cabinet Pulls or Skyline Cabinet Pulls by PullCast to create that opulent, sparkle and elegant detailed touch.
DISCOVER THE WORLD OF PULLCAST AND CHECK OUR NEW CATALOGUE!

Discover the exclusive and luxury world of PullCast and dive in our amazing and elegant list of decorative and architectural hardware products. They will help you elevate and transform your home decor or your design project into a unique experience! Follow us on Facebook, Pinterest, Twitter, Instagram, Linkedin, and Youtube!