Best Bars In Los Angeles => Since LA recently lifted its indoor mask mandate, drinking in bars has just become a lot easier after nearly two years of pandemic chaos. Perhaps there has never been a finer time to enjoy a well-made drink, especially with some bar snacks and some genuine old-fashioned comradeship. Keep reading and learn a bit about some amazing spots you definitively should try. Masks down, bottoms up!

Best Bars In Los Angeles
Since LA is essentially in the summer for half the year, the Southland experiences warm days and cool evenings. With a plethora of freshly opened establishments, including picturesque rooftop oases, energetic sports bars, and secret speakeasy haunts, the local bar scene is more than eager to welcome customers once more. Take a look at these amazing spots, maybe you'll find your next favorite bar!
Desert 5 Spot
This Pioneertown-meets-Palm Springs neo-retro establishment, with jewel-toned vintage furniture and wood paneling on the interior, as well as a wraparound balcony that gives 360-degree views of the Hollywood Hills, graces the rooftop of the recently opened tommie Hollywood hotel. With live bands performing every weekend, it's one of your greatest options for country western or country rock music in LA. Due to its location in the center of Hollywood, Desert 5 Spot is a great place to meet different people, you're just as likely to see clubbers in minidresses and stilettos as you are cowboys in Stetsons.
Drinks like Ring of Fire, made with Bruxo mezcal, prickly pear, lemon, and ginger, and Jolene, a compelling concoction of El Tesoro tequila, watermelon, strawberry, agave, and lime, pay homage to country music hits. You may even "Make it a Cactus," which involves ordering the establishment's well-known Margarita in a cactus-shaped cooler that can accommodate six to eight individuals.
Editor's Choice
Skyline Door Pull
Grandmaster Recorders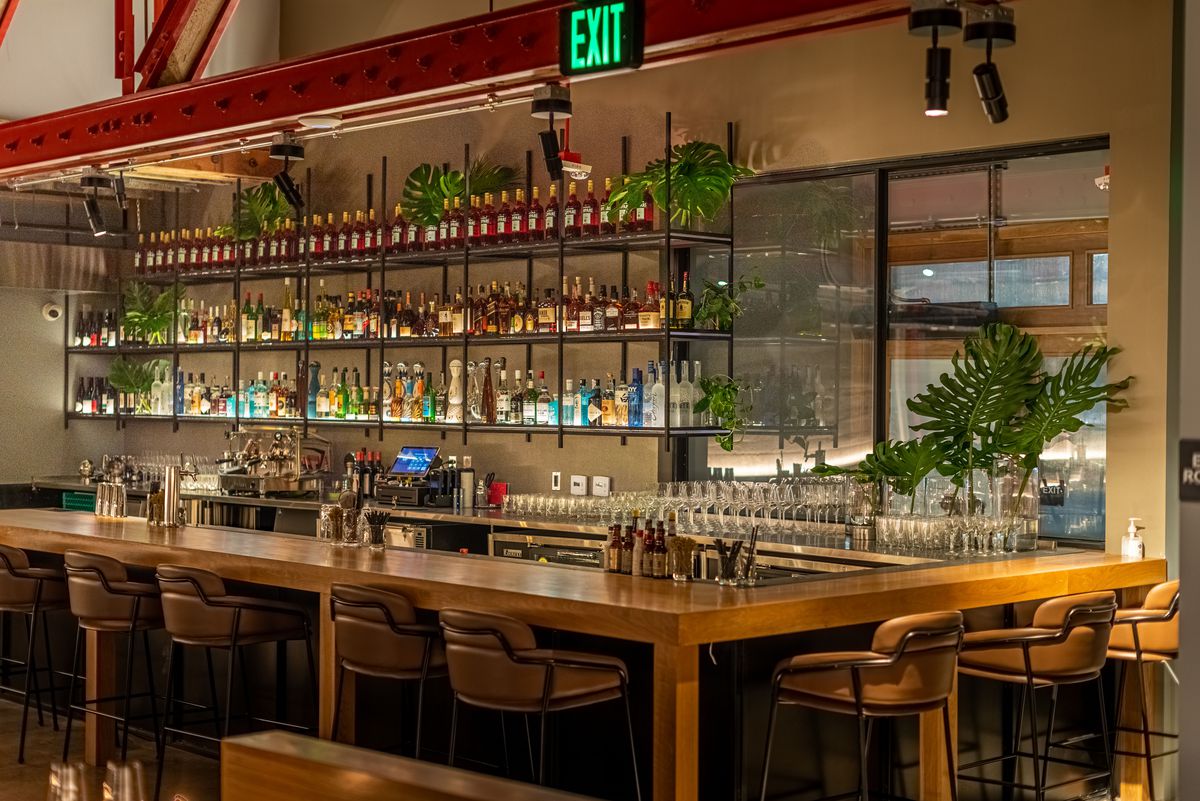 Grandmasters Recorders, which is located in a tri-level building on Cahuenga Boulevard in Hollywood's burgeoning Vinyl District, is a lot of things: it was once the recording studio for artists like Stevie Wonder and David Bowie, as well as one of the best Italian restaurants in town and, as it happens, a great place for al fresco rooftop cocktails.
Before sipping on craft cocktails like Snakes and Ladders, choose between the glittering, disco-ball-backed 71 Studio Bar on the first floor, an enormous second level with high ceilings and climbing trees, and the aforementioned rooftop with a breathtaking view of the Hollywood Hills (pisco, Aperol, aquavit, raspberries, egg white, lemon, and bitters).
The rooftop also offers a special menu featuring Italian appetizers, tap cocktails, and rooftop spritzes. Grandmasters offers more than 2,000 wine bottles in its collection, with an emphasis on Italian brands, for those that prefer it. Devon D'Arcangelo, the wine director, is always willing to offer suggestions.
---
See more: Top 5 Upcoming Festivals in Los Angeles
---
Melody
In addition to being a wine bar, this airy location has one of our favorite patios, serves as a gathering place for some of the city's best food pop-ups, hosts occasional DJ events, and—perhaps most importantly—is a hub for wine- and food-loving aesthetes. It's also among the greatest ways to sample some of the best new culinary concepts in Los Angeles, with a rotating menu full of small-producer and organic wines. Plan properly because the crowds can become a bit chaotic depending on the night and pop-up.
Editor's Choice
Quantum Door Pull
Thunderbolt
Since the crew behind the Park's Finest next door created the food menu, we expected excellent bar eats, but Thunderbolt also excels at cocktails. The emphasis on fruit and Southern flavor is emphasized by a sizable Madeira collection and whimsical cocktails like the clarified version of a pia colada (Tropipop), which just so happens to match splendidly with plates of country ham and their decadent fried green tomato sandwiches.
Thunderbolt pays respect to Historic Filipinotown as well as the South with slick, inventive, and impossible-to-put-down menu items like the P-Town Boxing Club, a drink made with pandan, and coconut-washed rye. It is not surprising that we frequently remain all night when there is a vibrant front terrace, plush leather furniture, and excellent music selections.
Did you like our article Best Bars In Los Angeles? Let us know!
If you want to discover more about the exclusive and luxurious world of PullCast and our elegant collections of decorative hardware, then feel free to follow us on social media: Facebook, Pinterest, Twitter, Instagram, Linkedin, and Youtube