Behold These Exquisite Bathroom Designs With Studia 54 – The Studia 54 group of enterprises consists of three distinct brands whose operations span the whole spectrum of interior design and architecture.
They seek to be the greatest worldwide interior design and architectural design studio by developing projects in their own and unmistakable style. They make aspirations of opulent and comfortable living a reality by bringing together professionals from the most different sectors.
See also: How Hardware Can Complement Styles: Modern Luxury vs Mid-Century
Behold these exquisite bathroom designs
By Studia 54
Studia 54 does not agree with the opinion that if a small area is provided for a guest bathroom, the decoration and plumbing of this room can be chosen last.
The interior should look impeccable so that all guests celebrate their good taste and feel comfortable. The process of decorating this guest bathroom was a real challenge for the design team.
Even if a modest area is allocated for this room, the design must be effective, memorable, and not inferior in beauty to other rooms. Any guest who sees this room must leave with a vivid impression.
Studia 54 wanted to reverse the conventional thinking that guest space design should be faceless! This project reflects the concept of an ultra-modern space that will fill each guest with a new charge of energy.
The bright pumpkin-colored suede is balanced by dark black marble and spectacular blue panels – the bolder the mix, the more original the interior becomes. It's important that the people for whom they create beauty are happier in new spaces.
See also: Turkesa Cabinet Handle

If You Enjoyed These Unique Bathroom Decorations By Studia 54
Behold these exquisite bathroom designs by PullCast
This is some lovely styling for a bathroom, going for a gold and white bathroom is a chic and timeless option – it will work any time!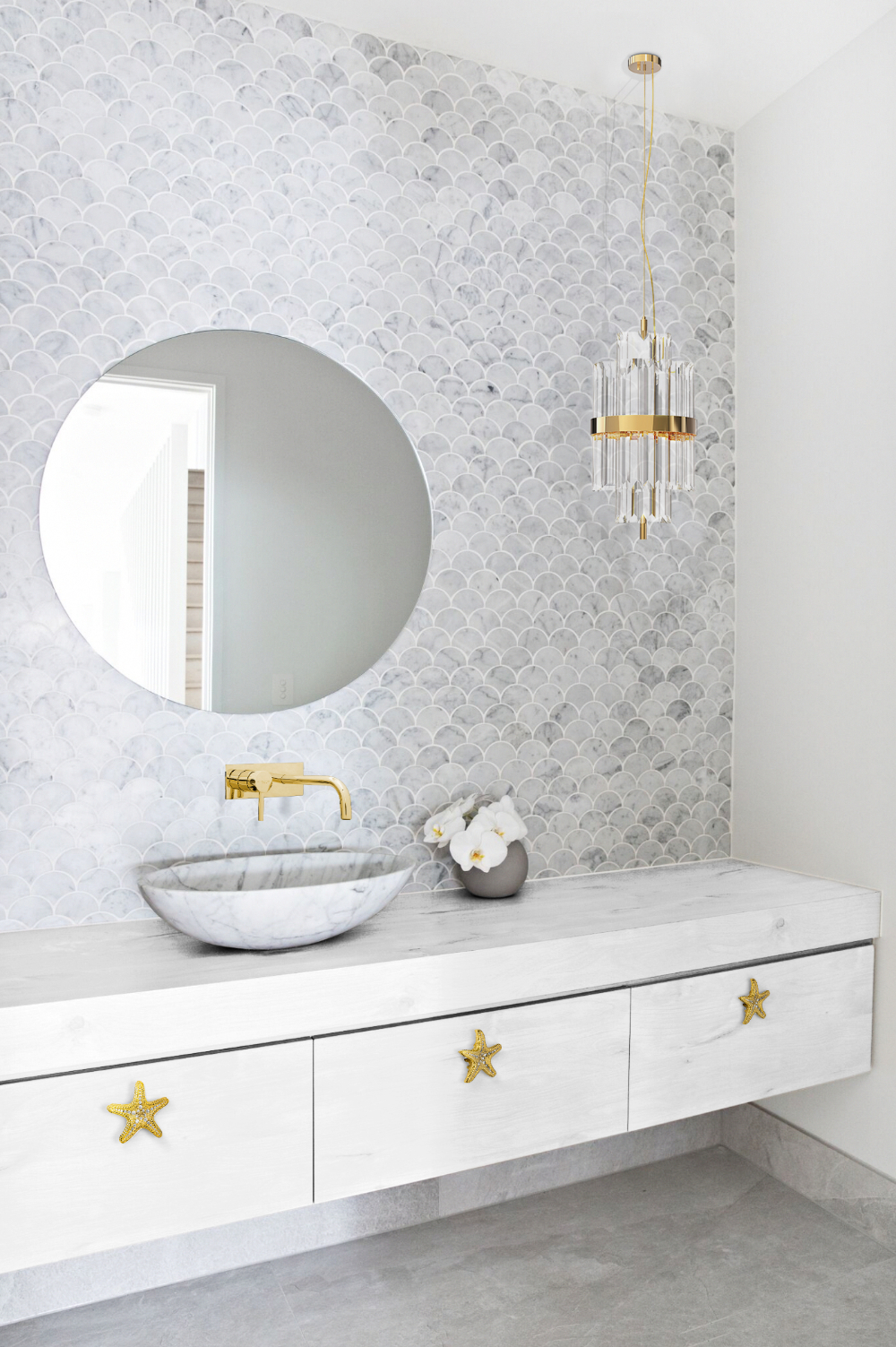 PullCast is one of those brands that really can do more with less. In a world where everything is a copy of another copy, brave are the ones who take the next step. Pullcast makes details shine brighter and surely you will feel the magic of their experience through their exquisite designs.
The golden tones of the Kano door hardware contrast beautifully with the darker bathroom furnishings. Opting for a design that was created taking into inspiration a particular expression is also a great way to add a more fluid narrative to an interior.
A glamorous idea is the white and golden combination. A pure white bathroom design can be enhanced by golden drawer hardware can fit any elegant bathroom. The hardware design should be considered as an important part of your bathroom decor renovation.
See also: Jalo Door Pull
In Need Of More Inspirations?
Check These Exquisite Bathrooms By Another Luxurious Brand
A white and gold sink, like this beautiful one, will add a sense of luxury and elegance to your room.
Thanks to the light tones, this neutral tones bathroom appears wonderfully serene and tranquil, as well as making this little bathroom appear even larger.
This bathroom's green tones look absolutely wonderful when coupled with the black and gold decorations.
Even though green is a striking color, it looks fantastic when paired with black to create a serene yet adventurous atmosphere.
See also: Atlas Hardware – Sublime Details of Cosmopolitan Collection
Discover the exclusive and luxury world of PullCast and dive into our amazing and elegant list of decorative and architectural hardware products.
Did you like our article Behold These Exquisite Bathroom Designs With Studia 54? Let us know! They will help you elevate and transform your home decor or your interior design project into a unique experience! For more inspiration regarding decorative hardware, follow us on Facebook, Pinterest, Twitter, Instagram, Linkedin, and Youtube!