6 Home Office Decor Ideas for an Upgraded and Detailed Aesthetic ⇒ Discover how astounding details like highly curated decorative hardware pieces can positively transform the overall decor of a home office space. While ample lighting, comfortable furnishings, and an orderly disposition are of the essence in this sort of interiors to boost one's creativity and productivity, jewelry hardware can easily add more character and style to a division, ultimately turning rudimentary features into original ones.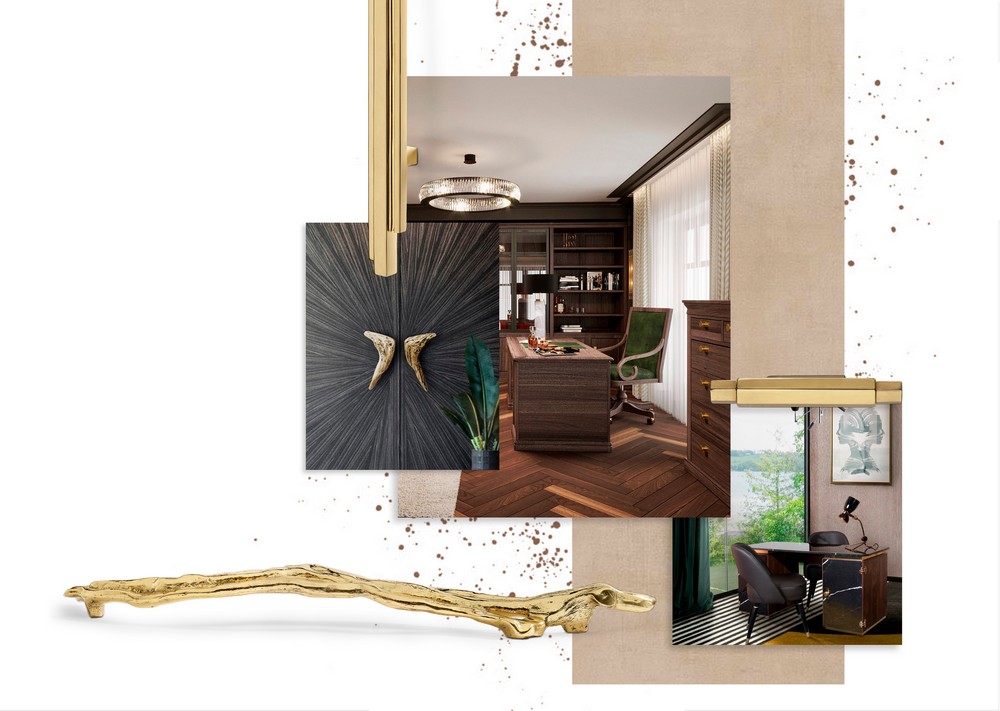 The concept of a home office in our current times has suffered a few enhancements. Functionality and comfort will always be the leading forces of such spaces, favoring simplicity above all. Nevertheless, textured and detailed aesthetics have gained more popularity, as many homeowners and designers alike often attempt to refute the ordinary and opt instead for more exciting solutions. It is here that elements such as jewelry hardware can come into play, and the following home office decor ideas showcase how these adornments can make a statement decor-wise.
#1 – Minimalist & Uncluttered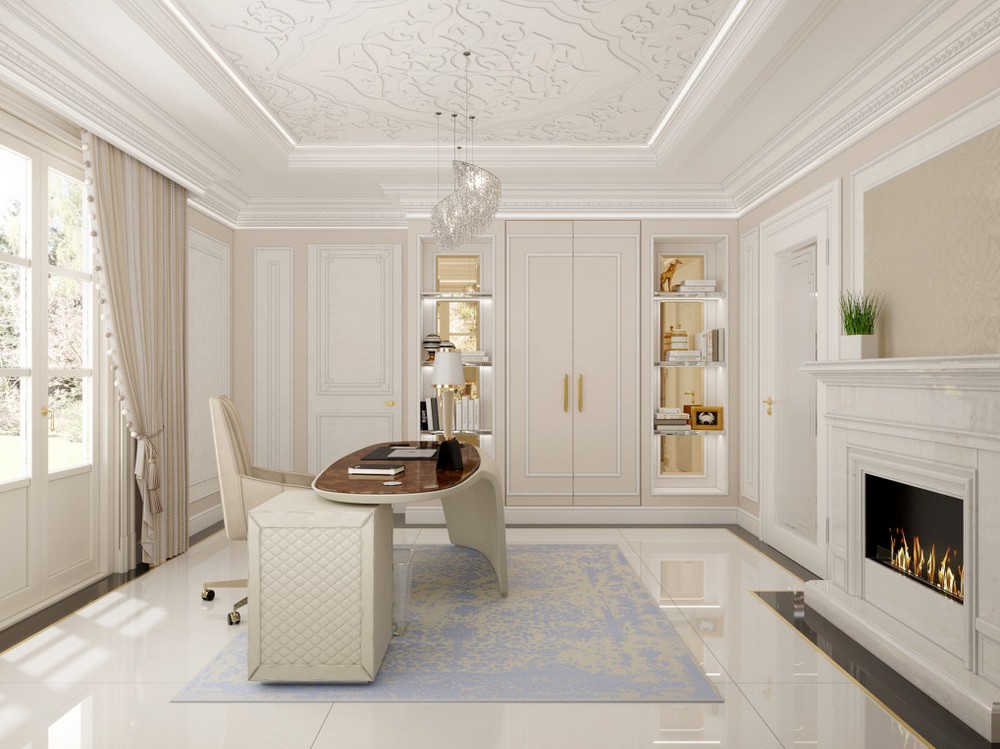 One is often more productive if working in an uncluttered space that is not overpowered by a plethora of extravagant design elements. Take, for example, this exquisite office design by DD Interior Studio that highlights a serene atmosphere in various cooling shades of white and beige, which has been deemed by many as the ultimate neutral tone for the upcoming season. Overall, this home office decor features a series of Anglo-Saxon decorations that match seamlessly with the golden silhouette of the Skyline door pull.
#2 – Industrial Meets Art Deco
In interior design, brass has been the timeless material of choice for the longest time, mostly due to its timeless properties. This rich material is best paired with clean lines and a muted color palette, thus guaranteeing a modern aesthetic. This can be understood in this office design by LUXXU where the brass details predominate yet complement the adjacent designs. In addition, it also highlights industrial features that are cleverly merged with Art Deco influences, especially with regard to the Waltz drawer handle that adorns the black-toned desk. home office decor
⇒ Related Article: Boost Your Work Creativity by Upgrading Your Home Office Design⇐
#3 – A Fully Accessorized Space with a Soft Color Scheme
In this open-concept office space, Dôme Project Interiors showcased sophisticated Miami living at its finest. This office space is well-appointed with furnishings in soft cream hues as well as one-of-a-kind accessories organized in a polished manner. For instance, the Kesya cabinet hardware makes a rather intriguing statement in this space as it presents a strong character that was inspired by the uneven texture of the bark pine tree.
#4- Bespoke Designs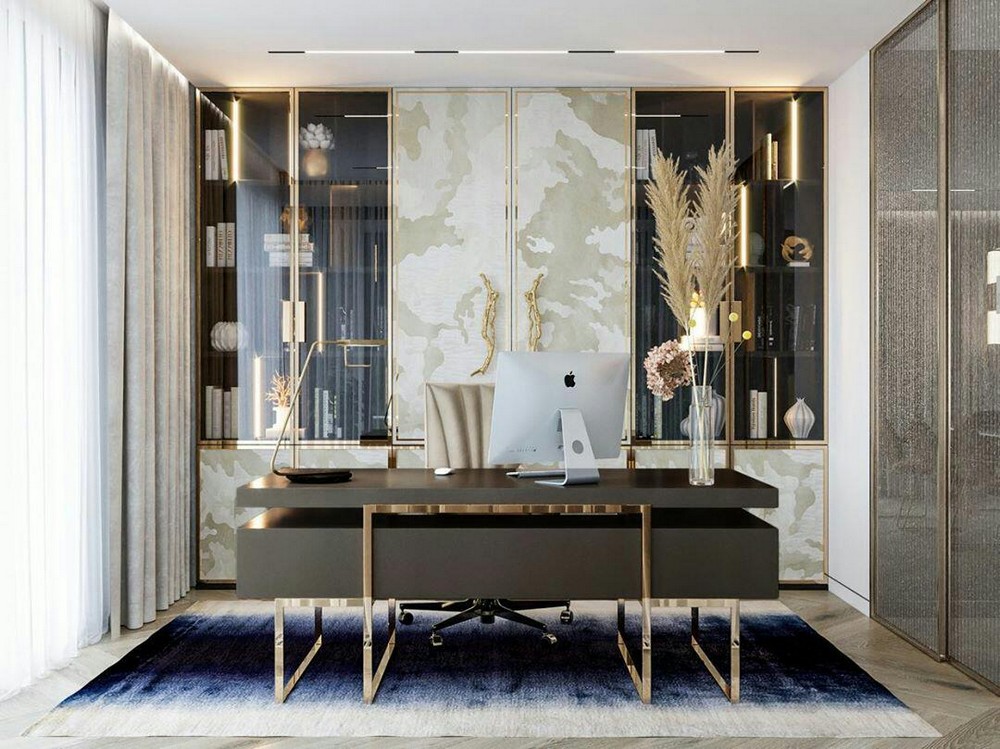 Functionality and bespoke aesthetics are beautifully merged in this astounding home office decor. This interior is well-appointed with exquisite furnishings and accessories, from Italian veneer doors in soft camouflage to a modern handmade rug, not to mention the high-end desk and chair that are made from authentic materials. Moreover, the invigorating Flow door pull adds an extra layer of sophistication and personality to this space courtesy of its organic and fluid shape.
#5 -The Appeal of Retro Design is Undeniable
In its essence, the retro style is all about embracing a kaleidoscope of contrasting colors, shapes, and textures, combining both new and old forms. Designer Angelika Tóth took this eclectic notion to new heights when designing this remarkable home office decor of a luxurious residence in Hungary.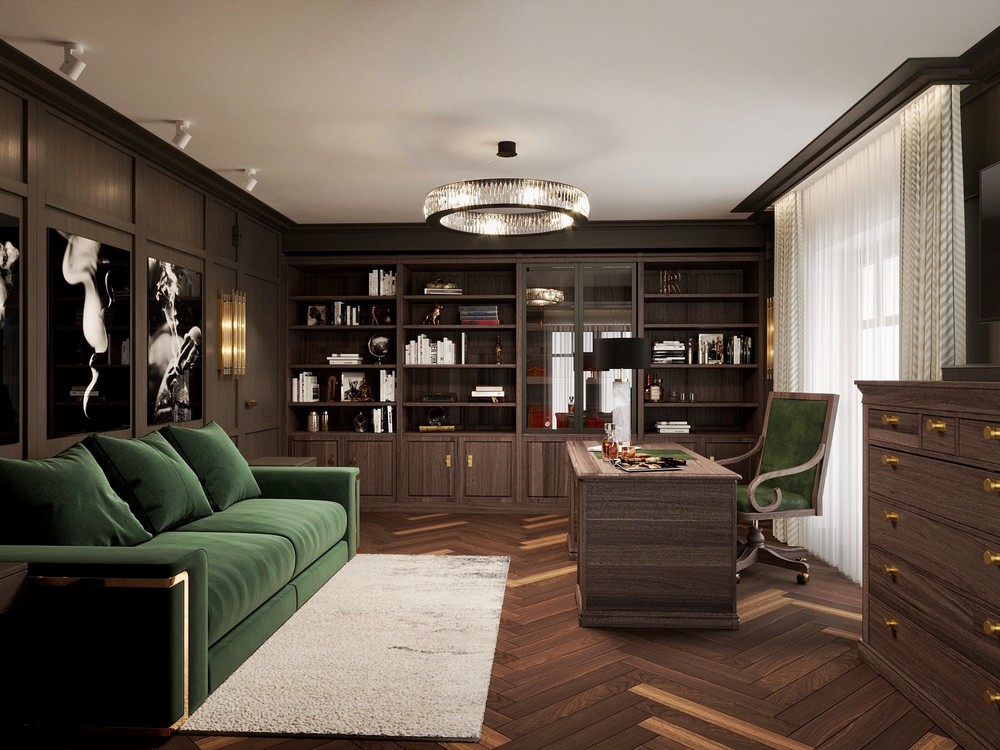 Concerning the color scheme, it highlights a palette manifested in brown and green tones with pops of gold found in both the lighting and decorative hardware designs. The drawer handles are denominated Monocles and follow a more mid-century modern approach, showcasing extreme simplicity and understated elegance. It is best paired against darker furnishings.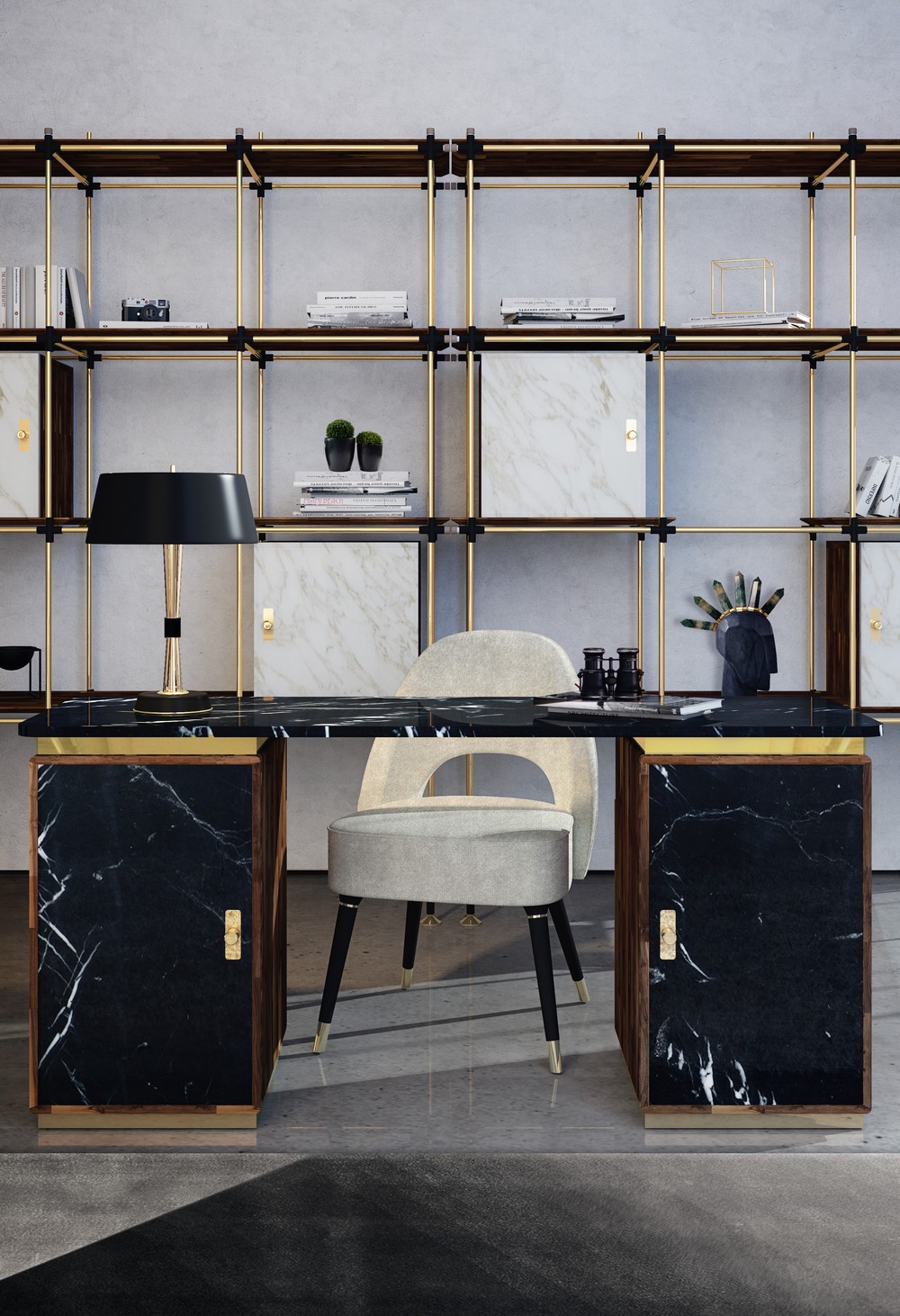 #6 – Introduce Multiple Hardware Sources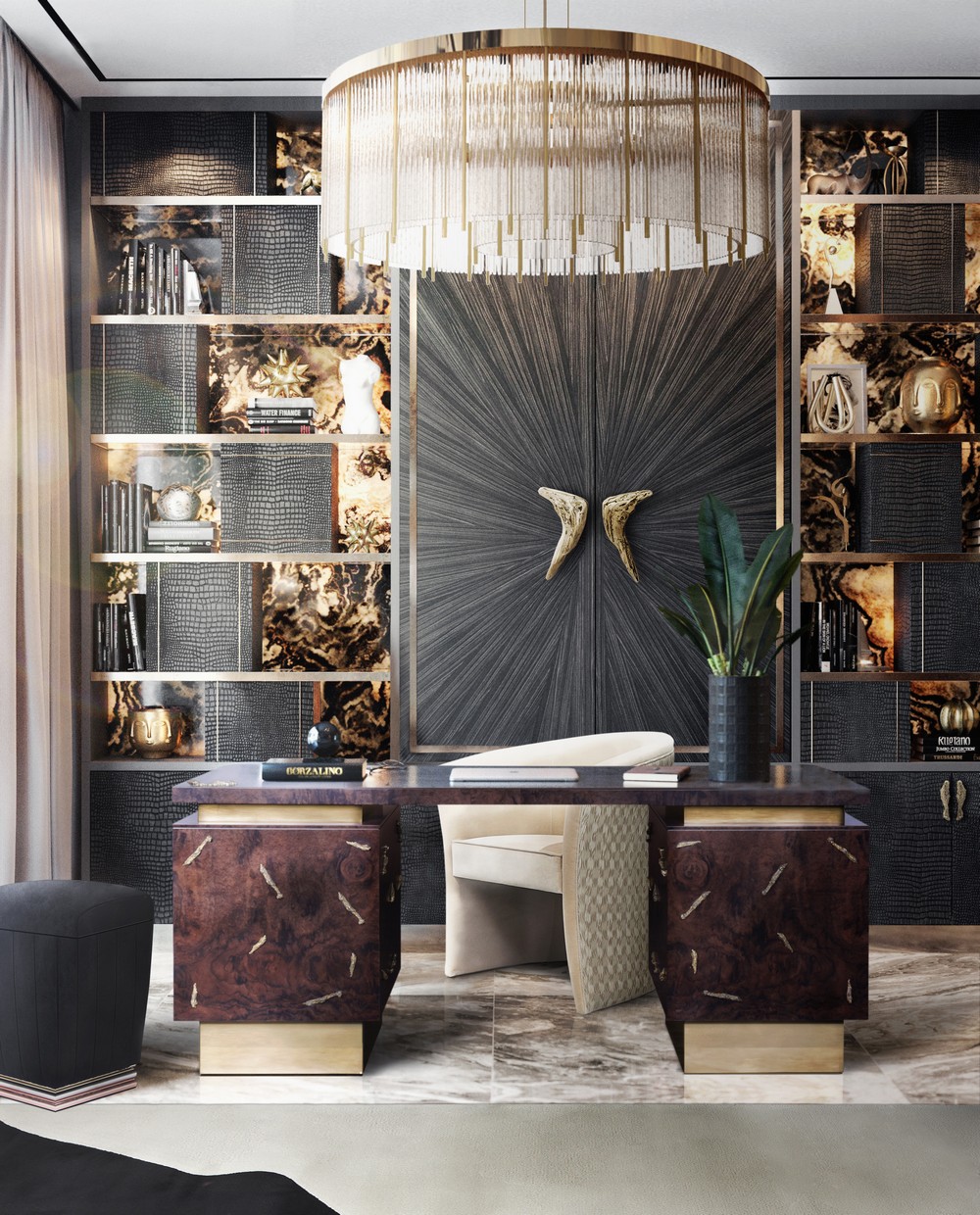 Adding multiple hardware sources with different shapes is a great way to offer more character and style to a room. In this case, earth-inspired decorative hardware pieces were chosen to grant a more nature-related flair to this home office decor. For instance, the desk is adorned with polished brass details of the Kesya hardware whereas the door design is installed with the Kerma door pull, an exclusive design with a unique form based on the Kermandie Queen in Australia. home office decor
⇒ Read Also: Hardware Design Ideas For Your Entryway ⇐
If you want to discover more about the exclusive and luxurious world of PullCast and our elegant collections of decorative and architectural hardware, then feel free to follow us on social media: Facebook, Pinterest, Twitter, Instagram, Linkedin, and Youtube!
home office decor, home office decor