10 Amazing Bathrooms With Ricky Wong – Ricky Wong Designers' founder was born into a well-known Hong Kong furniture industry family. He was acquainted with furniture art and interior décor as a kid, having been deeply influenced by his family's company. At the time, he had already determined to devote himself to being a great designer, and he is today regarded as one of the world's best designers.
See also: Bathroom Inspirations That Will Take Your Breath Way

10 Amazing Bathrooms
Admire These Modern Bathrooms By Ricky Wong
The bathroom is an often overlooked part of the house when it comes to the interior décor, Ricky Wong does not follow this trend and applies a modern touch to this exclusive place.
One of the 7 modern bathrooms, the ideal bathroom design has to be gifted with a long bathtub for immersive and relaxing baths and the aesthetics that were applied to this bathroom design combined with the subtle lighting provide a sense of privacy that can't be denied.
See also: Natica Drawer Handle
If You Enjoyed These 10 Amazing Bathrooms Designs
Admire These Stunning Bathroom Designs By Luxxu
The entrance to this luxurious bathroom is decorated with exquisite craftsmanship in the form of PullCast´s Meteor Door Knob, a piece that embellishes and sets up a terrific ambiance where the Pharo Chandelier takes the center stage.
On the list of the 10 modern bathrooms, this bathtub immerses in a unique bathing experience under the fabulous lights of Luxxu´s Waterfall XL Pendant.
A bathroom design to delight and impress. The full splendor of this decoration is shown in the marble walls and golden elements, these gorgeous fixtures are reflected by the imposing Orbis Rectangular Mirror for everyone to see.
The golden tones of the Kano door hardware complement the darker bathroom decor wonderfully. Choosing a style that was inspired by a certain emotion is also a fantastic approach to bringing a much more fluid story to a space.
See also: Kerma Door Pull
In Need Of More Inspiration
Check Out The Rest of the 10 Modern Bathrooms From Other Luxury Design Brands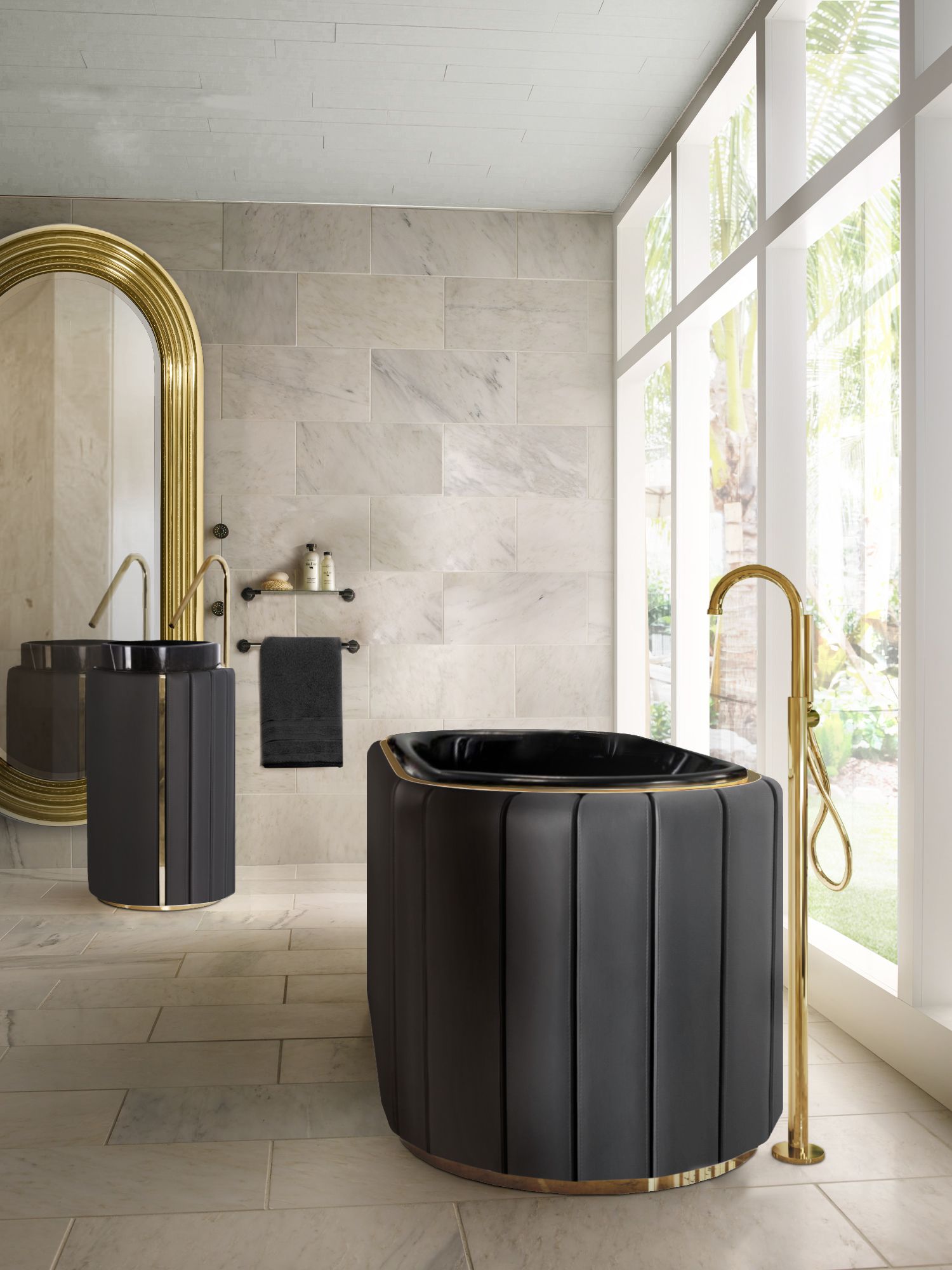 A wonderful bathroom design with the upholstered Darian collection to fill this oasis with Grace, Harmony, and Beauty. The combination of black goods and white flooring and walls also lends this bath space a distinct and seductive tranquillity that will make you never want to leave its confines.
This bathroom interior design is golden, glossy, and magnificent, with the Colosseum mirror and the immensely majestic Symphony bathtub filling its environment with elegance, beauty, and spectacular luxury unlike anything seen before.
Enchanting, strangely gorgeous, and intense in all the right ways, this bathroom with the Cay Rectangular Mirror and the Tortoise suspended cabinet is the most modern, elegant, and magnificent bathroom on the market right now.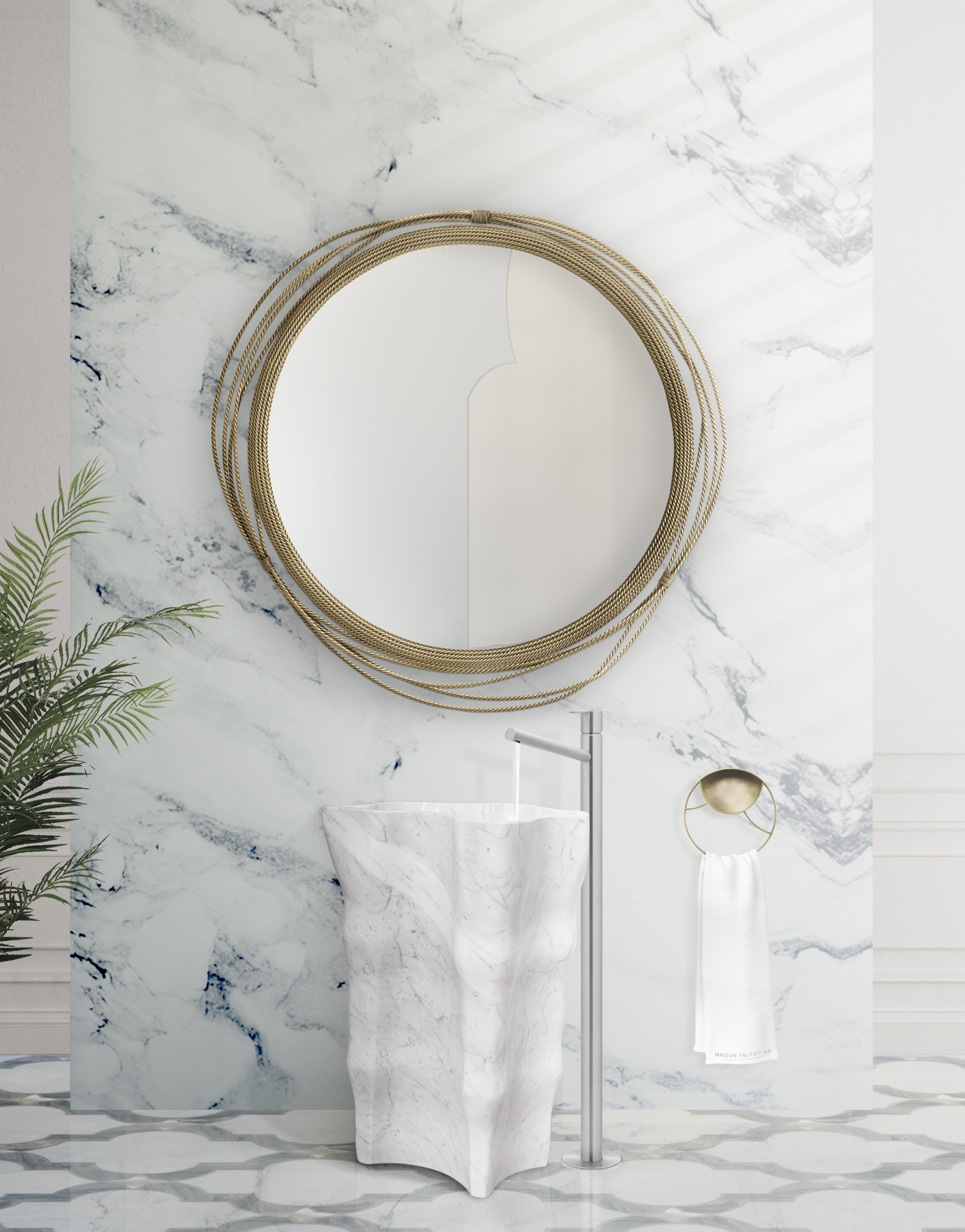 The Eden Stone Freestanding is brimming with white blissfulness and a wonderful look that fills the space with fabulous magnificent sensations and incredible sparkling inspiration.
See also: The Best Hardware for your Los Angeles Bathroom
Discover the exclusive and luxury world of PullCast and dive into our amazing and elegant list of decorative and architectural hardware products. Did you like our article 10 Amazing Bathrooms With Ricky Wong? Let us know! They will help you elevate and transform your home decor or your interior design project into a unique experience! For more inspiration regarding decorative hardware, follow us on Facebook, Pinterest, Twitter, Instagram, Linkedin, and Youtube!