Unique Cabinet Handles by Azzari –Azzari It's our reseller and is known as a high-end design company and an exclusive dealer for the benelux market. They offer unique cabinet handles & door- window  but also metal, copper and brass furniture. Today, PullCast Blog will show you more incredible projects from this brand to leave you inspired.

Moon, edge pulls by Joseph Giles.
As its name implies, this edge pull handle was inspired by and pays homage to the moon and its quiet beauty. The idea of understated beauty was aptly translated into a functional and practical design of a pull handle. The design is the epitome of timeless elegance, the half- moon shaped grips at the back are as equally functional as they are aesthetically pleasing. And like the moon's constant presence, these handles will last a lifetime.
See Also: Transform Spaces With Casa Arabia Design Studio
The 'Fonteyn'
lever handle
is inspired by the iconic Margot Fonteyn, a beautiful and graceful ballerina who performed for the Royal Ballet. Her supreme command of ballet earned her the status of Prima Ballerina Absoluta, as appointed by the Queen, cementing her as an icon of elegance and agility. Like that of a ballerina, the 'Fonteyn'
collection
is finely balanced, elegant and truly something to behold.
The 'Fonteyn' lever handles are made from the finest grade solid brass and are hand finished in all the signature finishes.
Finishing picture: brushed brass waxed
Editor's Choice
DRAWER HANDLES
REF CM3015
The Infinity drawer handle was designed to exude feminine grace as well as everlasting elegance and timelessness. This piece highlights a fairly rounded silhouette with a polished brass finish.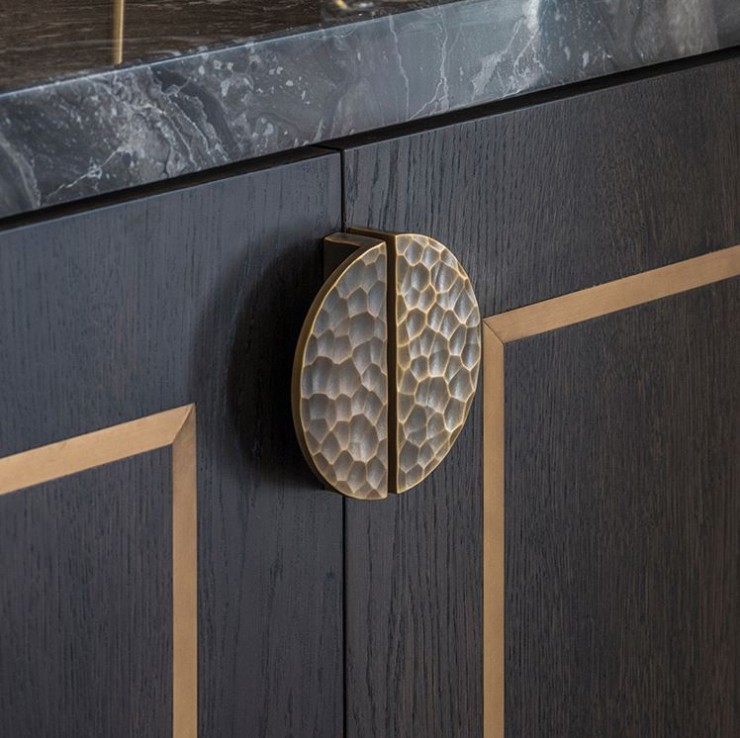 These beautiful half moon hammered cabinet handles are a perfect way to add a textured statement. As they are hammered by hand, each piece is unique. Available in four sizes and in all the signatures finishes.
A triple touch of gold! A single light pendant made from solid metal and finished with a matt black rubber cord flows easily into the room. The firm cross pattern of the door handle changes every touch. The tealight holder offers stunning reflections from the candle light. Available in a package of three or as single pieces, the perfect gift for every 'candle-light-dinner-party'!
Editor's Choice
CABINET HANDLES
REF CM3001
Skylines are the city's profile, an iconic symbol, and just like our skyline luxury cabinet hardware, create a silhouette when set in context. Mix and match your designs with the Skyline brass cabinet handle.
See Also: Luxury Houses with One-of-a-Kind Decorative Hardware Designs by PullCast
Did you like our article Unique Cabinet Handles by Azzari Let us know!
Discover the exclusive and luxury world of PullCast and dive into our amazing and elegant list of decorative and architectural hardware products. For more inspiration regarding decorative hardware, follow us on Facebook, Pinterest, Twitter, Instagram, Linkedin, and Youtube!