The Most Memorable Stands At Habitat Valencia 2019 ⇒  Today is the last day of this international tradeshow which shook the design world and brought on some fresh trends in the interior design market. Therefore, PullCast chose the best and more creative brands and trends presented during this event that elevated design.
Read More: What You Need To Know About Milan Fashion Week 2019
Lebom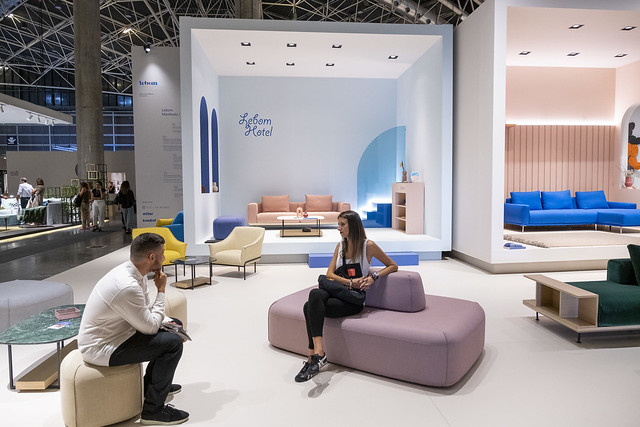 This Spanish couch design brand prioritizes quality that boosts creativity in those who seat in it. With handmade and detailed designs that ensure individuality, Lebom is set out to innovate in the sofa market and create pieces made for creative minds.
.annud
Another Spanish firm, .annud strives for quality and innovation in the upholstery market and took the chance to present some of their products at Habitat Valencia 2019, such as the Connery collection, which can be seen above. The collection, as well as its name, were inspired by the best-known actors in the history of cinema and the classic films they starred in, as demonstrated by the classic but timeless lines of the chair's design and its durable quality.
The Ramón Esteve Exhibit
This exhibit pays homage to the work of architect Ramón Esteve, whose first furniture line dates back to 1996. Esteve designed his own exhibition site, where he displayed several of both his older and his more recent works. A guided tour through the area was scheduled by the fair itself during the first day of the event.
PullCast and LUXXU
With "Modern Design and Living" as their concept, PullCast and LUXXU came together to create a stand that exudes elegance and luxury. If you still haven't visited their stand, head over to N2-P2 Stand D46 before the end of the tradeshow!
Discover the exclusive and luxury world of PullCast and dive in our amazing and elegant list of decorative and architectural hardware products. They will help you elevate and transform your home decor or your design project into a unique experience! Follow us on Facebook, Pinterest, Twitter, Instagram, Linkedin, and Youtube!
Habitat Valencia 2019Habitat Valencia 2019;
Habitat Valencia 2019Habitat Valencia 2019
Habitat Valencia 2019Habitat Valencia 2019