Philippe Starck Designs Outdoor Furniture Collection for B&B Italia ⇒ The extremely skilled French creator has once again developed a highlight functional and elegant design collection, but this time for the renowned Italian design brand, B&B Italia.
Entitled "Oh, it rains!", the lastest Philippe Starck outdoor furniture collection for B&B Italia is comprised of designs with outstanding dimensions and a highly scenographic concept. Both the sofa and armchair showcase unusual shape with a minimalist aesthetic. The backrests of these designs can actually be folded thus covering the seat from other elements, but let's further explore this unique collection in today's article.
⇒ Related Article: Outdoor Living – Latest Furniture Collections for Your Consideration ⇐
Starck created these outdoor furniture designs with an unexpected function in the mind. Instead of just taking the easy route, the French designer pulled all the stops and develop a range of furnishings with the Italian brand that will help homeowners' life easier. The backrest actually folds down on top of the seat which in case of bad weather, become incredibly practical and one can easily protect blankets or pillows underneath it.
Moreover, the fold-down mechanism works via an exposed aluminum hinge – a mechanical joint created especially by Starck in collaboration with the company's research and development team.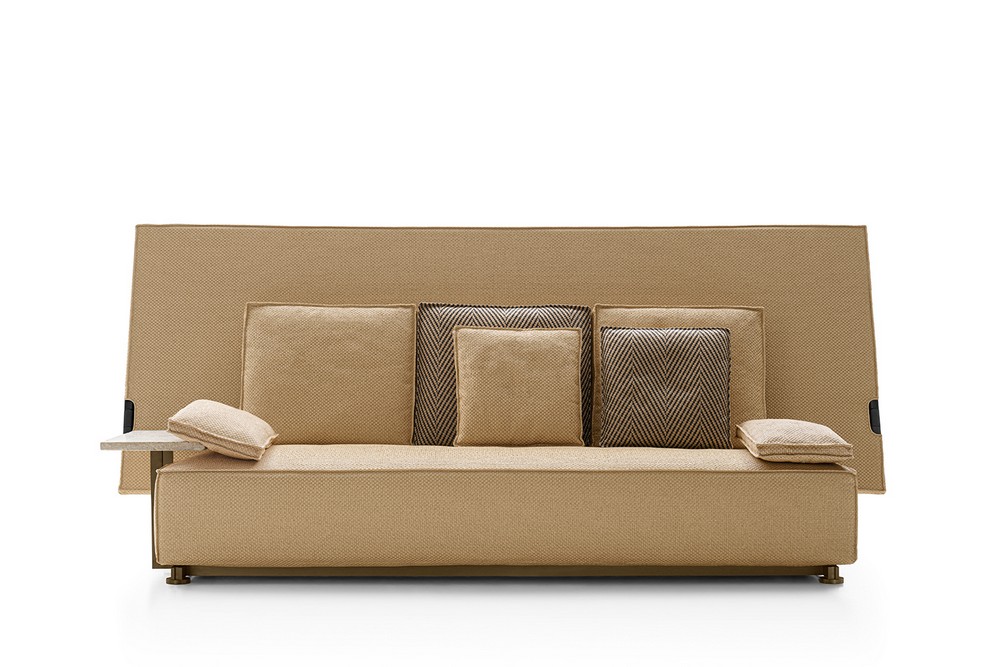 In this outdoor design collection, colors and materials come together beautifully. Starck and B&B Italia introduced colonial shades and raffia-effect waterproof fabrics, granting it a beachside aesthetic. The backrest is proposed as a surface to be personalized through the choice and combination of fabrics.
All in all, the "Oh, it rains!" outdoor furniture collection highlights a large impact in terms of size that not only can become a decorative element but also serve as a wall or partition to create a more intimate setting.
⇒ See Also: Living Room Design – Outstanding Luxury Sideboards with Brass Hardware ⇐
Discover the exclusive and luxury world of PullCast and dive in our amazing and elegant list of decorative and architectural hardware products. They will help you elevate and transform your home decor or your interior design project into a unique experience!  For outdoor furniture inspirations, follow us on Facebook, Pinterest, Twitter, Instagram, Linkedin, and Youtube!
All image credits to B&B Italia
Source: Dezeen