Halloween: The Best Hardware Pieces To Decorate During Spooky Season – The scariest time of the year is just around the corner, which means it's time to decorate! Now that you have carved your pumpkins, picked the pointiest witch hat and prepared your broom, take a sit and discover some magical hardware pieces that PullCast blog selected just for you! We promise you, they are to die for! Muhahaha! 🎃
---
See also: Door Pulls By PullCast : Give A New Look To Your Home
---
Halloween
The Best Hardware Pieces To Decorate During Spooky Season
Halloween asks for special decorations! Moving aside from the traditional bats, spider webs and jack-o'-lanterns, PullCast offers a wide range of door pulls and cabinet handles that can be not-so-obvious choices to achieve a luxurious and sophisticated spooky aesthetic.
Decorating Like Morticia Addams
Strelitzia Door Pull
Strelitzia door pull represents faithfulness, love, and thoughtfulness, everything that relates to Morticia and Gomez's relationship, don't you agree? It's inspired by a species of a flowering plant indigenous to South Africa that honors a Queen. Made of brass, this big-size door pull is the perfect piece to create a romantic impact on your luxury interior design project and upgrade your house for this Halloween!
Get the look:
Cast A Spell With These Drawer And Cabinet Handles 
Willow Drawer Handle
Willows are often a sign of hope and represent a sense of belonging and safety. They have been used as a decorative item for many years, and PullCast opted to turn the beautiful form of willow trees into an exclusive drawer handle. The Willow drawer pull presents a brass frame with interconnected wavy features. Did you know that Harry Potter's mother, Lily Evans, had her wand made from willow? This hardware piece is, indeed, perfect to cast a luxurious spell on your drawers!
Get the look:
Quantum Cabinet Handle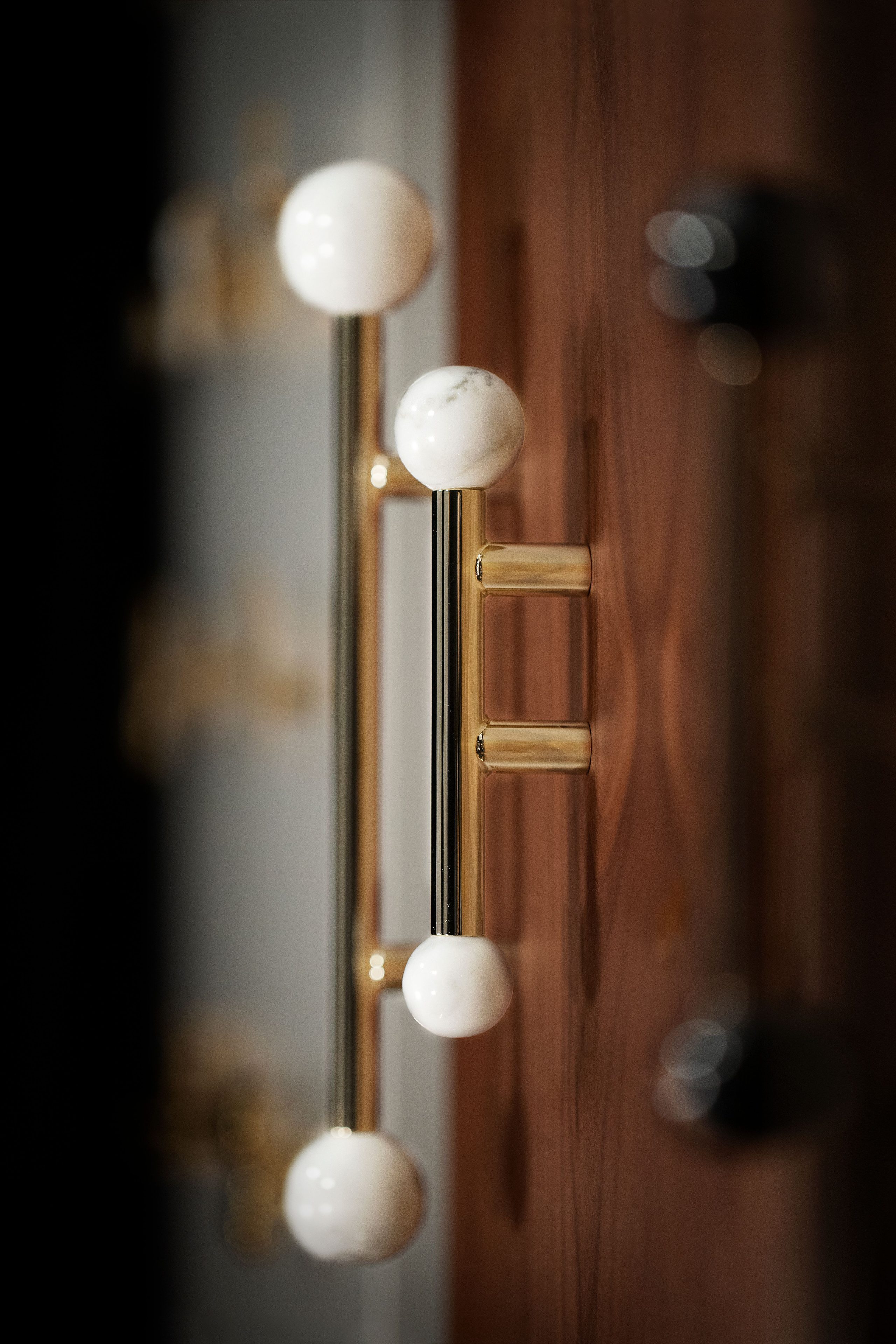 The Quantum cabinet handle offers mid-century flair at its finest hence being distinctively inspired by the atomic age design. It showcases a vertical gold plated tube with a round atomic motif in both extremities, enhanced in marble. It can be a magic wand with a more futuristic and clean aesthetic!
Get the looks:
---
See also: Fall Into The New Season
---
Out Of The Witch's Woods
Comb Door Pull
For the Comb door hardware, PullCast inspiration took part in one of the most aesthetically pleasing sights in nature, the honeycombs phenomenon. Marveled by the angular perfection that bees can form, we have drawn a circle shape, a perfect form completely in harmony with nature. A luxury door knob is perfect for your luxury door designs, and suits the wood witch aesthetic!
Get the look:
Flow Door Pull
Possessing a natural and invigorating way of movement, Flow mid-size door pull presents an organic shape decoding sophistication and personality. The perfect addition to door designs, this door hardware is the ultimate luxury door pull with a strong character. Perfect for a cabin in the woods!
Get the look:
---
---
The Sea Witch Aesthetic
Buckie Big Drawer Handle

With the Buckie drawer handle, you will be seeing double. Common whelks are often collected by sea lovers, and the Buckie brass hardware could be the next add-on to your own designs. Buckie will bring back all the coastal vibes you desire. We are sure Ursula would loooove this drawer handle!
Get the look:

Seashell Door Pull
Along the coastlines of the world, Seashells adorn the shore with their beautiful presence. Pullcast's new Ocean collection piece has the feminine touch of nature and will adorn your doors with a symbol of birth, good fortune, and resurrection.
Get the look:

---
See also: Fall Trends 2022: Personalize Your Home with Sublime Design Details
---
Magic Crystal Balls And Ouija Boards
Meteor Door Knob
Inspired by the energetic sparks that burn out in a brilliant blaze, meteors are magnificent and have a powerful glow and form. Meteor door knob, and a unique choice of luxury door hardware complement to enhance your door designs, and it is also shaped like a crystal ball!
Get the look:
Hendrix Door Pull
Featuring both mid-century and contemporary allure, the new Hendrix door pull comes in crowning glory with a new marbleized aesthetic, especially in Carrara and Nero Marquina marble. Its rounded and veined nature makes it a timeless option for any door design.
Get the look:
---
See also: Door Hardware eBook
---
Discover the exclusive and luxury world of PullCast and dive in our amazing and elegant list of decorative and architectural hardware products. Did you like our article Halloween: The Best Hardware Pieces To Decorate During Spooky Season? It will help you elevate and transform your home decor or your interior design project into a unique experience! For more inspiration regarding decorative hardware, follow us!