Discover the Charm of Container Homes ⇒  Container Homes are very popular nowadays, mostly because they meet every modern design criteria: they're spacious but simple, with not a lot of room to clutter up, are sustainable builds that don't harm the environment, especially if you're buying used shipping containers, and are perfectly able to be designed on a budget. Take a look at some amazing Container Homes to get inspired for your own project.
Read More: Travel in Style With These Amazing Campervan Interiors
Use Several Containers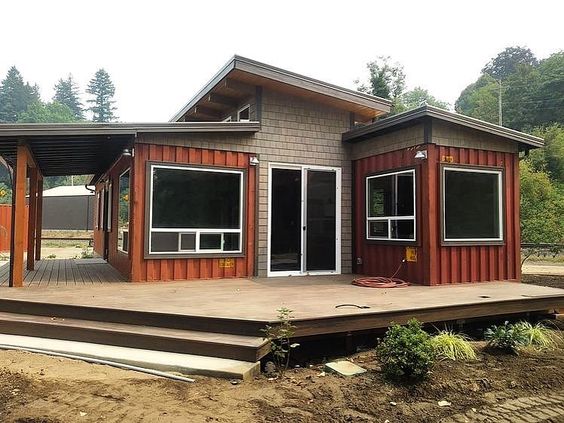 Buying several containers will help you to create a bigger space and even to form separate, individual rooms destined for a larger family with children, for example. You can also start small and then upsize, but remember to firstly invest in a large terrain in case you ever feel the need to expand.
Make it Sustainable
These types of houses are already much greener than the average housing, as they take fewer materials to build, are usually smaller and most times are made from old shipping containers. However, step it up by placing solar panels on the roof to save and generate your own power.
Downsize
Choosing to live in a container house is a great way to make yourself take the next step and downsize, learning to live only with the things you actually need and not only helping the environment but also decluttering your own lifestyle.
Be Creative
Living in a home made out of shipping containers is already an innovative feat, but having some fun while designing will really make the house stand out amongst other 'normal' housing options.
Go Off The Grid
Getting a self-sufficient container home is a perfect opportunity to leave the busy lifestyle of the big cities and go explore nature. Not only will you have more privacy and comfort, but even the land is also cheaper.
Discover the exclusive and luxury world of PullCast and dive in our amazing and elegant list of decorative and architectural hardware products. They will help you elevate and transform your home decor or your design project into a unique experience! Follow us on Facebook, Pinterest, Twitter, Instagram, Linkedin, and Youtube!
Container HomesContainer Homes
Container HomesContainer Homes
Container HomesContainer Homes
Container Homes

Container Homes