We are on the second day of the biggest international design fair, Salone del Mobile 2019. We were visiting hardware stands to see the trends that are being launched this year in Milan.
On today's article, you will find extraordinary luxury brands setting the game rules and provide the most breathtaking hardware trends that will make professionals wish for more and more.
Read More: HARDWARE TRENDS – THE MOST DESIRED HARDWARE IN SALONE DEL MOBILE
OLIVARI
HALL 22 STAND E28
Olivari will certainly be one of the hardware brands that you must see during this design fair, since the contemporary to the functional hardware design, they will undoubtedly bring many fascinating novelties to add to the existing collections and set hardware trends at Salone del Mobile 2019.
The functionality of this stands it is just perfect! Olivari can be found at Hall 22 Stand E28 during the Salone del Mobile 2019.

OPERA CONTEMPORARY
HALL 1 STAND G14 & G18
At Salone del Mobile 2019, you can find Opera Contemporary, not exactly a hardware brand but you can certainly found furniture with impressive hardware trends on it. The brand brings a contemporary style to the design fair with the best high-quality.
Opera Contemporary could not be exclusively a hardware brand, but it is certainly an extraordinary luxury brand full of impressive furniture pieces that could provide any interior design project.
You are able to visit them at Hall 1 Stand G14&G18 during the design fair.
PULLCAST
HALL 4 STAND E08 – E12 – D07 – D21
Passion of Creating
Of course, we cannot forget PullCast Jewelry Hardware! For the second year consecutive, this extraordinary luxury brand from Portugal presents a new, refreshing and, impressive decorative hardware at the design fair.
The place is small but at the same time, it is comfy and provides a diversification product line since decorative hardware to architectural hardware.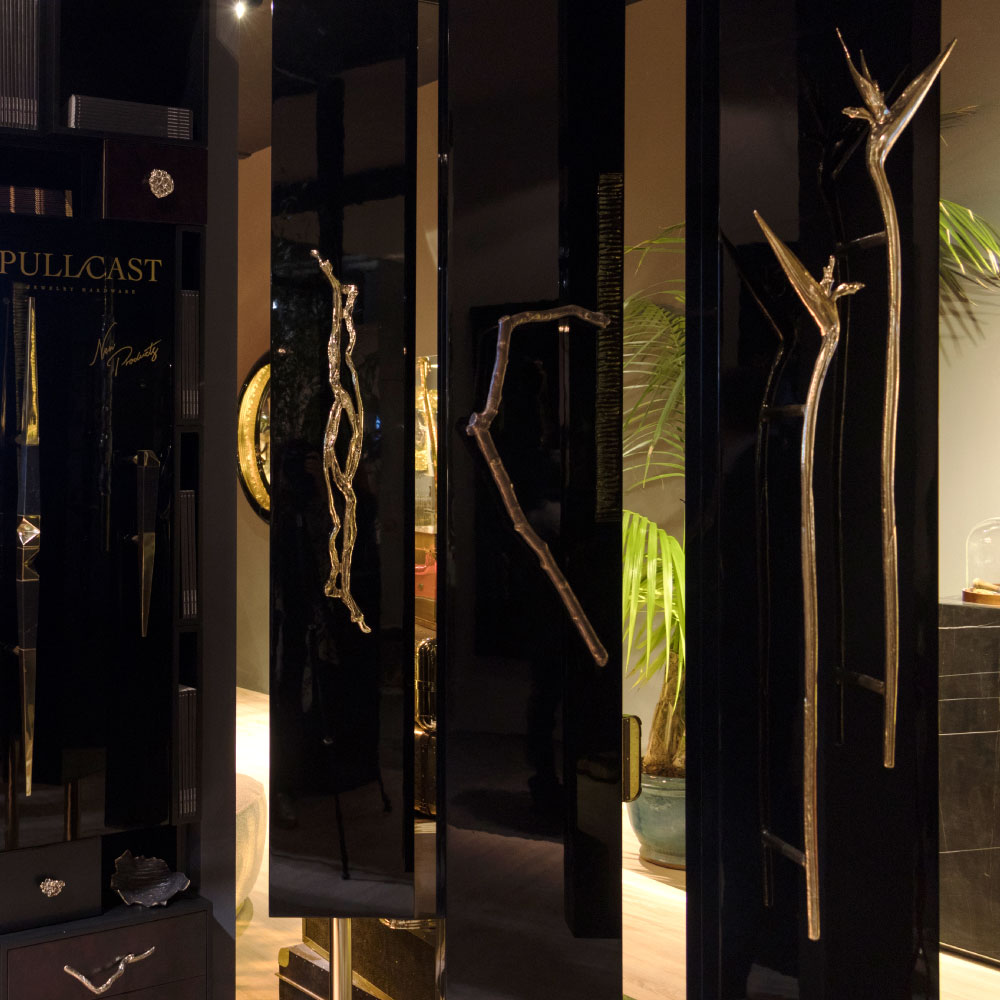 They also this year did a beautiful tribute to the 500th Anniversary of Leonardo Da Vinci Death. A stunning door pull representing one of the most remarkable works of the artist, L'UOMO VITRUVIANO.
Read More: DISCOVER MILAN AND THE WORK & HISTORY OF LEONARDO DA VINCI
Discover the exclusive and luxury world of PullCast and dive in our amazing and elegant list of impressive decorative hardware and architectural hardware products. They will help you elevate and transform your home decor or your design project into a unique experience! Follow us on Facebook, Pinterest, Twitter, Instagram, Linkedin, and Youtube! Follow Us!
SALONE DEL MOBILE 2019
SALONE DEL MOBILE 2019 SALONE DEL MOBILE 2019
SALONE DEL MOBILE 2019 SALONE DEL MOBILE 2019 

SALONE DEL MOBILE 2019