All About The Anandi Hotel and Spa Design By Hirsch Bedner Associates – This luxury hotel became a luxurious destination to relax, right in the middle of Shanghai's business district! The entire hospitality project was created by the renowned architecture and design studio, known as HBA, that is recognized as one of the leading companies in the luxury hospitality industry! Find out more about its incredible interior design and its creators here!
Read More: Decorative Hardware Agenda: Cersaie 2019 
The Anandi Hotel and Spa by Hirsch Bedner Associates is recognized as one of the leading five-star wellness hotels in Shangai. When it comes to reaching the exquisite ways of a true excellence experience, the Hirsch Bedner Associates brand (or HBA) is the one you need to contact and for sure, have a stay in one of their incredible interior designs.
Credits Anandi Hotel & HBA
Credits Anandi Hotel & HBA
Inspired by the healing concept of the holistic sensations, Hirsch Bedner Associates believe that the holistic environment appeals to a significantly great number of potential guests, so the interior designers wanted to bring this concept into the luxury design project of the boutique hotel.
Credits Anandi Hotel & HBA
The boutique hotel features some bespoke furnishings and lighting design combine to create a unique contemporary interior design, offering to the hotel's guest the best amenities to stay.
Credits Anandi Hotel & HBA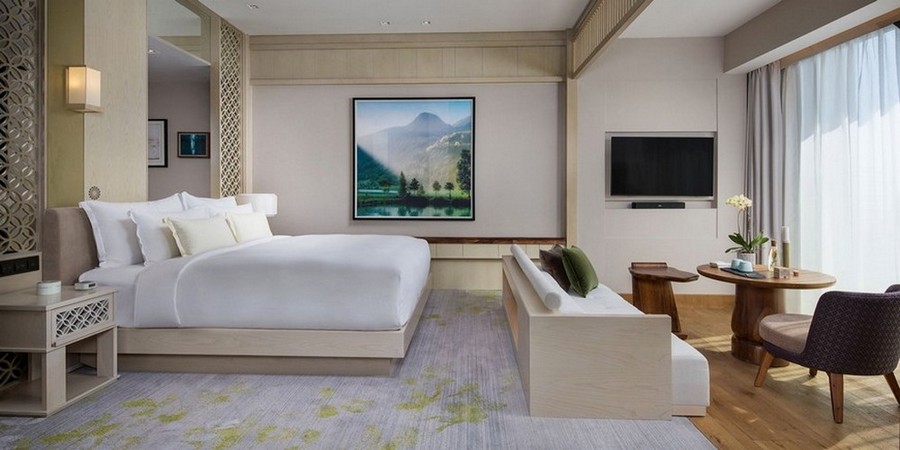 Credits Anandi Hotel & HBA
The luxury hotel has the goal to provide wellness solutions that create a balanced vitality of mindfulness through the design of interior spaces. The renowned  Hirsch Bedner Associates combined warm and muted color palettes with details of vibrant colors and natural materials (like live edge wood and healing stones), to create a relaxed and peaceful environment. To successfully connect the indoor and outdoor environments, the Hirsch Bedner Associates design team also incorporated some bamboo and water elements which to improve the guests' luxury experience and stimulating their senses.
Discover the exclusive and luxury world of PullCast and dive in our amazing and elegant list of decorative and architectural hardware products. They will help you elevate and transform your home decor or your design project into a unique experience! Follow us on Facebook, Pinterest, Twitter, Instagram, Linkedin, and Youtube!