A Luxury Russian Project by Marina Braginska's – For this luxury design project, the clients were expecting a house in a classic American style, however, Marina was not sure about it. Although her design studio offers versatility, Marina has her remarkable signature, which is possible to recognize through big bold paintings in the interior decoration, as well as in bright textiles and in the use of color. The interior designer offered to decorate the house with a soft modern approach, always emphasizing the airiness of the space and including some amazing Decorative Hardware details. Just take a look.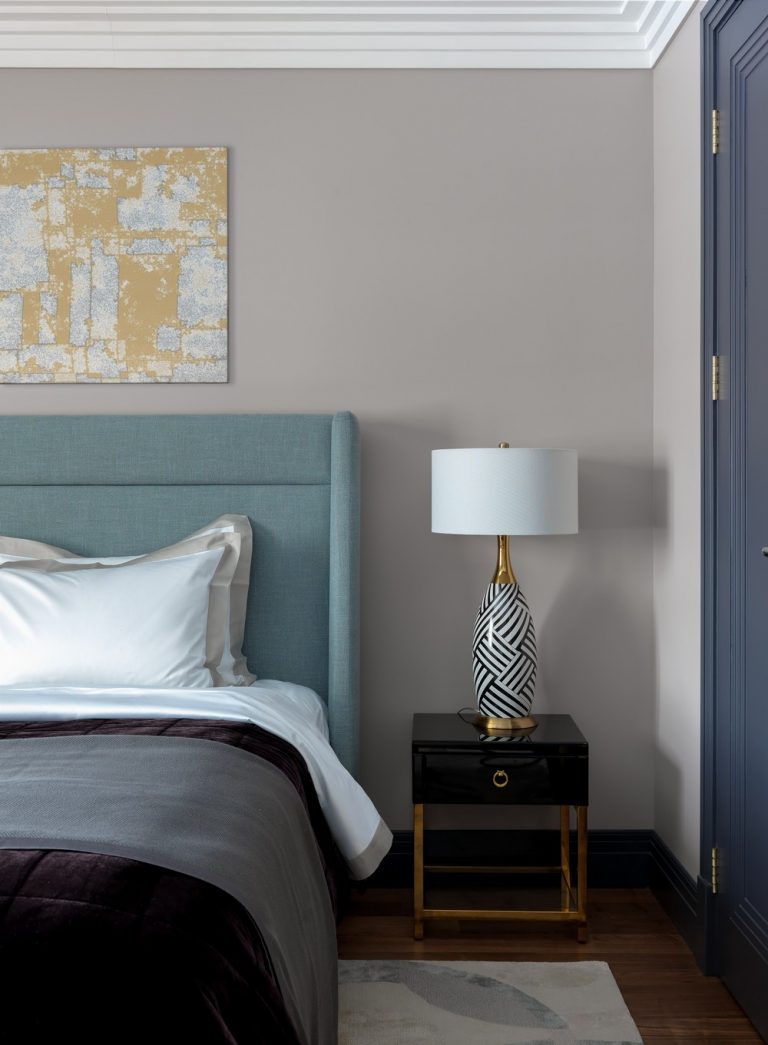 Located in the village of Molodoleno, near Moscow, there is an Art-Deco house designed by Marina Braginska, a well-known interior designer from Russia. Atelier Interior is a design studio owned by the designer, works in a variety of styles, depending on the customers' preferences. Inside this amazing home, Marina created a cinema room, fully furnished by BRABBU. By taking into consideration the customers' tastes and preferences, the designer has created an art-deco home that carries with it all the family's dreams. This project is the proof given by Marina that sometimes, risks are necessary and playing safe is not the best solution.
When asking them about their film preferences and building references, Marina Braginska was able to truly understand the type of design they were looking for – Art Deco, which combined modern themes with fine craftsmanship and rich materials.  The designer offered to decorate the house with a soft modern approach, always emphasizing the airiness of the space.
The living room full of natural light gives special attention to its beautiful features and textures. Two inviting sofas around the center table feel comfortable near a marble fireplace. In the dining room, the graceful lighting awakes the senses and offers a space to enjoy a delicious family meal.
Read More: Travel Season: New York Luxury Guide
In the bedrooms, Marina Braginska used delicate shades and unusual textiles. The bathroom area is small, but the designer visually enlarged it: she hung a huge mirror over the sink, and at the opposite side she trimmed the wall with glossy marble – they are gently reflected in each other. She also uses amazing Decorative Hardware pieces in both bedrooms!
As wine enthusiasts, the owners are going to create a wine cellar on the ground floor. Now, there is a home cinema and a bar area, which Marina Braginska painted in a deeper wine shade from floor to ceiling, to emphasize the depth of the space. Here she also used two comfortable HERA Armchairs from BRABBU in the same burgundy color. These beautiful armchairs tell their own story – the main inspiration resembles Greek architecture, which had its influence in the art deco style that appeared during the 1920s. That is why they are such a perfect fit for this contemporary interior design and a great balance to this room.
Discover the exclusive and luxury world of PullCast and dive in our amazing and elegant list of decorative and architectural hardware products. They will help you elevate and transform your home decor or your design project into a unique experience! Follow us on Facebook, Pinterest, Twitter, Instagram, Linkedin, and Youtube!