25 Luxury Sideboards & Consoles to Consider for a Bold Design Concept ⇒ If you are looking for the perfect furniture design to place in your entryway or living room decor, the following 25 luxury sideboards and console tables ought to be of consideration mainly due to their creative design concept and form.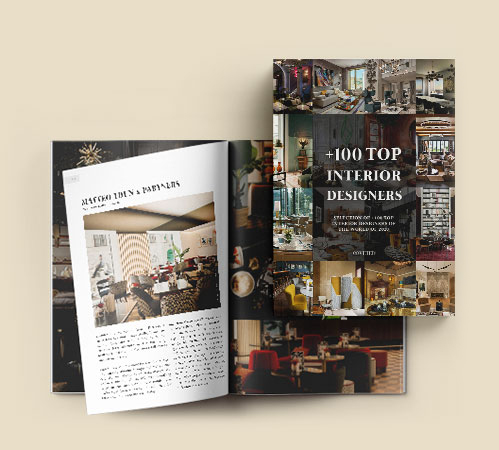 Luxury Sideboards for a Classy Home Aesthetic
Designer sideboards & buffets are a classic addition to any luxury home, allowing you to keep your space tidy whilst adding a touch of style gravitas. Furthermore, many of these outstanding furniture designs give you plenty of inspiration when it comes to decorative hardware!
Franco Sideboard by Essential Home is a homage to Scandinavian design and mid-century style. It provides design lovers with an elegant design of clean lines and solid wood that is impossible to resist. The circular brass silhouette of the Monocles drawer handles perfectly complement the overall scheme of Franco.
The Darian sideboard draws inspiration from the power of the shield and sphere of protection, as well as the dynamic from its irregular shape. A precise knowledge of production techniques and materials, each with different specialties, from metal-work to wood carving. It features a cluster of gold plated brass asymmetrical bars envelope a wood structure in black lacquer, the resulting works are a blend of artful and stout personality.
This exquisite sideboard stands outside historical time and will enhance the beauty of the Baraka energy into your modern living room set. It also highlights a series of adornments in the form of the Kesya decorative hardware.
Honeycomb sideboard by Royal Stranger
Transforming any interior into an inspiring space of divine décor, the sideboard offers an intriguing, contrasting element and an unmistakably contemporary form, opulently enhanced by metallic gold leaf.
Diamant sideboard by Selva
A contemporary configuration of art deco lines, the Diamant sideboard pairs luxurious wooden finishes (choose from five rich yet natural hues) with sleek and glossy chrome fittings.
Huang features an outside in walnut root veneer, an inside in rosewood veneer, and details in matte hammered brushed aged brass. This wood sideboard brings instant character to modern interior design. In order to complement this piece, the Kesya cabinet handle was added granting a more sculptural scheme to this outstanding furniture design!
Inspired by the monumental and monolithic style of Louis Kahn, this is a sideboard that will bring a strong presence to your living or dining room with its dark and mature look. The Kahn sideboard surprises with a gorgeous high gloss varnish over black lacquered wood. Furthermore, Kahn receives a complimentary upgrade by the Monocles drawer handles, an authentic circular design with mid-century and contemporary influences that make it the idyllic mix and match accessory.
Inverted Gravity by Mathieu Lehanneur
This modern furniture design with an astounding aesthetic appeal highlights a robust exterior made of Apuan marble and a base comprised of blown glass holders.
Drawing inspiration from the geometrical feat of the Nubian pyramids, the Nubian Sideboard is a versatile piece fit for living rooms, dining rooms, or elegant hotels. Made with high-quality wood and gold brass, it is the embodiment of luxury and an auspicious highlight in any ambiance.
Unma By Liang & Eimil
Instantly eye-catching, the Unma sideboard offers a chevron design perfect for injecting some excitement into your place.
Channeling a truly chic aesthetic, the Lapiaz Sideboard is the height of luxury design, with glorious gold lead gilding, an internal wooden structure, and captivating cast brass details. Depicting veins of gold flowing like molten metal throughout the piece, the sideboard is guaranteed to elevate your interior into a new realm of refinement.
Dandy sideboard is inspired heavily by a perfect combination between Scandinavian design and mid-century styles. With its design that resembles a kitsch radio due to the grill cloth on the doors and its exciting shape, this sideboard is certainly a vintage piece that can't be forgotten. Once again, the Monocles drawer handle grants a sublime and detailed touch to furniture designs.
Luca Entertainment by Bernhardt
Feel completely at home amongst the tonal juxtapositions of this practical piece. Quartered pine veneers in a two-tone finish will help create magic in a homely space — offering warmth and interest in the unit that was made to organize.

A Versatile Selection of Console Tables
The slim proportions of designer console tables make it an inherently elegant piece to stylishly decorate entryways. Below, you can find a plethora of possibilities, from designer modern console tables to beautifully carved contemporary designs!
Through the imposing, sharp pen the Spear console was designed. The diversity of its materials from brass, wood, leather, and marble result in a console with straight lines. From Ancient Rome comes its inspiration, bringing a timeless design to this art piece. This unique console is adorned with the Skyline drawer handle that adds a cosmopolitan flair to it due to its vigorous brass silhouette.
Roxbury Long console by Kelly Wearstler
With its repetitive arches and monolithic scale, the Roxbury Long Console celebrates a minimal, stylistic nod to classical architecture and form. This console features a lightly wire-brushed wooden frame that is available in Cerused Wenge and Natural Oak.
Agra Console Table is an impressive display of craftsmanship and elegance. Made of Estremoz marble with brass details, this foyer table will add refined grace.
Tuile by Baccarat La Maison
The lightness of the magnificent, elegant silhouettes and long legs of the Console will grace any space thanks to the precious polished wood Red American Elm or Ebony Wayan top decorated with crystal tiles.
The best handmade techniques find balance in a delicate work in wood softened with touches of brass that reflect warm and golden tones on its polished surface. An impressive display of elegance, Beyond console shows the exquisite capacity to fill a variety of ambiances thanks to its luxury presence.
Solid by Minotti
Developed starting from a simple square volume, the Solid console reveals great versatility through its clean and simple shapes. It easily turns into an eclectic furnishing piece, ideal for use in any interior location, characterizing the space in which it is positioned with its clean and simple sculptural presence.
Acid Marble console by Lee Broom
Acid Marble designed by Lee Broom is a console made of a layer of white Carrara marble, black Nero Marquina marble, and acid yellow tinted glass sandwiched together.
The zenith between elegance and balance, the Suspicion console is daringly sculpted in stone and fills any room with lavishing luxury. This console is the epitome of intricate equilibrium, joining marble with fine brass lines.
A demonstration of both imagination and strong design skills, combined with exceptional craftsmanship, the Monochrome console is a remarkable piece that stands out in any room or setting. It expresses a leading-edge outlook through its distinct shape and color. Available in purple and electric blue, the Monochrome transmits attitude and spine.
The harsh and strict lines from the Liberica Console design contrast perfectly with the fluidity and sort of feminine touch of the mirror. Inspired by the Coffea liberica plant, the mirror takes an oval contour, resembling the delicate shape of the plant's leaf.
Torino console by Jonathan Adler
Bring a rich and moody Milan moment into your life with our new Torino collection's signature palette. The Torino Console Table features back-painted glass panes treated to bold brass edges for extra shine.
The provocatively vintage Tamara console drips with enough Art Deco decadence to transport you back to the glamour of the Roaring Twenties. Her frame's strong geometric lines are coupled with luxurious and alluring mirror panels and two drawers.
If you want to discover more about the exclusive and luxurious world of PullCast and our elegant collections of decorative hardware, then feel free to follow us on social media: Facebook, Pinterest, Twitter, Instagram, Linkedin, and Youtube!